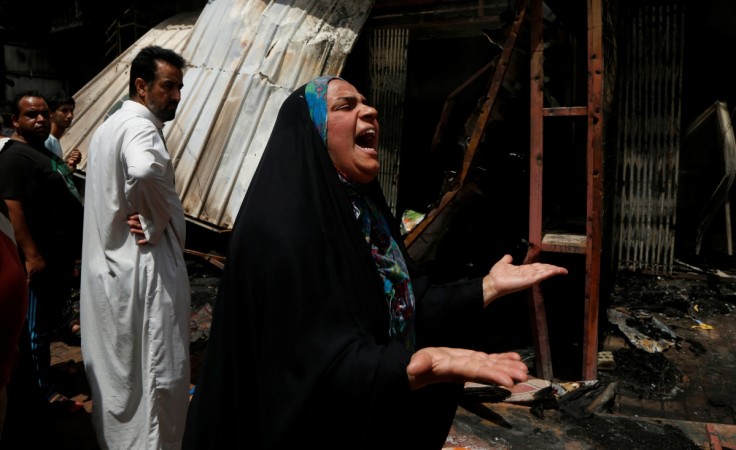 UPDATE: 15:18 p.m. IST -- ISIS carried out two more bombings near Baghdad on Thursday that killed two policemen and wounded eight others, according to Reuters, just a day after the terror group killed nearly 100 people in the Iraqi capital on Wednesday.
Original story:
At least 94 people were killed in a single day in Baghdad in multiple bombings by the Islamic State group on Wednesday, making it the bloodiest day of the year for the Iraqi capital so far. Over 3,000 people have been killed in Iraq this year due to sectarian violence and terror attacks.
The deadliest ISIS attack on Wednesday came when a car bomb struck a crowded market in Bagdhad's Sadr City, a mainly Shiite neighbourhood. At least 64 people were killed, as per reports.
ISIS also struck the Kadhimiya neighbourhood on Wednesday, which is home to the Imam Kadhim shrine that is revered by Shia Muslims. At least 17 people were killed in the attack, according to AFP. ISIS had last month targeted Shia Muslims who were on a pilgrimage to the Imam Kadhim shrine to mark the death anniversary of the religious leader.
A third bomb killed at least 13 people in Jamea district in western Baghdad on Wednesday, bringing the total death toll to 94, while leaving over 165 people injured. It was the deadliest day of violence in Baghdad this year, according to the Associated Press.
"Once again ISIS has carried out a devastating attack designed to inflict maximum death and suffering on ordinary Iraqis," Joe Stork, deputy Middle East director at Human Rights Watch said.
However, the U.S. military called the ISIS attacks a "desperate act" by the terror group. "As the enemy loses more and more terrain, they resort to some of these desperate acts," Army Maj. Gen. Gary Volesky said, according to USA Today.
So far, the UN Assistance Mission for Iraq has reported more than 3,000 deaths in the country in the first four months of 2016.