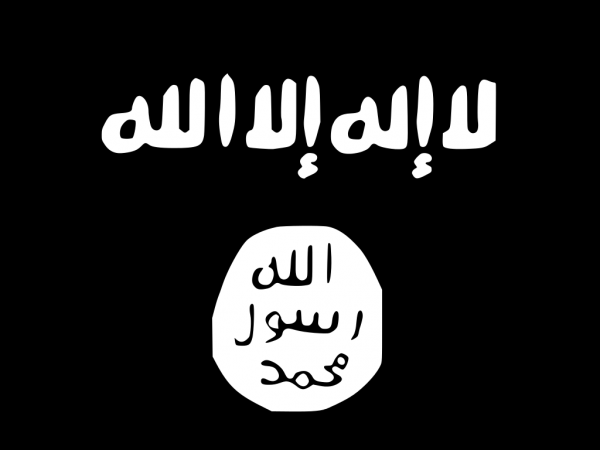 The Islamic State (ISIS), whose black flag symbol is already known worldwide, is reportedly using it as a brand seal on products within its controlled territory, with ISIS-branded watches making an appearance in Mosul recently.
Both men's and women's watches in Mosul now feature the black-and-white symbol, complete with messages from the ISIS flag – "There is no God but God," and "Muhammad is the messenger of God."
The watches are the latest in the line of products stamped with the ISIS mark, with the group having imprinted t-shirts and coffee mugs, even cars and bikes, with its symbol, according to Rita Katz, director of SITE Intelligence, an online jihadist watchdog.
"This is the first time we have seen [ISIS] watches," Katz told Newsweek. "When it comes to the watches, because it is in Mosul, the most important house for ISIS, it is not surprising that they'd sell these".
#ISIS logos on watches Bab alTob market, Mosul. Maybe Baghdadi should get one of these watches for his next sermon... pic.twitter.com/zXwLGbrJoz

— Rita Katz (@Rita_Katz) February 8, 2015
The branding, Katz said, was an attempt by the group to incorporate the ISIS brand in the local culture, even though it actually goes against their ideology of religion and anti-West ideas.
"They want the group to be as public as possible. This all goes into showing that the group is legit and accepted by people," she said.
"The group wants to live in Muhammad's time but Muhammad did not have watches with logos.... But they don't really care. They use for their advantage whatever works best for them."
The argument that the Islamic State wants to impose its brand across the region is also justified by the photos that emerged a few days ago of the group distributing UN World Food Programme's food packets in Syria with their logo on them.
The photos showed children carrying food parcels with ISIS logos stuck in a way so as to hide the WFP mark.
The idea behind imposing ISIS logos on food packets may be to portray the group as a 'humanitarian' caliphate to its followers.
#ISIS reportedly steals food aid for Syrians, rebrands it to make selves look like "providers" http://t.co/qSokIQNODH pic.twitter.com/ibQoZ80sUw

— Think AgainTurn Away (@ThinkAgain_DOS) February 3, 2015