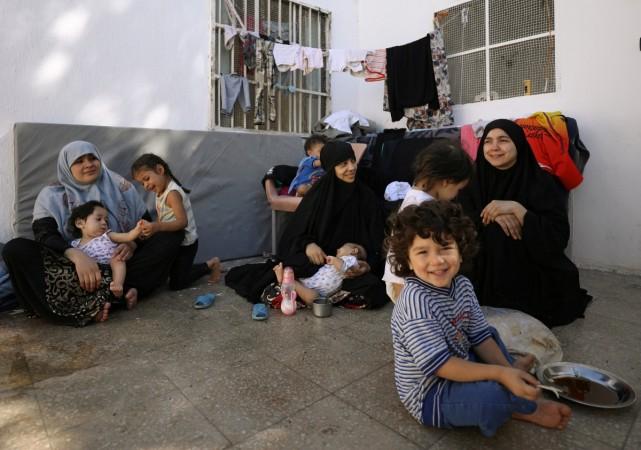 Iraq is preparing to deport over 500 wives of the Islamic State of Iraq and Syria (ISIS) jihadists, along with more than 800 children. The women and children were detained in Mosul, ISIS' stronghold in the country, when Iraqi forces took it back in July.
In preparation, Iraq moved these women and children to a detention centre. They were earlier housed in a camp run by international aid agencies, about 60 kilometres away from Mosul. "They are in a holding centre in Tal Kayf under the control of Iraqi security forces, so their cases can be examined before they are eventually expelled from the country," the Nineveh province councillor told AFP.
He also noted that the order to transfer them to the detention centre came from Iraq's Prime Minister Haider al-Abadi and "could be part of preparations for their departure to their countries of origin."
A senior Iraqi official also revealed that these women and children were from 13 different countries in Asia, the Americas and Europe. About 300 of them are from Turkey, and now all of them will be sent back to their countries. Meanwhile, the Norwegian Refugee Council (NRC) said that a lot of them were also from Azerbaijan, Russia and Tajikistan.
"They are foreigners who entered the country illegally," a minister told AFP. "Legal measures must be taken against them because, when they were detained, they were in an area controlled by terrorists."
While the Iraqi military and government officials have said that they have been moved to a safer place and are being taken care of, NRC has demanded to know the exact location of centre that these women and children are housed and the reason behind the movement.
"The NRC demands that the Government of Iraq disclose the exact location of these people and the reasons for their transfer," it said in a statement.
"These women and children are extremely vulnerable. Regardless of what their family members may be accused of, they have a right to protection and assistance," added Julie Davidson, deputy country director of NRC. "Humanitarian organisations and representatives from their home countries should be allowed to offer to them help."
Earlier in September, RT has spoken to some of the former wives of ISIS jihadists at a UN-based Iraqi camp and one such woman said: "Most women here came with their husbands. We didn't come here to fight, or to kill. We came here to live."
Iraqi forces took back Mosul in July 2017, after it fell to ISIS in 2014. To get it back, the Iraqi forces were backed by the US, which provided intelligence, airstrikes and other kinds of support. "Long live Iraq," al-Abadi had said he waved the national flag.