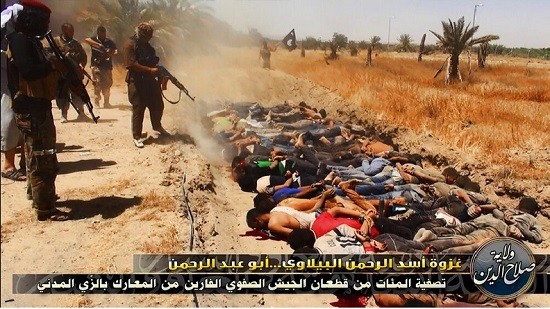 The Islamic State of Iraq and Syria (ISIS), an Al-Qaeda splinter group that seized a considerable portion of northern Iraq, had posted a series of gruesome images recently, claiming mass killing of captured Iraqi soldiers. The world reacted to it with shock, however, there are now strong indications that the pictures could be fake.
The ISIS reportedly posted at least 60 pictures via Twitter showing men, supposedly Iraqi Shia soldiers, bound and being taken to an unknown place for execution. The caption on one of the photos stated that the Shia soldiers were punished for fighting Sunnis.
The series of images show masked fighters loading at least a hundred captives on trucks. The captives are then taken to a far off land and are forced to lie face down in dirt, with their arms tied behind their backs. The final set of pictures show ISIS men shooting the men, and bodies lying soaked in blood.
Following this incident, several Twitter accounts connected to ISIS were suspended by the microblogging site.
However, there are a few who have now raised doubts on the authenticity of the pictures. A Dutchsinse report, which closely analyzed the photos, claims the images are photoshopped, and some of them have even been morphed.
Emphasizing that the supposed mass killing images are a hoax, the report sarcastically noted: "'Isis' forgot to add a new layer in photoshop when adding 'dead' bodies".
According to the report, the mass execution picture that shows several supposed Iraqi soldiers lying dead in a ditch is an elaborate hoax as "the bodies (at least at the bottom) are added in or altered."
It also found that the images showed clear signs of photo cut and paste mismatch. Pointing out the several errors in the images, the report also poked fun at the photoeditor. "ISIS must have hired a noob (a novice) to do the propaganda," it read.
Why Use Fake Pictures?
Now the question is why would ISIS use fake pictures. The answer is simple, ISIS wants to intimidate Iraqis who might oppose its forces. Violence and fear tactics have been the strongest weapon of the ISIS, and that is why the group has so keen to take to Twitter.
JM Berger, editor of Intelwire, told Vox that the motive behind broadcasting the gruesome images was to scare Iraqi civilians. "They're trying to intimidate the populations in the areas where they're headed," he stressed.
The ISIS fear propaganda has been successful to a great extend, and the evidence to this is the fleeing Iraqi soldiers and the residents. In many instances, police and soldiers ran for their lives, abandoning their guns and ammunnition.
"We can't beat them," the Sydney Morning Herald quoted one soldier as saying, "We can't."