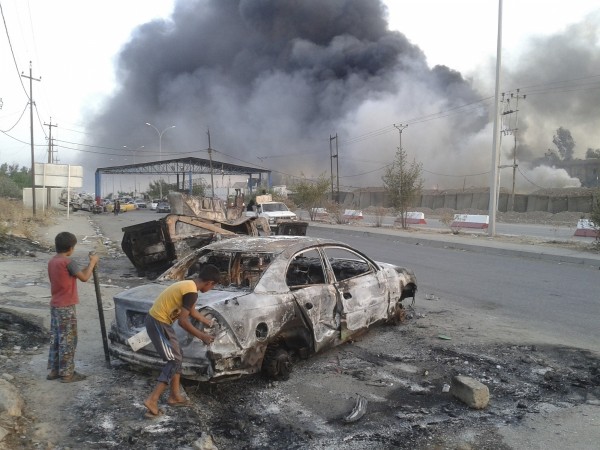 Over 500,000 people have been forced to flee the Iraqi city of Mosul, fearing increased violence following a complete takeover by Armed Opposition Groups.
Troops were also among the people fleeing as Mosul was captured by hundreds of jihadists from the ISIL group.
The capture of the northern city of 2 million by the Islamic State of Iraq and the Levant (ISIL), who are Sunni Muslims waging sectarian war on Iraq and Syria – followed four days of fighting in the city and the border province of Nineveh, Reuters reported.
On the morning of 7 June, heavy firing erupted between the militants and the Iraqi Security Forces (ISF) resulting in casualties. On 9 June the ISF left the city, allowing the ISIL groups to take control of the town, including government buildings, Mosul International Airport, and all police and military bases.
The International Organization of Migration has said that it has been monitoring the situation, and that the weekend's violence has displaced at least 500,000 people in and around the city.
Even as curfew has been in place since last week, indiscriminate shelling is reportedly continuing.
The overtaking of the city essentially ensured the ISIL's grip on key western towns, according to analysts.
'Extremely Serious Situation'
As the Nuri al-Maliki government asked parliament to declare a state of emergency giving him more powers to tackle the crisis; the United States, which pulled back its troops more than two years ago, has called the situation "extremely serious" and urged fractious political groups to fight Iraq's enemies together.
Although the United States has been supplying large amounts of weaponry to the Iraqi government since pulling its forces out of the country, Baghdad has never been able to do enough to preclude the sectarian and political divisions inside the war-hit country.
"The situation remains extremely serious," State Department spokeswoman Jen Psaki said in a statement.
"There's no question that unity – and all sides and officials in Iraq working together – is the only way that they can be successful here."
An offshoot of al-Qaeda, the ISIL now controls considerable territory in eastern Syria and western and central Iraq.
Residents of Mosul, the second largest city, also said that they saw jihadist flags flying from buildings and that the militants announced over loudspeakers that they had come to "liberate the city."
"The situation is chaotic inside the city, and there is nobody to help us," Government worker Umm Karam told the BBC. "We are afraid."
Hundreds of detainees were set free as many police stations were reportedly torched.
Reports suggest that the tens of thousands of fleeing refugees from the city are heading to three towns in the nearby region of Kurdistan, where authorities have set up temporary camps for them.