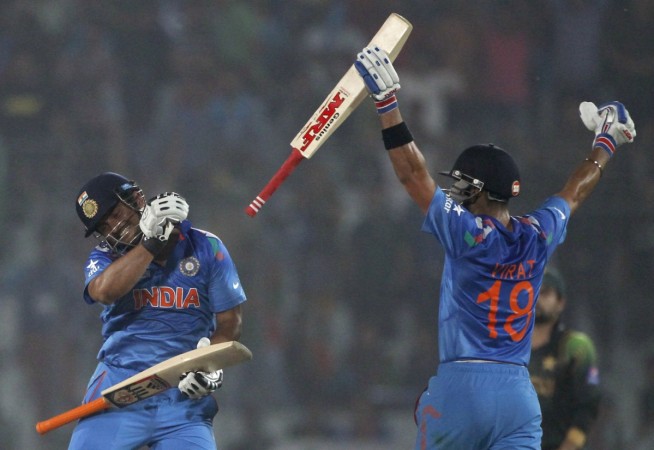 As India captain Virat Kohli prepares to face South Africa in Johannesburg tomorrow (January 24) in the third Test, one of his records has been broken by Suresh Raina in Kolkata.
Raina, who is currently not part of the national team, rediscovered his form with a century yesterday while playing for Uttar Pradesh against Bengal in the Syed Mushtaq Ali Trophy Twenty20 tournament. The left-hander blazed his way to a superb 126 not out, the second highest score by an Indian in the format.
Also read: Raina hits record ton at Eden Gardens
Today (January 23), he was back at the same venue - Eden Gardens, to add more runs to his tally. He struck a fine half century against Tamil Nadu in the Super League phase of the T20 event. The Uttar Pradesh captain made a 41-ball 61 with seven fours and one six. His knock went in vain as Tami Nadu won by five wickets, chasing down 163.
31-year-old Raina started today's match with 7,053 runs from 265 T20s. He needed 16 to surpass Kohli as India's top run-getter in the shortest format of the game and he achieved the feat with ease. Kohli has so far played 226 T20s and accumulated 7,068 runs. Raina now has 7,114 runs.
Raina is one of the best batsmen in T20s. He has proved his worth in the Indian Premier League (IPL). Recently, he was retained by Chennai Super Kings (CSK) ahead of the IPL 2018 Players Auction which takes place in Bengaluru on January 27 and 28.
Kohli and Raina are the only two Indians to have crossed the 7,000-run mark in T20s. The next best from India is Rohit Sharma with 6,825 runs. Overall, only nine batsmen have managed to breach the 7,000-mark. West Indies' opener Chris Gayle leads the table with over 11,000 runs.
In T20 Internationals, Kohli is India's highest run scorer with 1,956 from 55 games. He is second in the world behind the leader Brendon McCullum (New Zealand), who has 2,140 runs from 71 matches.
Most runs in T20 matches (7,000-run club) - as on January 23, 2018 (3 PM IST)
Chris Gayle - 11,068 runs
Brendon McCullum - 8,769
Kieron Pollard - 7,816
David Warner - 7,572
Shoaib Malik - 7,450
Brad Hodge - 7,406
Dwayne Smith - 7,351
Virat Kohli - 7,068
Suresh Raina - 7,114
Most runs in T20 Internationals - Top 5 - as on January 23, 2018
Brendon McCullum - 2,140
Virat Kohli - 1,956
Martin Guptill - 1,928
Tillakaratne Dilshan - 1,889
Shoaib Malik - 1,821