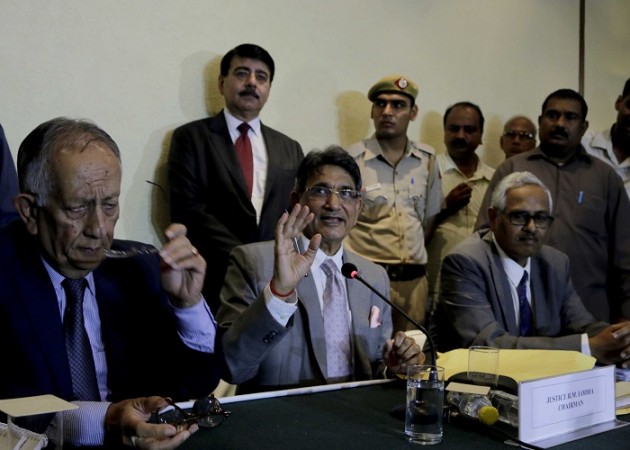 The Supreme Court appointed Justice Lodha Committee on Tuesday came down heavily on those involved in the 2013 IPL betting scandal as it suspended two former champions--Chennai Super Kings and Rajasthan Royals--for a period of two years.
Along with the punishment for the two mega teams of the IPL, the bigwigs involved in betting in the IPL--Gurunath Meiyappan (CSK) and Raj Kundra (RR)--were suspended for life from taking part in any cricket-related activities affliated with BCCI. They are now also ineligible to participate in any form of cricket for the next five years.
Both Meiyappan, who is the son-in-law of former BCCI president and current ICC chairman N Srinivasan, and Raj Kundra, who held a stake in Rajasthan Royals at the time of the issue in question, have been found guilty by the committee of betting, acting against the interest of BCCI and the spirit of cricket.
"Misconduct of Gurunath Meiyappan is proven," Justice Lodha said, adding, "He was a part of CSK and by betting, he violated the anti-corruption code."
"It is difficult to accept Meiyappan has the passion for the game. He also suffered a loss of Rs 60 lakh in bets. If Meiyappan's reputation is tarnished, it is small compared to the damage done to the sport. He has been suspended for life from cricket activities," Justice Lodha said.
Cricket to benefit from verdict
The committee has taken such a tough stance to clean up cricket, which has been marred by spot-fixing and betting scandal. So its verdict is being seen as a landmark judgement which should help in the betterment of Indian cricket.
The judicial committee also sent across a strong message to other franchises of the IPL to play in a fair manner or meet the same fate as Rajasthan Royals and Chennai Super Kings.
With this, the future of the IPL has been brought to the forefront as the next edition of the IPL may only have six teams.
Interesting times lie ahead in Indian cricket with the IPL governing council, which would also be stunned by the verdict meted out by the Lodha committee, set to take some key decisions in the coming months.
No decision on Sundar Raman yet
Though the fate of IPL teams, Meiyappan and Kundra are clear now, no one knows what is in the offing for the then IPL chief operating officer Sundar Raman. Will he also suffer a similar fate as that of Meiyappan and Kundra?
Justice Lodha said investigations relating to the role of Raman, who was allegedly in regular touch wtih Vindoo Dara Singh--an actor accused in IPL betting--is still on.
"About Sundar Raman, we examined the material about him and we believe it requires further investigation. Vivek Priyadarshi has been appointed by the Supreme Court to look into it and he is examining the matter, we are awaiting his report. After that we will decide what will be the action," said Lodha.