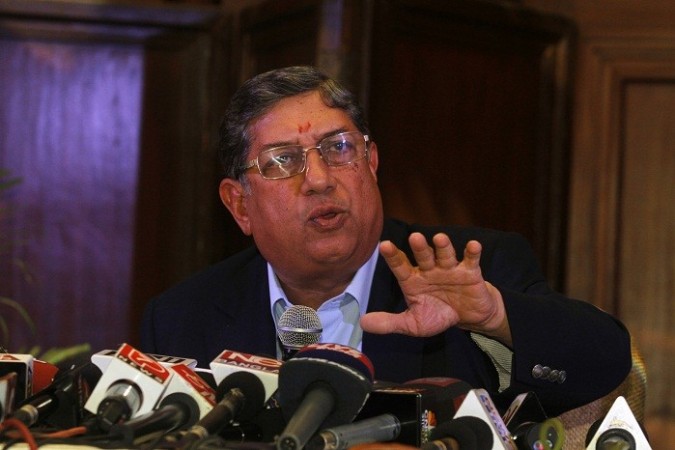 N Srinivasan will find out if he can continue being BCCI's president on Thursday, with the Supreme Court set to announce their verdict on the IPL spot-fixing scandal which rocked the cricket world in 2013.
The cynosure will, of course, be Srinivasan with the SC set to decide on the serious "conflict of interest" issues, owing to the fact that he is the owner of the IPL franchise the Chennai Super Kings.
The Supreme Court has so far come down hard on Srinivasan for owning an IPL team while also holding the highest post in the BCCI, with allegations over his son-in-law's involvement with betting and giving out team information only making matters worse for the current ICC chief.
It has taken a while for the Supreme Court to give out their final deliberations on this most unfortunate of subjects, with Aditya Verma setting the ball rolling by going to the Supreme Court with a case way back in June 2013, after a controversial two-member panel of the BCCI had given Srinivasan and various other people involved deeply in the case clean chits.
The SC constituted their own committee, headed by the now famous name of Mukul Mudgal, and that committee was not that kind on Srinivasan, his son-in-law Gurunath Meiyappan or IPL COO Sundar Raman, with Rajasthan Royals co-owner Raj Kundra also tagged -- in an extreme case, CSK and the Rajasthan Royals could be thrown out of the IPL completely.
Meiyappan and Kundra were indicted by the SC constituted panel for betting and allegedly giving out team information – a strict no-no in cricket – while Srinivasan and Raman were also charged, albeit for a lesser charge of misdemeanour.
Both Srinivasan, who was asked by the SC to step down from running day-to-day affairs of the BCCI, and Raman have held firm about not doing anything wrong during their respective stints, but that has not stopped the Supreme Court from frowning upon the fact that the former wants to keep hold of his BCCI president's status despite owning CSK.
Srinivasan is looking to run for the BCCI president's post for another term, rather controversially, it must be said, even if it is clear that if he is allowed to stand by the Supreme Court, there is little doubt that he will win, such is the support he currently holds with the cricket boards across the country.
The BCCI have been forced to push back the elections multiple times in order to wait for the SC to make their verdict, and if India's highest court decides to act tough and stop Srinivasan from running for the president, it will undoubtedly be a big decision, something that could change the face of the Indian cricket board for the foreseeable future.
SC's judgement on Srinivasan's future and the rest of the issues is expected today afternoon.