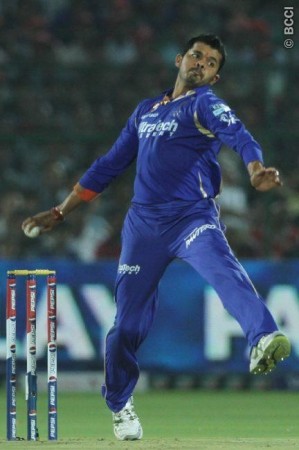 Rajasthan Royals will file an FIR against the tainted three players for cheating the public as well as the franchise.
The three players - S Sreesanth, Ankeet Chavan and Ajit Chandila - were arrested in Mumbai on Thursday over charges of spot-fixing in various matches during the ongoing IPL season. Eleven bookies were also arrested in connection with the case and have been charged with cheating and criminal conspiracy. The Board of Control for Cricket in India (BCCI) has suspended the three players.
The players and the bookies were sent to five-day police custody in Delhi. According to reports, Sreesanth and Ankit Chavan have admitted their involvement in spot fixing. Chavan was reportedly the first to accept his role in the spot-fixing. Sreesanth followed later, but Ajit Chandila has reportedly not accepted the charges.
"Sreesanth has confessed to spot-fixing. He was teary eyed during interrogation," a Delhi Police official said on Friday. However, the families and lawyers of the three arrested players have maintained that they were innocent.
The Mumbai police on Saturday seized Sreesanth's laptop, phones, cash, i-Pad and diaries after raiding the hotel room where the Rajasthan Royals' player was lodged.
Meanwhile, the Working Committee of the BCCI met in Chennai on Sunday (19 May) to discuss about the course of action on the spot-fixing controversy. The Rajasthan Royals team also attended the emergency meeting.
BCCI president N Srinivasan stated that all players, agents will be accredited and each IPL team will have its own anti-corruption special unit (ACSU) officer.
Speaking to the members of the press, Srinivasan stated that the BCCI has no control over bookies. He said the board is "handicapped" when it comes to controlling the bookies and has ordered an internal probe. Ravi Sawani is said to have been appointed as commissioner to investigate into the spot-fixing allegations.
Srinivasan also mentioned that the Rajasthan Royals franchise will file an FIR against the players. "The actions taken in future will be based on recommendations we are provided, to ensure stricter monitoring of players. We won't hesitate to take ruthless action against the player found guilty," said Srinivasan, according to CNN-IBN.
"The BCCI will not cover up anybody; our actions must be fair. We will act after the disciplinary committee's report proves the players guilty."