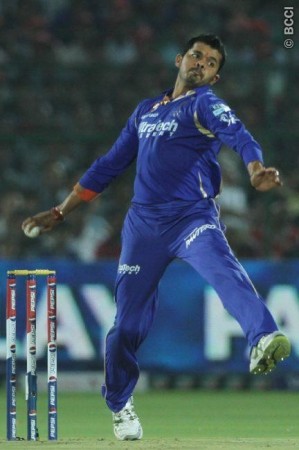 The Board of Control for Cricket in India's (BCCI) life ban on former fast bowler S Sreesanth will continue after a Division Bench of Kerala High Court allowed the Indian cricket board's appeal against a single-judge order of setting aside the suspension, today (October 17).
A disappointed Sreesanth took to his Twitter account to say he will "keep fighting" to get the ban lifted.
"This is the worst decision ever..special rule for me?what about real culprits?What about chennai super kings ? And what about Rajasthan ?," he wrote, questioning BCCI.
In another tweet, he said, "Anyway all I have is my family and lots of dear ones who still believes in me..I will keep fighting and make sure I don't give up.."
In August, the Kerala High Court had ordered BCCI to lift the life ban on Sreesanth. The Indian cricket board had appealed against this verdict.
Sreesanth, along with his Rajasthan Royals (RR) team-mates Ajit Chandila and Ankit Chavan were banned for life in 2013 for their alleged involvement in spot-fixing in the Indian Premier League (IPL).
Several controversies have hit IPL. Chennai Super Kings (CSK) and Rajasthan Royals (RR) were suspended for two years for corruption. They will return to IPL fold next year.
And what about the accused 13 names in Lodha report?? No one wants to know about it?i will keep fighting for my right..God is great ??✌??

— Sreesanth (@sreesanth36) October 17, 2017
This is the worst decision ever..special rule for me?what about real culprits?What about chennai super kings ? And what about Rajasthan ?

— Sreesanth (@sreesanth36) October 17, 2017
Anyway all I have is my family and lots of dear ones who still believes in me..I will keep fighting and make sure I don't give up..

— Sreesanth (@sreesanth36) October 17, 2017
Thanks a lot for all the support Nd encouragement given so far. I assure u all that I'm not giving up..I will Keep at it..Nd alwys believe

— Sreesanth (@sreesanth36) October 17, 2017