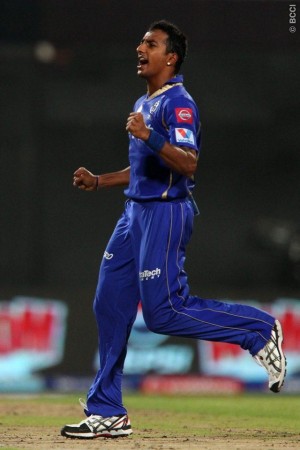 A Delhi court on Thursday granted cricketer Ankeet Chavan conditional bail till 6 June on the grounds that his wedding is scheduled on 2 June.
The 27-year-old cricketer, who is under the police custody in connection with spot-fixing scandal in the recently concluded Indian Premier League (IPL), had sought for bail arguing that he had already sent invitation cards and the preparations for the marriage were over. His also said that calling off the wedding will harm his reputation and his fiancee's.
The court granted bail to the cricketer despite objection by the prosecutor who argued that his release from the jail could lead to tampering of evidence. Chavan will be under police cover during the bail period.
The Delhi police arrested three Rajasthan Royals players - S Sreesanth, Ajit Chandila and Ankeet Chavan, on 16 May in Mumbai in connection with the spot-fixing scandal. They were initially sent to judicial custody till 28 May but will continue to be in custody till 4 June.
Rajasthan Royals had suspended the contracts of the three players for their involvement in spot-fixing, and the BCCI has also suspended them.
The players have been charged under section 240 (cheating) and 120B (criminal conspiracy) of Indian Penal Code (IPC). The BCCI has also suspended all three players in question.
The Delhi and Mumbai police have arrested several bookies besides the Rajasthan Royals players. Delhi Police Commissioner Neeraj Kumar said that there are possibilities of other IPL teams' involvement in spot-fixing but haven't made any breakthrough.