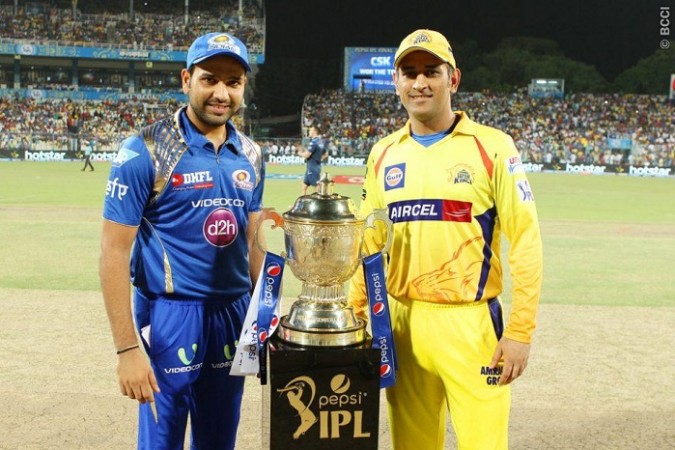 As expected, India cricket team stars Virat Kohli and MS Dhoni got retained by the Royal Challengers Bangalore (RCB) and Chennai Super Kings (CSK) respectively on Thursday January 4 during the IPL Player Retention event in Mumbai.
India's hitman Rohit Sharma also found his place back at Mumbai Indians.
There has been a shocking omission as the Kolkata Knight Riders (KKR) have not gone ahead to retain their star skipper Gautam Gambhir. Also, Shikhar Dhawan doesn't find his place back at Sunrisers Hyderabad.
Here is the complete list of retained players
Chennai Super Kings
MS Dhoni (Rs 15 crore)
Suresh Raina (Rs 11 crore)
Ravindra Jadeja (Rs 7 crore)
Rajasthan Royals
Steve Smith (Rs 12.5 crore)
Kolkata Knight Riders
Sunil Narine (Rs 12.5 crore)
Andre Russell (Rs 8.5 crore)
Delhi Daredevils
Chris Morris (Rs 11 crore)
Rishabh Pant (Rs 15 crore)
Shreyas Iyer (Rs 7 crore)
Mumbai Indians
Rohit Sharma (Rs 15 crore)
Hardik Pandya (Rs 11 crore)
Jasprit Bumrah (Rs 7 crore)
Sunrisers Hyderabad
David Warner (Rs 12.5 crore)
Bhuvneshwar Kumar (Rs 8.5 crore)
Kings XI Punjab
Akshar Patel (Rs 12.5 crore)
Royal Challengers Bangalore
Virat Kohli (Rs 17 crore)
De Villiers (Rs 11 crore)
Sarfaraz Khan (Rs 3 crore)