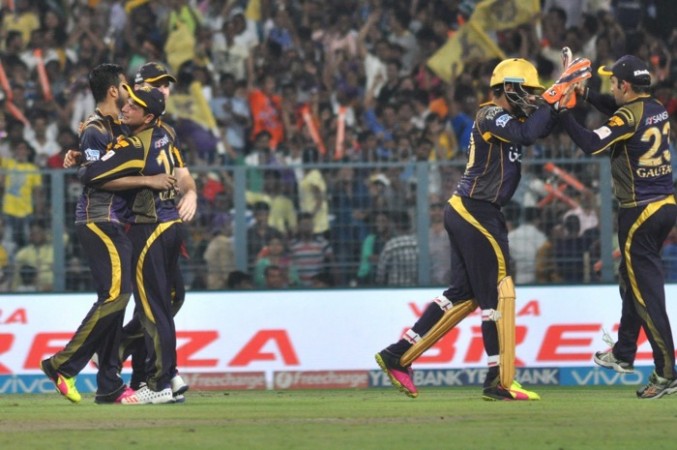 11:37: It was a superb victory for the Sunrisers before they go into the field in Qualifier 2 against the Gujarat Lions. A 22-runs victory against KKR will give them a lot of confidence ahead of their next match.
KKR batsmen failed to get a partnership going. They kept on losing wickets at regular intervals and that really hurt them. KKR have now been knocked out of IPL 2016.
Sunrisers were otustanding in the field as they took some brilliant catches and a run out as well.
Bhuvneshwar Kumar was the pick of the bowlers for Sunrisers Hyderabad. His figures read 4-0-19-3.
Ben Cutting, Moises Henriques and Mustafizur Rahman were involved with the ball as well.
Manish Pandey was the only batsman who showed some intent during the run chase. Rest of the batsmen could not handle the pressure and threw their wickets away.
This was a professional performance from the Sunrisers ahead of their last knockout enounter on Friday.
It is all over. Sunrisers Hyderabad have defeated Kolkata Knight Riders by 22 runs.
Caught! Bhuvi picks up his third of the night. Holder is gone. KKR 140/8.
Dot ball. Outstanding stuff.
Bowled! Sathish bites the dust. And it looks all over for KKR. Bhuvneshwar Kumar picks up another. KKR 139/7.
Single from the first ball of the last over.
Two from the last ball of the over. KKR need 25 runs from the last six balls.
Single to follow. Six runs so far from this over. Incredible stuff from Mustafizur Rahman.
Four, finally Holder gets hold of one. 28 from 8 now.
Dot ball again!
Dot ball. Mustafizur is the man to go to in these death overs.
Single from the first ball.
11:19: It looks way too difficult right now for KKR as they have lost most of their batsmen. SRH have the upper hand right now. KKR need 33 runs from the last 12 balls. KKR 130/6 in 18 overs.
GONE! Pandey this time. Bhuneshwar Kumar picks up an important wicket here. KKR 125/6.
11:13: Should Jason Holder have come out ahead of Sathish? Never mind, we do not have time to think here as the required rate has jumped up to 14 runs per over. Pandey is the man who can get them to that target now. KKR 124/5 in 17 overs (Pandey 36, Sathish 1) KKR need another 39 runs to win from 18 balls.
Suryakumar Yadav is gone! Henriques picks up another. This is a huge wicket. The drop catch did not cost too much. Dhawan takes a decent catch. Yadav gone for 23. KKR 115/5. They still need 48 more runs to win.
11:05: Henriques has also bowled well today considering the way he has bowled throughout the tournament. Things are getting a little difficult here for the Knight Riders. They will have to make a move on here.
11:00: That probably was one of the easier catches and Mustafizur has dropped one. This could be disastrous in terms of the result. Pandey and Suryakumar are doing it nicely here for KKR. KKR 110/4 in 15 overs (Pandey 25, Suryakumar 22) KKR need 53 runs from 30 balls.
Dropped and gone for SIX! Mustafizur is the culprit here. Suryakumar survives. jeez what a game we are having here.
10:55: By the proceedings, one can definitely sense another tight game. Ben Cutting has bowled brilliantly here and surely has been one of the best bowlers for SRH. This partnership between Pandey and Suryakumar is going to be crucial for sure. It has been good so far. KKR 100/4 in 14 overs (Pandey 23, Suryakumar 14) KKR need 63 runs from 36 balls.
10:51: Mustafizur Rahman was brought back into the attack by Warner. Yet again Pandey dispatched the first ball for a boundary. Then things become a little easier for the remainder of the over. Suryakumar made it worse as he hit a four from the last ball of the over as well. Another 11 runs over. KKR 93/4 in 13 overs (Pandey 21, Suryakumar 8) KKR need 71 runs to win.
10:46: This was an important over in terms of runs scored. Manish Pandey began the over with a six and then the two batsmen knocked around and scored a few more. Pandey and Suryakumar Yadav have to stay there right till the end. 11 runs came from that Bipul Sharma over. KKR 81/4 in 12 overs (Pandey 15, Suryakumar 3) KKR need 82 runs to win.
Yusuf Pathan is gone! Is this the match for SRH? We will have to wait and see. Huge wicket. Brilliant catch by Bhuvi. KKR 69/4. Yet another needless shot and yet another wicket. That was reckless from Pathan.
10:41: The required run rate is on the rise. One of Pandey and Pathan will have to make a move on from here. Meanwhile, the Sunrisers bowlers are bowling really well at the moment.
10:37: Two new batsmen is out in the middle now in the form of Yusuf Pathan and Manish Pandey. SRH need to capitalise on this situation. Meanwhile, Ben Cutting has bowled well so far. Just three runs came from that over. KKR 66/3 in 10 overs (Pandey 4, Pathan 1). KKR need 97 more runs to win.
Gambhir is gone! Ben Cutting picks up his first. Gambhir has been dismissed for 28. KKR 63/3. Needless shot from the skipper under the circumstances as it was the first ball after that strategic timeout and it was a brilliant catch from the sub fielder V Shankar.
10:29: Gautam Gambhir and Manish Pandey will need to steady this KKR ship here. They need a partnership here which will bring them closer to that target. Seven runs came from that Bipul Sharma over. KKR 63/2 in 9 overs (Gambhir 28, Pandey 2) KKR need 100 runs to win.
10:25: Ben Cutting was introduced by Warner. The frustration of the previoous run out is clearly seen on Gambhir's face. He almost affected another one but Manish Pandey was wise enough to deny his skipper. The match is in balance right now from where it can go either way. KKR 56/2 in 8 overs (Gambhir 25, Pandey 0) KKR need 106 more runs to win.
Munro is run out here! Direct hit from Yuvraj Singh. KKR 53/2 in 7 overs. Munro is gone for 16.
10:20: Henriques tried and slow things down but after bowling few good deliveries he bowled into Gambhir's pads and he does not usually miss out on those ones.
10:16: Mustafizur Rahman was brought into the attack. He has been one of the best bowlers in this tournament. He has lived up to the expectations and Warner will want him to step u as this is a do-or-die situation. He bowled a good first over here as he managed to keep Munro and Gambhir quiet. KKR 45/1 in 6 overs (Gambhir 17, Munro 14) KKR need 117 runs from 14 overs.
10:11: The strategy is quite clear here from KKR, they are looking to make the most of the first six overs. As the ball will get older, things will slow down. This is a good move from the two-time champions. KKR 43/1 in 5 overs (Gambhir 16, Munro 12) KKR need 120 more runs to win.
10:07: Munro is trying to cut lose here and that is his natural game. Therefore he has been sent in at no. 3. Sran is turning out to be expensive here. Warner will want another wicket here to turn the tide in their favour again. KKR are going at a good rate here as they are keeping up with that required run rate. KKR 34/1 in 4 overs (Gambhir 11. Munro 8). KKR need 129 more runs to win.
10:03: Deepak Hooda was intoduced into the attack. It was a good move so to say as two left-handers are out there in the middle. But Gambhir did not let Hooda to exert the pressure. KKR 23/1 on 3 overs (Gambhir 11, Munro 1). KKR need 140 more runs to win.
SIX! Gautam Gambhir in the action.
Uthappa is caught! Sran picks up his first. KKR 15/1 in 2 overs. Uthappa is gone for 11. KKR need 148 more runs to win.
12 runs came from that Sran over but they also got the crucial wicket of Robin Uthappa. KKR straight away under pressure. Colin Munro is the new man in.
Five overthrows. This is poor stuff from SRH.
Uthappa welcomes Barinder Sran with a boundary from the first ball.
9:55: A good first over from Bhuvneshwar Kumar. Just 3 runs from that over. Sunrisers will need more of such overs. Uthappa and Gambhir will need to step up with the bat at this crucial stage of the tournament. KKR 3/0 in 1 over. (Uthappa 2. Gambhir 1). KKR need 160 more runs to win.
Here's Bhuvneshwar Kumar and inside edge. Uthappa off the mark.
Gautam Gambhir and Robin Uthappa will open the proceedings for KKR.
The run chase will begin soon. Don't go anywhere ladies and gentlemen. Stay tuned.
9:40: This will be a par total so to say. KKR will have to bat well to get to the target as the wicket has been slow and gripping.
SRH kept on losing momentums as they lost wickets at crucial moments. Yuvraj Singh, Moises Henriques, David Warner and Deepak Hooda contributed with their bats.
It will be interesting to see whether this total of SRH will be enough for the night or not.
Kuldeep Yadav was the pick of the bowlers for KKR as he picked up three wickets. Jason Holder also bowled well. Yusuf Pathan did an extremely good job with the ball early on the innings.
KKR need 163 runs to make it to the Qualifier 2.
Last ball of the over and Bipul Sharma missed it but picks up one run as a bye.
OUT! Bhuvneshwar Kumar is gone. SRH 161/8 in 19.5 overs.
Single taken. Two more balls to go.
SIX more! Bipul Sharma is timing the ball sweetly here.
Dot ball to follow.
SIX from the first ball of the last over!
OJHA is gone too! two wickets in that over for Holder. Two crucial wickets so to say. KKR bowlers have pulled things back brilliantly here. SRH 148/7 in 19 overs.
BOWLED! Yuvraj is gone. Holder picks his first of the night. SRH 145/6 in 18.3 overs.
9:22: Narine bowled his last over. Unlike the last match, he was expensive today. He also did not pick up a single wicket. It will be interesting to see how many runs SRH score in the last two overs. SRH 143/5 in 18 overs (Yuvraj 44, Ojha 6).
9:18: Yuvraj survived a run out there. It would have been a real comedy of errors. But his presence is required there by SRH. He has disptached Yadav for two fours in a row. SRH 133/5 in 17 overs. (Yuvraj 40, Ojha 1).
OUT! Ben Cutting is stumped. Kuldeep Yadav has picked up another. SRH 124/5 in 16.1 overs. Cutting is out for a golden duck.
Just when it was looking good for SRH a needless run out was the last thing they needed. Yuvraj Singh was livid as the ball went straight to the fielder. The momentum has been broken along with that partnership of 49 runs. Good thing for SRH is that Yuvraj Singh is still out there in the middle.
Deepak Hooda is run out! Direct hit fro Kuldeep Yadav. Hooda gone for 21 from 13 balls. SRH 120/4 in 15.5 overs.
9:06: Sunil Narine was hit for a six from the first ball of the 15th over. He was also hit for a boundary from the last ball of the over by Yuvraj. That was an expensive over. 11 runs came from that Narine over. SRH 109/3 in 15 overs. (Yuvraj 24, Hooda 11).
SIX! Hooda launches one this time.
9:02: Morne Morkel was brought back into the attack. He bowled a decent over under the circumstances. KKR cannot allow these two to cut lose from here or else they can take away the game. But the ploy from Gambhir has been extremely good. They are trying to double-bluff the batsmen with their strategies. SRH 98/3 in 14 overs (Yuvraj 20, Hooda 7).
8:57: Yuvraj Singh has cut lose here. He has taken on Kuldeep Yadav and has dispatched him for a six and a four. Sunrisers will need more of such overs if they will want to put up a challenging total. SRH 94/3 in 13 overs (Yuvraj 18, Hooda 5).
8:53: Rajagopal Sathish was introduced into the attack. The slower bowlers have done extremely well here. They are bowling as slow as they can. Yuvraj has to stay their in the middle if they will want to get past that 150-run mark. SRH 82/2 in 12 overs (Yuvraj 7, Hooda 4).
8:49: Narine came back and bowled a brilliant over after that eventful over from Kuldeep Yadav. Two new batsmen is at the crease now in the form of Yuvraj Singh and Deepak Hooda. These two will have to build a partnership now in order to get SRH out of this soup. Just 2 runs from that Narine over. SRH 73/3 in 11 overs (Yuvraj 2, Hooda 0).
What an outstanding over from Kuldeep Yadav as he removed two set batsmen Warner and Henriques for 28 and 31 respectively.
Warner is bowled! TWO IN TWO for YADAV. SRH 71/3 in 9.5 overs. Yadav is on a hat-trick here.
OUT! Yet another wicket falls after a boundary. Henriques is gone. SRH 71/2 in 9.4 overs. Henriques gone for 31. Yadav picks up his first.
SIX! first six of the game from Henriques.
Now we have a strategic timeout!
8:38: KKR bowlers have done a brilliant job as they have still managed to keep David Warner quiet. He is just going at run-a-ball strike rate. He could hardly score through that off side. If not Warner, Henriques needs to make a move on. SRH 62/1 in 9 overs (Warner 27, Henriques 23).
8:34: Kuldeep Yadav will be looking to make an impact in this game like he made in the last game against the same opponent. He has to prove his mettle as he is in the team in place of Piyush Chawla, who has been very good throughout IPL 2016. SRH 53/1 in 8 overs (Warner 25, Henriques 17).
Kuldeep Yadav is into the attack now.
8:30: Jason Holder has come out and bowled a decent over here. KKR skipper will be sensing that if he can sneak out one or two wickets here, SRH will be under a lot of pressure. Warner is looking dangerous here though. SRH 47/1 in 7 overs (Warner 23, Henriques 13).
The powerplay overs are done and the field can spread now.
8:25: Warner and Henriques are looking to make a move on here. Henriques is the man who is looking for chances here as the boundaries are not as big as the other grounds that they have played in. This is good start for KKR as their bowlers did not let Warner and co. to get away. But Narine has given away more than 10 runs in that over which is not a good sign. SRH 43/1 in 6 overs (Warner 21, Henriques 12).
Sunil Narine is into the attack and he has been hit for a four.
8:21: This is great reading of the situation from Gautam Gambhir. These are bonus overs for the skipper as Yusuf Pathan has done a wonderful job so far and has managed to keep the SRH batsmen quiet. Pathan has put one down here and that too the big wicket of David Warner. He has hurt his index finger of the right hand. Not to forget, he has to bat as well. Hope he is ok! Henriques finished that over with a six. SRH 31/1 in 5 overs (Warner 11, Henriques 10).
8:16: The pressure is building here. Henriques has not been in good touch this IPL. Probably was not really a good choice at no. 3 for SRH. May be Yuvraj would have been a good option in such situation. Morkel came back and bowled a good over. SRH 21/1 in 4 overs (Warner 9, Henriques 2).
8:13: Yusuf Pathan was given his second over. This is surprising from Gambhir as in the last match he did not use Pathan after the first over. SRH are under are under a little bit of pressure here. Moises Henriques is the new batsman for them. This is good stuff from KKR bowlers. SRH 15/1 in 3 overs (Warner 4, Henriques 1).
BOWLED! Dhawan is bowled by Morkel. SRH 12/1 in 2 overs (Warner 2). Dhawan is gone for 10.
What an eventful over that was. After hitting two boundaries, why did Dhawan had to expose his stumps only he he will know.
And he follows it up with another four.
Here is the first boundary. A little bit of room and Dhawan hits it for a four.
Morne Morkel with the new ball now and dot ball straight away.
8:04: Good over from Yusuf Pathan. He was spot on with his line and length from the word go. Pathan also opened the bowling for KKR in the last match as well. Justfour runs from the first over. SRH 4/0 in 1 over (Dhawan 2, Warner 2).
Here is the first ball and Warner guides down to the square leg for a single.
Yusuf Pathan will open the bowling for KKR.
David Warner and Shikhar Dhawan will open the batting for SRH.
10 minutes to go for the live auction. Are you guys ready for the Eliminator?
Here are the teams for you guys, do take a close look:
Teams coming your way soon. Stay tuned.
Blow for KKR as they will be without Andre Russell yet again. They will be hopeful that they can put up a similar show against SRH tonight as well.
KKR have made two changes to their side - Shakib Al Hasan and Ankit Rajpoot are out, Morne Morkel and Rajagopal Sathish are in.
SRH have also made two changes - Kane Williamson and Karn Sharma out, Bipul Sharma and Ben Cutting are in.
Toss time in New Delhi and KKR have won the toss and they will bowl first.
We will have the toss and the pitch report coming your way in another five minutes time. Stay tuned guys, do not go anywhere.
The weather looks clear and the match will begin on time. Still 40 minutes to go for the live action.
Two of the best bowling sides will predominantly square off against each other today. But SRH must not forget, KKR have won their four out of their last five matches at this stadium on New Delhi.
Coming back to this game, KKR will be having an edge over SRH tonight as the former have won both games during the league stage. Let's see who gets the better of whom, Gautam Gambhir or David Warner?
The stadium is getting filled up slowly. The atmosphere is going to be electric in some time here in Delhi.
Little less than an hour to go, are you guys ready for the action?
Hello and welcome to the live blog coverage of IPL 2016 Eliminator between Sunrisers Hyderabad (SRH) and Kolkata Knight Riders (KKR).
This is Rajarshi Majumdar and I will be bringing you the live cricket score and updates from the match.
Still one and a half hour to go for the live action from the Feroz Shah Kotla Stadium in New Delhi. We can expect a full house here in Delhi as it is going to be one heck of an encounter between SRH and KKR.
The winning team will be playing Gujarat Lions (GL) in Qualifier 2 of IPL 2016 playoffs on Friday at the same venue to set up a final with Royal Challengers Bangalore (RCB) on Sunday at the Chinnaswamy Stadium in Bengaluru on Sunday.