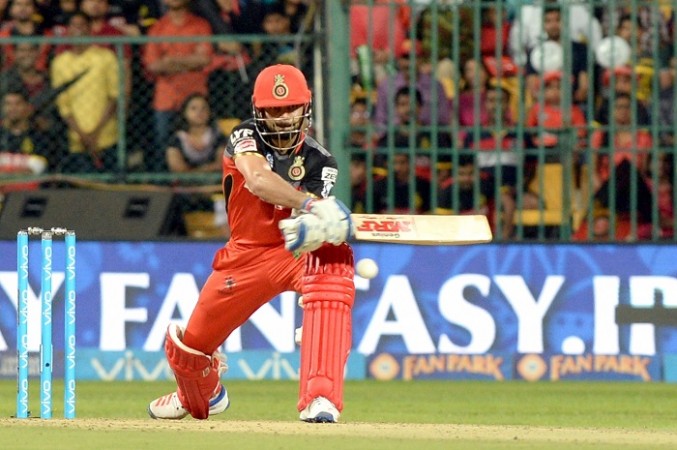 RCB have booked their place in IPL 2016 final, defeating Gujarat Lions by four wickets in Bengaluru on Tuesday. GL had the game in their bag as RCB were tottering at 68 for the loss of six wickets, but AB de Villiers and Iqbal Abdulla's unbeaten partnership of 91 runs saw the home team emerge victorious.
The South African was the hero of the innings, scoring 47-ball 79, which comprised five fours and five sixes. Abdulla scored 25-ball 33. De Villiers and Abdulla helped RCB chase down GL's score of 158 runs.
However, one needs to applaud Dhawal Kulkarni, who took four wickets to put RCB on the back foot. Dwayne Smith also played an important hand earlier in the innings for GL as the right-hander scored 73 runs from 41 balls, helping his team reach 158 runs.
Despite the loss, GL still have a chance to reach the final as they meet the winner of the Kolkata Knight Riders vs Sunrisers Hyderabad, to set up another date with RCB in the title-decider.
11:24: RCB wins the game, as Abdulla hits the winning couple of runs for RCB. They win the match by four wickets. RCB 159/6, 18.2 overs (De Villiers 79, Abdulla 33)
11:20: Bravo to AB de Villiers. Leg bye goes for a boundary. Bravo goes for a huge appeal -- caught behind -- but the umpire gives not out. Correct decision. Poor umpiring the next ball, as a wide is given. Replays suggest ball hit the pad. Abdulla hits the ball for a four, and another boundary, thick edge from the left-hander. Adbulla finishes off the over with a wrsity four. RCB 156/6, 18 overs (De Villiers 78, Abdulla 31), require 3 runs from 12 balls
11:14: Abdulla has been sensible, gives the strike to ABD, who has inched RCB closer to the target. ABD goes for a huge shot, but gets the toe end of the bat, and opts not to go for a quick single. Short ball from Kumar, and the South African hits a humongous six over mid-wicket fence. Kumar comes back brilliantly, bowls a perfect yorker. The magic is back as ABD reverse sweeps Kumar for a sensational boundary. Man, this guy is too good. RCB 138/6, 17 overs (De Villiers 77, Abdulla 20), require 21 runs from 18 balls
11:09: AB de Villiers is the man, who hits Jakati for a six, via a sweep shot. He is getting a move on, as the batsman takes a single in the next delivery. ABD gets back the strike, and the duo complete 50-run partnership. Abdulla gets into the act, as he hits a full-toss for a six. RCB 126/6, 16 overs (De Villiers 66, Abdulla 19), require 33 runs from 24 balls
11:05: Smith comes onto bowl, and Abdulla takes one run in the second ball. ABD goes after Smith, and hits him straight down the ground for a boundary. The South African mishits the ball, but it goes all the way, was close to the boundary fielder. ABD has cut loose. RCB 110/6, 15overs (De Villiers 58, Abdulla 11), require 49 runs from 30 balls
11:01: Bravo is slashed hard in the sweeper cover region for a single by AB de Villiers. Bravo appeals for a catch behind the wicket, but replays suggest, Abdulla did not touch the ball. Top edge for a single. ABD back in strike. He has to play his shots, takes a single. RCB 96/6, 14 overs (De Villiers 47, Abdulla 8), require 63 runs from 36 balls
10:55: Jadeja concedes a single in the second ball of his final over. Abdulla comes down the track, and hits the ball straight to the fielder. It was a full toss. He could have done better. RCB 92/6, 13 overs (De Villiers 45, Abdulla 6), require 67 runs from 42 balls
10:52: Bravo to Abdulla, who takes a single in the first ball. Abdulla needs to just support the right-hander and let ABD waive his magic through, that is, if the South African can. It is not going to be any easy with Bravo bowling his slower balls. Majestic cover drive from ABD for a wonderful four. The crowd is cheering ABD, ABD, ABD. RCB 89/6, 12 overs (De Villiers 43, Abdulla 5 )
10:49: Jakati only gives a single in his first three balls. As I say that, no-ball from Jakati, and free hit. ABD will look for the maximum, and he does not disappoint. It was in the slot for ABD, who hit the ball over the bowler's head for a six. 11 runs from the over. RCB 81/6, 11 overs (De Villiers 37, Abdulla 3 )
10:45: Now, how will ABD play? Will he go beserk? He can, let us see. RCB 70/6, 10 overs (De Villiers 29, Abdulla 1 )
10:43: Two runs from the first 2 balls. They are playing according to the merit of the ball, and respecting the conditions, but Jadeja takes the wicket of Binny, who is trapped leg-before. RCB 68/6, 9.4 overs (De Villiers 28)
10:40: Jakati into the attack. Under edge from ABD, and the pair takes three runs. Binny hits a boundary, but this was another edge from the batsman, who sweeps the ball for an amazing four. Good over so far for RCB. Binny takes the attack to Jakati as he hits a straight six, coming down the track. 18 runs from the over. RCB 65/5, 9 overs (De Villiers 26, Binny 20)
10:34: Kulkarni with his final over. Binny is nearly run out. Had Jadeja hit the stumps directly, Binny was gone. RCB batsmen needs to be sensible now, and see where the pair can take them. They are scoring runs in singles, which is decent. RCB 47/5, 8 overs (De Villiers 23, Binny 6)
10:29: ABD takes a single, gives strike to Binny, who plays a dot ball. Jadeja is getting the ball to turn. Run-scoring is not easy, but takes a single. An important boundary from De Villiers' bat. Outside edge. Great timing from ABD, who hits another boundary in the off-side. RCB 41/5, 7 overs (De Villiers 21, Binny 2)
10:25: Stuart Binny, new batsman, needs to provide support to De Villiers, who can still win the game. RCB 31/5, 6 overs (De Villiers 12, Binny 1)
10:23: Now, ABD is the only person, who can stop GL from winning. Else, GL have the game in their bag. Kulkarni takes his fourth wicket as Baby is out for a duck. RCB 29/5, 5.3 overs (De Villiers 11)
10:20: Sachin Baby plays a dot ball. RCB 28/4, 5 overs (De Villiers 10, Baby 0)
10:19: Jadeja is taken for a single by ABD in his first ball. Watson also gets off the mark, quick single. The ball is not coming onto the bat. Is this Chinnaswamy pitch? More trouble as Watson bites the dust as Jadeja dismisses the Australian. RCB 28/4, 4.5 overs (De Villiers 10)
10: 15: Hat-trick ball to Watson, who plays a solid defence. Excellent over. Two wickets and a maiden. Very rare in T20 cricket. RCB 25/3, 4 overs (De Villiers 8, Watson 0)
10:14: Kulkarni has taken two big wickets, and produces his third of the match. That is brilliant bowling as KL Rahul edges the ball to first slip. RCB 25/3, 3.3 overs (De Villiers 8)
10:12: Kulkarni to Gayle, slower ball, no run. Gayle is bowled by Kulkarni. Like Kohli, Gayle also played onto his wicket. RCB 25/2, 3.2 overs (De Villiers 8)
10:10: De Villiers is trying to hit the ball too hard. He needs to just time the ball, which is not happening. Two dot balls from Kumar, who is hit for an amazing six by the South African in the third ball, over extra cover, and follows it with a single. RCB 25/1, 3 overs (Gayle 9, De Villiers 8)
10:06: AB de Villiers is under pressure. He has to deliver and the South African gets off the mark as Raina misfields. A bouncer from Kulkarni, and Gayle is hit on the helmet. Gayle's response - a boundary, but that was close to the fielder for a catch. RCB 17/1, 2 overs (Gayle 9, De Villiers 1)
10:03: Gayle ready to face Kulkarni. The left-hander takes a single in the leg-side. Kohli to face his second ball, and he is gone for a duck. KOHLI IS GONE, drags the ball back onto the stumps. RCB under pressure. RCB 12/1, 1.2 overs (Gayle 5)
10 p.m.: Gayle on strike. Praven Kumar opens his spell with a wide. Gayle scores a boundary with a glance in the leg side. Kumar, as usual, gets the ball to swing, and Gayle plays with a straight bat. Horrible delivery by Kumar, who bowls a wide down the leg side with Karthik upto the stumps. RCB 11/0, 1 over (Gayle 5, Kohli 0)
9:55: RCB openers -- Chris Gayle and Virat Kohli -- are out in the middle. If GL bowlers fail to dismiss these batsmen early, RCB will cruise towards the final.
GL finish with 158 runs on the board. Is this score enough? We will get to see when RCB start their run-chase.
9:40: Jordan bowls a dot ball. Two balls to go, and Jakati takes a single. Kulkarni is run out while going for two runs. GL 158 all out.
9:37: Jordan on the money with his death bowling. Two runs from two balls. Good bowling as he bowls Praveen Kumar in the third ball. GL 156/9
9:33: Hat-trick ball. This over has had everything, sixes, wicket, nearly a back foot no-ball, and what next, two balls left for the over to end. Slow bouncer and it is a wide. Kulkarni hits a boundary, and follows it with another boundary in the off-side. GL 154/8, 19 overs (Kulkarni 8, Kumar 0)
9:31: Nine balls left for the second innings to end. How many mor can GL score now? Bravo on strike to Watson, who dismisses Bravo. The Australian is on a hat-trick. GL 145/8
9:29: Dwivedi comes down the track to Watson, and times the ball for a wonderful six. One of the shots of the night. The right-hander hits another six over the mid-wicket fence. Dwivedi hits 12 runs from 2 balls. Don't they need some more? Kohli takes a blinder to dismiss Dwivedi. GL 145/7
9:25: Jordan bowls a dot ball to Dwivedi, who manages a single in the second. The GL are in serious need of some late flourish. Bravo, who hits a boundary in the off-side, opening the face of the bat in the last moment, needs to swing his bat more. Jordan bowls a perfect yorker, and the ball deflects from his pads to the boundary. GL 133/6, 18 overs (Bravo 8, Dwivedi 7)
9:20: GL needs to play out 20 overs now. Bravo holds the key from here onwards. Dwivedi is the new batsman, who sweeps Chahal for a boundary. Clever batting from the Indian. GL 121/6, 17 overs (Bravo 3, Dwivedi 5)
9:17: Bravo gives the strike to Smith, who hits Chahal for an incredible six, slog sweep from the in-form batsman. Smith is 27 runs short of a ton, but he holds out in the deep. The ball hit the toe end of the bat. Smith is out for 73 runs. GL 115/6
9:13: Last ball of the 16th over, and new batsman Dwayne Bravo scores a single. GL 108/5, (Smith 67, Jadeja 1)
9:12: Smith is looking in great form, but Jadeja also needs to fire. Watson to Jadeja, who plays two dot balls. If he cannot play the big shots, he needs to give the strike to Smith. Jadeja runs the ball to third man, and Smith is in strike now. What can the West Indian do now? He inside edges the ball for a single. Now Jadeja is out as he is caught by Gayle. GL 107/5
9:09: Six overs to go. What is in store for cricket fans? Aravind back into the attack. Smith flicks the ball for a single. Smith has to remain till the end. Jadeja gives the strike back to Smith, who hits another six in the leg-side. Poor bowling. It was a full toss to the in-form batsman. Smith whips the ball for a single. GL 104/4, 15 overs (Smith 66, Jadeja 2)
9:01: Jadeja plays the ball on the off-side, but no run. GL 94/4, 14 overs (Smith 58, Jadeja 0)
9 p.m: Karthik is gone. Jordan dismisses Karthik, who plays on to his wicket. GL were looking good with Karthik and Smith batting well. GL 94/4.
8.56: Karthik starts the Abdulla over with a sweep shot boundary to deep square, before Smith mishits a slow sweep four to cow corner and a thump to long-on. That six brings up the fifty as well for Smith, a much-needed one, off just 31 balls. GL 89/3, 13 overs (Karthik 23, Smith 56).
8.52: Smith getting into the mood here. Just two runs come off the first five balls, but then the West Indian cracks onto the back foot and whacks a six over midwicket. GL 72/3, 12 overs (Karthik 18, Smith 45).
8.49: It looked like being another big over for the Lions, as Binny is taken for a four by Karthik first ball, but the slow medium comes back well, giving away just two runs in the next four balls. GL 64/3, 11 overs (Karthik 17, Smith 38).
8.45: A good over for GL, as Yuzvendra Chahal gets his for a six, four and four by Smith. All of 16 runs come off it, giving GL just that bit of push they need. GL 58/3, 10 overs (Karthik 12, Smith 37).
8:42: Stuart Binny is hit straight down the ground by Karthik, but only a single. Slower ball from Binny and the ball does not come onto the bat at all, Smith is foxed. Smith slashes hard, drags the ball in the leg side, one run in the next ball. Another straight drive from Karthik, hits the wicket at the other end, and takes a single. It deserved more than that. GL 42/3, 9 overs (Karthik 11, Smith 22)
8:39: Yuzvendra Chahal, purple cap holder, comes on. The GL batsmen look comfortable against the leggie, who is taken for three singles in his first three balls. Smith fails to control the drive, luckily falls in no man's land, takes single. GL 38/3, 8 overs (Karthik 9, Smith 20)
8:36: Chris Jordan with his first over, and opens his spell with a wide. Smith is looking good, middling the ball well, but he needs to stay right till the end. He pulls Jordan for an amazing six, and follows it with a single. GL 33/3, 7 overs (Karthik 6, Smith 18)
8:31: Karthik comes down the track, and the ball catches the edge, which runs to third man for a single. Surprisingly, the ball is stopping on the batsmen. It is not an easy track to bat on. GL batsmen have not been able top pierce the gap, despite their efforts. Karthik in trouble, as he is beaten outside the off-stump. GL 23/3, 6 overs (Karthik 5, Smith 11)
RCB are in commanding position, with three big wickets in the Powerplay.
8:26: RCB bolwers have been spot on with their bowling. Abdulla with his second over, and not a single four or six so far. It is startling, and as I say that first boundary from Smith, who hits another four in the off-side. I told you, Smith is the man. GL needs more of these from the West Indian. GL 20/3, 5 overs (Karthik 3, Smith 10)
8:22: Smith gets off the mark, and retains the strike. Smith is the man, who needs to shine in Bengaluru. GL 10/3, 4 overs (Karthik 2, Smith 1)
8:20: Shane Watson with the ball in his hand, and Raina goes for a wild shot, does not time it. The pressure is building on Raina and GL, who are yet to hit their first boundary. Things are looking horrible for GL, as Raina is out. No prizes for guessing. He is out as the ball is dug in short, and fails to control the ball. GL 9/3, 3.4 overs
8:16: Karthik takes a single in the first ball, and Aravind beats Raina the next ball. Raina has faced four balls after he has come in, and is yet to get off the mark. The skipper must be relieved as he takes a single in the leg side. Just two runs from the over. GL 9/2, 3 overs (Raina 1, Karthik 2)
8:12: Two wickets in the second over, Good bowling by Abdulla. Suresh Raina and Dinesh Karthik needs to build the innings. GL 7/2, 2 overs (Raina 0, Karthik 1)
8:10: Nearly a second wicket for the spinner, Finch slashes at the ball, and produces an edge, which results in a boundary. But Finch is gone as well, as he is caught in the slip the next ball. GL 6/2
8:07: Iqbal Abdulla into action, and McCullum is gone as he is caught in the deep by De Villiers. GL 2/1, 1.1 overs.
8:06: Sreenath Aravind opens the bowling for RCB. First two balls, and Aaron Finch fails to connect. GL get off the mark with a leg-bye, McCullum in strike now, and KL Rahul is up to the stumps. Great start by RCB, only two runs. GL 2/0,1 over (Finch 0, McCullum 1)
8:01: Here we go. The umpires are out in the middle. RCB players run onto the field, and seem to be geared up. The GL openers are having a look at the pitch. Are u ready? I am....
7:55: RCB might have started IPL 2016 poorly, but they have gathered strong momentum in the latter stages of the competition, winning their last four matches in sensational style. GL, on the other hand, have been consistent, managing the highest number of wins (9) in the league stages. One cannot wait for the game to start, which is just a few minutes away.
7:45: Here are the two teams: GL : A Finch, B McCullum, S Raina (c), D Karthik (wk), DR Smith, R Jadeja, DJ Bravo, E Dwivedi , S Jakati, P Kumar, D Kulkarni
RCB: C Gayle, V Kohli (c) AB de Villiers, L Rahul (wk) S Watson, S Baby, S Binny, C Jordan, I Abdulla, S Aravind, Y Chahal
These stars, I tell you, if they shine for the next three-four hours, we are in for a ripper of a contest.
7:40: Here is a look at the pitch. Does it not look like a belter?
7:33: Toss time: Kohli wins the toss and decides to bowl first. Raina also says he would have done the same. RCB and GL have not made any team changes from their respective last game.
7:27: Hope I am spared by GL fans for talking about Kohli and his incredible batting so far. C'mon, how can you not talk about his super-human performance? Now let us talk about GL. They too have some incredible batsmen like McCullum and Smith, and if the duo gets their act together, RCB will have their task cut out.
Mind you, they are in their debut season, but they have experienced IPL stars, which has helped them gel as a unit.
7:20: Just to throw some stat, which everyone is aware of by now, Kohli has hit an incredible four tons this season. Will he score his fifth ton and become the first IPL player to score 1000 runs in one season? With the form Kohli has shown in IPL 2016 so far, one cannot rule out another century in Bengaluru! To be precise, he just needs 81 runs for 1000 runs.
7:05: Both teams must be ready for one of the crucial matches of IPL 2016, are you?
7 p.m: What a cracker we have in store. Can it get any better than this? Both teams comprise some electrifying batsmen like AB de Villiers, Virat Kohli, Chris Gayle (RCB) and Suresh Raina, Brendon McCullum, Dwayne Smith (GL). With the pitch in Bengaluru having assisted the batsmen to the core, a run-feast is one the cards, with flurry of boundaries, and obviously those towering sixes.
I already feel sorry for RCB and GL bowlers.
Hello everyone. Welcome to International Business Times, India live blog coverage. This is Ashim Sunam here, and I will provide you with all the thrills and spills from the Royal Challengers Bangalore vs Gujarat Lions clash in Bengaluru. We are 90 minutes away from the first ball of Qualifier 1, and the stadium has few seats vacant, which will be filled in the next hour or so.
The best thing about the first qualifier is that RCB and GL can still qualify for the final if they lose this fixture. The winner will seal final berth while the loser will have to face the winner of the eliminator between Kolkata Knight Riders and Sunrisers Hyderabad. So, expect some brilliant cricket, once the umpire calls, 'play' at 8 p.m IST.