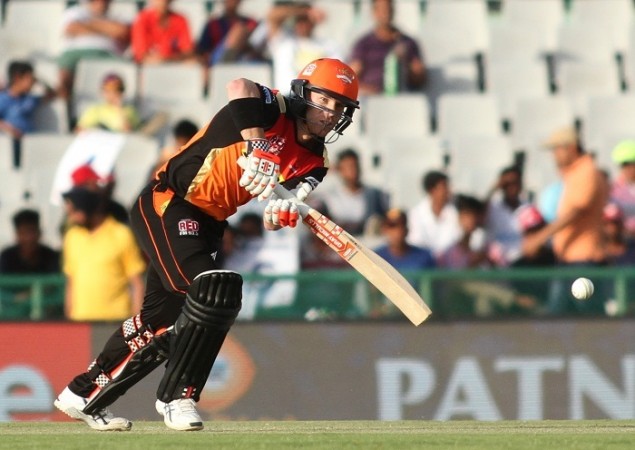 11:40: Incredible Warner has propelled the Sunrisers Hyderabad into the IPl 2016 final. A wonderful partnership between Warner and Bipul Sharma turned the wheels of fortune in their favour.
The 19th over was probably the turning point as Bravo gave away 19 runs in that. Bipul Sharma did what other batsmen failed to do tonight.
It was indeed a one-man show as Warner stood their right till the end and made sure that his side goes over the line. He remained unbeaten on 93 runs from just 58 balls.
Shivil Kaushik was the only bowler who could make an impact in the game.
Now the Sunrisers have set up a final against the in-form RCB on Sunday in Bengaluru.
That is all from me ladies and gentlemen as I need a glass of water and so do you guys I believe after that thrilling encounter.
Good night all and have a good weekend ahead!
It is all over, David Warner has done it for SRH as they win it for four wickets and are into the IPL 2016 final!
Warner on strike and Praveen Kumar with the ball and he blasts one for a boundary
SIX! Bipul O Bipul. Five needed from the last over. SRH 158/6
Single to follow. Still one to go in this over
Four! Warner has turned on the heat here.
Two more, could have been a four, but Finch saves 2 runs there
Follows it up with a 2. This is brilliant stuff.
Warner starts with a four!
11:24: Things are getting difficult out there for SRH as the Gujarat Lions bowlers are bowling those yorkers. Kulkarni has just bowled an excellent over. Bipul Sharma still is fighting out there with his captain. Still 24 more runs to win from the last 12 balls. SRH 139/6 in 18 overs (Warner 75, Bipul 21).
11:19: Can Bipul Sharma do it again tonight like he did against KKR? He is doing a wonderful job so far along with his skipper who has been outstanding in this match. That was good over for SRH as that has brought down the asking rate. SRH 129/6 in 17 overs (Warner 74, Bipul 12) 34 more needed.
OJHA IS OUT! Bravo is the man. SRH 117/6
Still 46 more to get and Bipul Sharma is out there with Warner.
11:11: Bravo, who has bowled in this match, was given another over as he is extremely handy in the death overs. What an over that was from the West Indian, as it had as many as four dot balls. The required rate has shot up again.
11:06: What an over that turned out to be. Smith was brought back and Warner has taken him for plenty. SRH have gone past that run-mark now but they still have a task in hand. That was a huge over. 19 runs came from that. The required rate has come down below 10 runs an over now. Poor bowling from Smith. SRH 116/5 in 15 overs (Warner 73, Ojha 10). 47 more needed.
11:02: Warner needs to stay there no matter what if SRH will want to make it to the IPL final. the equation is getting more difficult with time. The required rate is on the rise as well. Just one partnership can seal the game for SRH here. SRH 97/5 in 14 overs (Warner 61, Ojha 3) 67 more runs to win.
10:58: Sunrisers in deep trouble here. Kaushik just finished bowling an outstanding spell of bowling. Warner is not going to stop on the other end it seems. He has taken all of it on his heavy shoulders. SRH 91/5 in 13 overs (Warner 57, Ojha 1). 72 more runs to win.
GONE! Ben Cutting is out. Kaushik has picked up another here. SRH is in deep trouble. SRH 84/5.
10:53: Ben Cutting has come out to bat now. He could have been caught by the skipper in the mid-wicket but got lucky as it went for a four. It looks like it is going to be David Warner who has to complete this task. SRH 82/4 in 12 overs (Warner 50, 7). 81 more runs to win.
OUT LBW! Deepak Hooda is gone. Bravo strikes. Hooda disappoints again. Bravo does the champions dance. SRH 75/4
10:46: Kaushik has been outstanding tonight. He has bowled just the perfect line and length to tighten things. Warner needs to put his feet on the accelerator. Hooda too can don that hat. Let's see what these two have in store for us. The required run rate has now gone over 10 runs an over. Warner reaches his half century. SRH 70/3 in 11 overs (Warner 50, Hooda 4) 88 more runs to win.
Hooda survives a scare as the big screen says not out.
That looks tight.
Stumping is it? Third umpire to take a call!
10:42: Gujarat Lions bowlers have tightened the screws. The run flow has stopped suddenly even David Warner is not finding those odd boundaries. But he needs to stay there right till the end. SRH 66/3 in 10 overs (Warner 43, Hooda 2). 97 more runs to win from 60 balls.
10:38: Sunrisers are in a bit of trouble here. They are struggling against the spin bowling. But Warner is still out there in the middle. Deepak Hooda is the new man in. They need a partnership from now. SRH 62/3 in 9 overs (Warner 41, Hooda 0). 101 more runs to win.
Yuvraj is gone! Shivil Kaushik strikes. SRH 61/3.
10:33: Raina decided to go for another over but it turned out to be a bad decision. He was taken for a plenty of runs. Misfielding will hurt their chances and they have done it a number of times today. SRH 61/2 in 8 overs (Warner 40, Yuvraj 8) 102 more runs to win.
10:29: Shivil Kaushik was introduced into the attack. The spinners are making it difficult here for Yuvi and Warner here. The scoring has taken a hit now. They are not being able to time the ball at all. SRH 49/2 in 7 overs (Warner 29, Yuvraj 7). 114 more runs to win.
10:25: The powerplay overs are done. That was a good over from Suresh Raina under the circumstances. Just four runs came from that over. The field can spread now. Yuvraj and Warner should keep the scoreboard ticking. SRH 47/2 in 6 overs (Warner 27,Yuvraj 6). 116 more runs to win.
10:21: After the wicket off the first ball, the over has not been a good one. 10 runs came from that Smith over. Yuvraj and Warner will have to build a partnership here. SRH 43/3 in 5 overs (Warner 25, Yuvraj 5) 120 more runs to win.
Yuvraj smashes one from his first ball. Four!
OUT! Henriques is gone. Dwayne Smith has picked up a wicket from his first ball. SRH 33/2
10:16: Kulkarni has tried to bowl a tighter length but Henriques has been reading him well. Warner too has been on the move from the other end. Gujarat Lions need wickets here and nothing else. They need to expose that middle-order of theirs. SRH 33/1 in 4 overs (Warner 20, Henriques 11). 130 more runs to win.
10:12: This has been a superb start by the Gujarat Lions bowlers. They have managed to keep Warner quiet on one end. The required run rate is already on the climb. The fielding has been scratchy so far. SRH 22/1 in 3 overs (Warner 15, Henriques 5). 142 more runs to win.
10:08: In spite of that wicket, Warner is not holding himself back. He is timing the ball beautifully here. However his wicket is going to be very important here. Dhawal Kulkarni is yet again has bowled a terrific line and length. SRH 11/1 in 2 overs (Warner 10, Henriques 0). 152 more runs to win.
Direct hit here. This is going to be interesting. Dhawan is the batsman and he is gone! Big wicket. SRH lose their first. SRH 6/1
Brendon McCullum was the man with the throw.
10:02: Warner has started improvising right from the start here and that has made Praveen Kumar to alter his length. This is going to be a good run chase. However, it was a decent over from the bowler. SRH 6/0 in 1 over (Warner 5, Dhawan 0).
What a start for Warner as he times the ball perfectly for a boundary.
We are back with the run chase. David Warner and Shikhar Dhawan will start with the proceedings.
Dont go anywhere guys, the run chase will begin soon. Stay tuned.
9:45: Gujarat Lions recovered well from their early slump and posted a challenging total. As the pundits said, anyhting above 160 will be good enough for defending. We have a game in our hands here.
Aaron Finch, Brendon McCullum, Dinesh karthik, Dwayne Bravo and Ravindra Jadeja were all good with the bat.
Bhuvneshwar Kumar was the pick of the bowlers again. Ben Cutting also bowled well.
Sunrisers Hyderabad will have to bat well to get to that target.
Gujarat Lions finish on 162/7 at the end of their allotted 20 overs.
Bowled! Bravo is gone. Bravo misses and Bhuvi hits. What a cameo it was from the West Indian. GL 158/7.
9:35: Bravo is hitting those useful boundaries here. It does not matter how they come as long as they keep coming. Boult has turned out to be expensive. Bravo and Jadeja will look to hit some more of those in the last over of their innings. They have already gone past 150 runs now. GL in 155/6 19 overs (Bravo 18, Jadeja 17).
9:30: 10 runs came from that Cutting over but he picked up the wicket of Aaron Finch. Dwayne Bravo is out ther in the middle now. Gujarat Lions will look to score 20 more runs at least in the last two overs. GL 139/6 in 18 overs (Jadeja 16, Bravo 5).
The third umpire confirms that it was a fair delivery. Finch missed a full toss. GL 134/6.
FINCH is bowled! But the umpires have stopped Finch to check if the ball was above the waiste.
9:25: Warner brought back his strike bowler Bhuvneshwar Kumar and he made things difficult for Finch and Jadeja. Three more overs to go after this. Let's see how much Gujarat Lions can score. GL 129/5 in 17 overs (Finch 46, Jadeja 15).
9:21: Boult was brought back into the attack and he did not disappoint his captain. He would have been nervous early on but he has done well today and the absence of Mustafizur Rahman has not been felt so far. Finch on the other hand, is playing a superb innings here. GL 120/5 in 16 overs (Finch 44, Jadeja 8).
9:15: Finch is looking dangerous here. He needs to continue with this form of his to help Gujarat Lions reach a comfortable score. Jadeja needs to play a good supporting role too. 160 plus is definitely on here. Sran is not having a good night but Finch is. GL 109/5 in 15 overs (Finch 35, Jadeja 6).
Saved a genuine six there Ben Cutting! What an effort that was.
9:08: The slowness of the pitch has helped the slower bowlers in this match as well. SRH bowlers have cashed in on the opportunity here and picked up those wickets. Gujarat Lions badly need a partnership here. They still have Dwayne Bravo to come after this. But that cannot be the parameter of judging situations. Finch has to play the anchor role here for sure. Jadeja too needs to step up to the occasion. Meanwhile, Finch has looked good after that drop catch of his. That was a huge over as 17 runs came from it. GL 100/5 in 14 overs (Finch 29, Jadeja 3).
9:04: The last few minutes SRH have pulled things back wonderfully. They have pciked up two crucial wickets of McCullum and Dwayne Smith. Finch is still out there in the middle with the new man Ravindra Jadeja. GL 83/5 in 13 overs (Finch 15, Jadeja 0).
BIG WICKET! Dwayne Smith is out now. Cutting picks up his first. Yet another needless wicket. GL 83/5
McCullum is gone! What a game this is turning out to be. McCullum gone for 33. GL 81/4
DROPPED. Sran has dropped Finch here. Dear-o-dear.
8:54: Sran was brough back but he was taken for plenty by Aaron Finch as he hit him for a four and a six in that over. 10 runs came from that Sran over. Gujarat Lions will want these two batsmen to stay their in the middle for long. GL 77/3 in 11 overs (McCullum 30, Finch 12).
8:50: Henriques has been outstanding tonight as well. The Aussie all-rounder has so far been quite economical. Aaron Finch is out in the middle now and McCullum is still there. They need more from Baz for sure. GL 67/3 in 10 overs (McCullum 30, Finch 2).
Dinesh Karthik is run out here! Karthik dismissed for 26. GL 63/3
Needless from Karthik. Just when everything was going in their favour, they Gujarat Lions lost a wicket.
8:44: Karthik and McCullum are buliding a wonderful partnership here. Karthik has also decided to step his feet on the accelerator. Meanwhile, Cutting lets one through his hands for a six. Could be very costly. Karthi survives.
And it is the first strategic timeout!.
8:39: Moises Henriques, the man of the match from the last game, will look to emulate similar performance in this game as well. A very good over from Herniques under the circumstances as just 6 runs came from it. GL 52/2 in 8 overs (McCullum 27, Karthik 16).
8:32: Ben Cutting was introduced into the attack. The Australian all-rounder bowled exceedingly well against the Kolkata Knight Riders (KKR). He also picked up a couple of wickets in that match. McCullum will have to make a move on here as things have slowed down a bit. GL 46/2 in 7 overs (McCullum 26, Karthik 11).
8:28: Karthik is also a good player in this format of the game. He will need to build a partnership here with McCullum and steady this Gujarat Lions ship. Bipul Sharma was introduced into the attack by Warner and he bowled decently. The field can spread now as the powerplay is done. GL 38/2 in 6 overs (McCullum 20, Karthik 9).
8:25: McCullum has continued playin his shots no matter what. However, the Lions are under pressure here as they have lost two early wickets within the first six overs. SRH should not forget that Gujarat Lions still have a lot of firepower in their lineup after this as well. GL 32/2 in 5 overs (McCullum 15, Karthik 4).
Barinder Sran is into the attack now!
8:21: That was a successful over from Boult as he picked up the massive wicket of the Lions' captain Raina. Dinesh Karthik is out their in the middle now. That is the kind of performance that Warner needs from his bowlers. GL 23/2 in 4 overs (McCullum 11, Karthik 4).
Boult removes Suresh Raina! That was plum. GL 19/2. Raina goes for 1.
8:14: Bhuvneshwar Kumar is bowling wonderfully here. He has not allowed the batsmen to launch an attack on him. Meanwhile, the Sunrisers Hyderabad have been very good on the field. Shikhar Dhawan saved a genuine boundary in that over. McCullum is looking dangerous here. GL 19/1 in 3 overs (McCullum 11, Raina 1).
8:10: Brendon McCullum is not going to keep quiet for long even if the wickets keep on falling at the other end. He is trying to swing his bat on every ball. He should not be allowed room to free his arms during the first six overs. Trent Boult playing his first game bowled a poor over under the circumstances. Meanwhile, skipper Suresh Raina is out their in the middle now. GL 16/1 in 2 overs (McCullum 9, Raina 0).
Dwivedi is gone! The strategy did not work. Bhuvneshwar picks up his first wicket. GL 7/1 in 1 over. Dwivedi gone for 5.
8:04: It was a good over from Bhuvneshwar Kumar first up. On the other hand, it was quite a bold move from Suresh Raina as he sent Dwivedi up the batting order. He edged one for a boundary through the third-man area. The intention is quite clear, he is going throw his bat at everything.
Here is the first ball from Bhuvi and Dwivedi nudges it down to the fine leg for a single.
That is a surprise, Eklavya Dwivedi will open the batting for Gujarat Lions along with Brendon McCullum. Bhuvi as usuall will open the bolwing for the Sunrisers.
We are just minutes away from the live action. Gear up ladies and gentlemen, we are up for one heck of an encounter.
Here are the teams for you:
25 more minutes to go for the live action! The team will be on your way soon.
Gujarat Lions have also made one change to their side: Shivil Kaushik has replaced Shadab Jakati.
Big news from the middle: Mustafizur Rahman will not play today for the Sunrisers. Trent Boult will replace the Bangladeshi seamer.
Toss time: David Warner have won the toss and they will bowl first.
Sunil Gavaskar is keeping Gujarat Lions ahead in this game as they have more impact players in their side. Not to forget, the Sunrisers also have a lot of talented cricketers in their ranks. We are up for a cracker of a game here tonight.
The toss is 15 minutes away. Also the wicket is not going to change much from the last game. So it might not be a high-scoring game. Let's see what's these two sides have in store for us.
This is how the pitch looks like:
We still have 50 more minutes for the action to start, are you guys ready for the Qualifier 2?
Mustafizur Rahman is going to be a crucial weapon for Warner, it will be interesting to see how is he going to use him.
Gujarat Lions on the other hand, have an uphill task in their hands. Their openers will have to step up. Probably, Dwayne Smith should ideally come up the order in place of Finch as the former has been in good form of late. Skipper Suresh Raina will also have to better his game as this is their last chance to make it to the IPL 2016 final.
The Sunrisers were at their best in the last game against Kolkata Knight Riders (KKR) in the Eliminator. They will look to emulate a similar performance against the Gujarat Lions as well.
Hello and welcome to the live blog coverage of IPL 2016 Qualifier 2 Gujarat Lions (GL) vs Sunrisers Hyderabad (SRH).
This is Rajarshi Majumdar from IBTimes India and I will be bringing you the live cricket score and updates of the action from the knockout match.
We still have one and a half hours for the match to start at the Feroz Shah Kotla Stadium in New Delhi.
The winning team will set up a final with Royal Challengers Bangalore (RCB) on Sunday at the Chinnaswamy Stadium in Bengaluru.