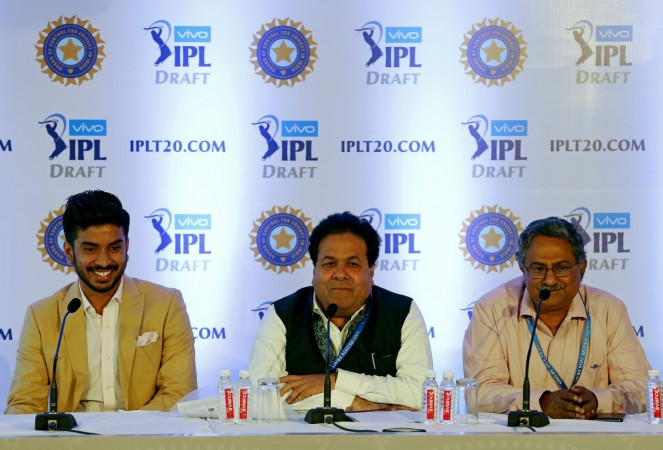 Indian Premier League (IPL) Chairman Rajeev Shukla's companies is apparently facing investigation by Indian finance ministry for alleged money-laundering charges. The amount involved runs into several crores of rupees, according to a report by the Statesman.
Among the entities being probed by the Enforcement Directorate (ED) is his flagship company BAG Films and Media Limited, which is owned by him and his wife Anuradha Prasad, sister of BJP politician and minister in the Narendra Modi government Ravi Shankar Prasad.
The ED is investigating purchase of 9.4 million shares by FID Funds Mauritius Ltd and 37 million shares by the Bank of New York Mellon in BAG Films and Media, said the daily.
Other firms belonging to him that are under the ED scanner include News24 Broadcast India Limited, E24 Glamour Ltd. and ARVR Communication Private Limited, the report added.
The transactions that have aroused suspicion include purchase of shares by a little-known firm called Oscar Software Private Limited with a paid-up capital of Rs. 1 lakh as on March 31, 2013.
E24 Glamour Ltd. purchased debentures worth Rs.62.92 crore of Oscar in 2013, followed by Oscar buying 64.86 lakh shares of News24 Broadcast in December 2013 at a premium of Rs.87 on a Rs.10 share amounting to Rs. 62.92 crore. "The investigation is focused on why the Shuklas found it necessary to route the investment of one of their firms into another of their companies in this manner," reported the Statesman.
Officials of the ED are also investigating investments in Shukla's companies by Hindi film actor Shah Rukh Khan, his wife Gauri Khan, businessman Sameer Gehlaut and a few companies linked to Mukesh Ambani. While Shah Rukh Khan is an investor in BAG Films and Media, his wife is learnt to have invested in E24 Glamour Ltd.
Rajeev Shukla is also a politician and was a minister in the earlier Congress-led UPA government.