Shubman Gill and Shivam Mavi were key members of the victorious Indian team that won the U-19 World Cup 2018.
While pacer Mavi was bought for Rs 3 crore, Gill was paid Rs 1.8 crore by KKR.
Both Gill and Mavi are getting consistent game time at the Dinesh Karthik-led franchise.
Kolkata Knight Riders (KKR) captain Dinesh Karthik lauded the contribution of U-19 India coach Rahul Dravid in nurturing young stars Shubman Gill and Shivam Mavi, among others.
Karthik, who himself had played for the U-19 India team at 2004 World Cup, pointed out that Mavi and Gill, who were key members of the U-19 World Cup-winning team earlier this year, have not let success get into their heads but are keen on learning at the KKR camp.
Gill was the top-scorer for India at the U-19 World Cup in New Zealand as he had amassed 372 runs, including a ton, in six matches. Mavi attracted a lot of attention with his raw pace and finished the tournament with nine wickets at a miserly economy rate of 4.12.
'Mavi, Gill always have good things to tell about Dravid'
Karthik's comments came after KKR had crushed Royal Challengers Bangalore (RCB) by six wickets on Sunday, April 29 to retain their fourth spot on the eight-team table.
"It's beautiful. I have a lot of time for them. They are great kids. Most importantly, they're learning, they have lovely things to talk," Karthik said.
The 32-year-old wicketkeeper added: "After winning a World Cup, you tend to have a chip on your shoulders but definitely not these boys. A lot of credit to the way they've been brought up.
"Credit to Rahul Dravid as well. They always have good things to tell about Rahul. Having had somebody like that at the U-19 level is always going to help them."
Karthik: I believe in trusting my playing XI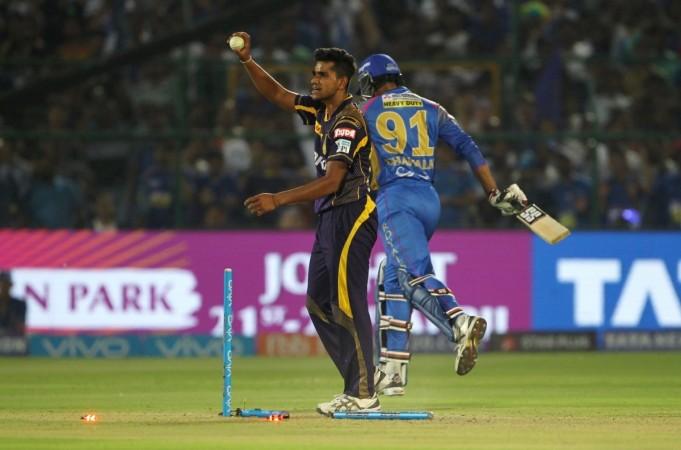 Despite suffering crushing defeat to Delhi Daredevils on Friday, April 27, KKR fielded an unchanged XI for Sunday's test against RCB.
The move worked wonders as KKR players repaid the faith their skipper showed in them by coming up with an all-round show at the M Chinnaswamy Stadium.
Mavi, who had leaked 58 runs, including 29 in the final over, against the Daredevils, buckled up and came up with a disciplined three-over spell Sunday. The 19-year-old Uttar Pradesh pacer bowled yorkers at will as he conceded only 18 runs from two overs at the death when Kohli was looking for big hits.
Notably, Karthik had backed Mavi to come back strong after the defeat against the Daredevils. The skipper reiterated his stance on "chopping and changing", this time with a win under his belt.
"I believe we need to have a strong core and trust them. I've felt that you need to trust the players that are part of the XI. We have not made many changes so far," Karthik said.