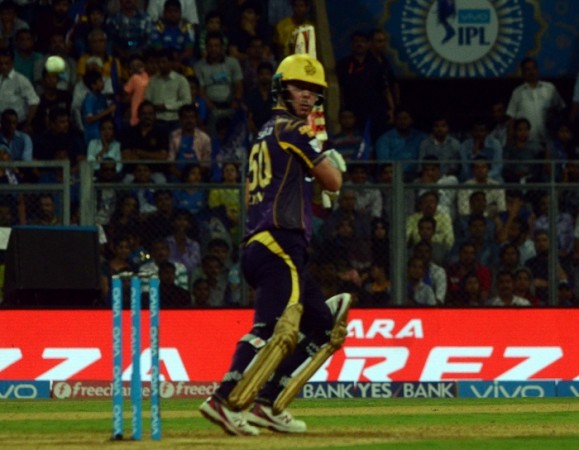 For the past few seasons, there has been huge hope from Australia's explosive batsman Chris Lynn, who is part of Kolkata Knight Riders, to shine in IPL. However, his record for the franchise in the IPL has been poor, drastically poor with 83 runs from four matches. Lynn was picked by now redundant Deccan Chargers in 2012. He did not play for Sunrisers Hyderabad in 2013, and was then picked by KKR in 2014.
Read: Marcus Stoinis could prove to be a key for Kings XI Punjab
This is not the kind of record (89 IPL career runs in five matches), which one expects from Lynn, who has been one of the best T20 players in Australia. He has always scored heavily in the Big Bash League, and the recently concluded T20 league also witnessed the right-hander scoring 309 runs from five matches, helping him win the player of BBL this season as well. He has been known for his consistent batting in the BBL, scoring 1412 in 44 matches at a strike rate of 126.11.
However, the right-hander has not been able to transfer his Big Bash form over to the IPL, which is a worry. The Kolkata Knight Riders is aware of his talent with the bat; hence they decided to retain him for IPL 2017, though KKR released big players like Colin Munro, Morne Morkel among others.
This could be Lynn's last chance to impress in the IPL for Kolkata Knight Riders. Another failure in IPL 2017, and the door may be closed for the Australian in Shah Rukh Khan-owned side. It is time for the right-hander to do what he does best – hit sixes, score runs and destroy bowlers. If this happens, KKR will be in driver's seat in many of the matches this season.
One look at Lynn's performance in the IPL, and it is shocking. But, to be fair to the right-hander, the Australian has not been given many chances by KKR, which has always been rich of foreign players. With only four players allowed per IPL match, one has only seen him feature in four matches.
Lynn should be given a good number of matches in IPL 2017 as the player, who has been born and brought up playing in the bouncy conditions of Australia, might need time, a game or two, to read the Indian conditions to excel. It takes time for some players to adjust. KKR needs to be patient with Lynn, and hand him a long rope.
KKR should also give him the license to play his natural attacking game with an assurance of playing the next match irrespective of his performance. When a player like Lynn is free from pressure, one can see the best of him. BBL fans in Australia know about it.
The Australian is one of those players, when he gets his eye in, plays shots all around the park, and most of the times, he dominates bowlers and unsettles them. One of his major forte has been his ability to pick up the length and deposit the ball into the stands for a mammoth six. He finished BBL this season with a shocking 26 sixes in five matches, which explains his ability with the bat.
Cricket fans might have seen the best of Lynn in other parts of the globe, but IPL fans in India have not even seen a glimpse of his batting capabilities. Will Lynn finally show his big hitting skills in IPL 2017?