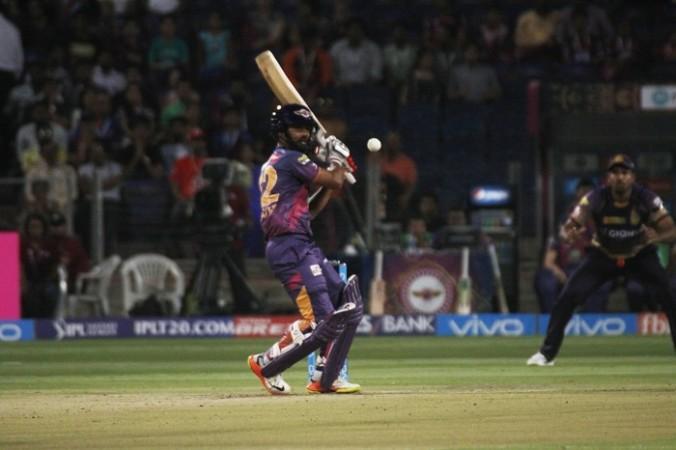 Rahul Tripathi has been the stand-out player for Rising Pune Supergiant in IPL 2017, scoring consistent runs for his team in IPL 2017. With the IPL being a huge platform, watched by millions over the world, some players in the past have made it to the national team via some quality performances in the cash-rich event.
The right-hander scored 93 runs off 52 balls against Kolkata Knight Riders on Wednesday, and hit world-class bowlers like Sunil Narine and Nathan Coulter-Nile with utter ease. Tripathi has scored 352 runs in IPL 2017 so far.
Looking at the way, Tripathi is batting in the competition, one feels that the selectors should have a serious look at him and probably select him to represent India.
However, India and Mumbai Indians' off-spinner Harbhajan Singh feels that we should not get too excited about Tripathi, and be patient for his berth in the India team. He explains his points saying that the standard of international bowling and IPL are different with the former being top level.
"It's too early to even think about Tripathi's India selection. A lot of cricketers score runs in IPL but that doesn't mean everyone will get an immediate chance to represent India. That is the problem with us, we start dreaming about seeing a particular youngster in the Indian team too early," ABP quoted Singh as saying.
"I'm not saying he (Tripathi) is not playing well. He is a great talent and has been scoring consistently in the IPL. When you think about the prospect of playing for India, it's a bigger challenge. When you're up against Australia or England you'll face five bowlers of the same quality, which is not the case every time in IPL."
The RPS batsman has definitely showed that he can bat against the best of the best in the business, and he needs to carry his consistency further in IPL 2017. He should not look too ahead of himself, and just play better cricket for RPS and his domestic side, Maharashtra.
The selectors will always be looking at his performances, and if they think that there is a slot for him in the national side, he could get a call.
Till then, his task should be too score runs, and more runs whenever, wherever he plays.