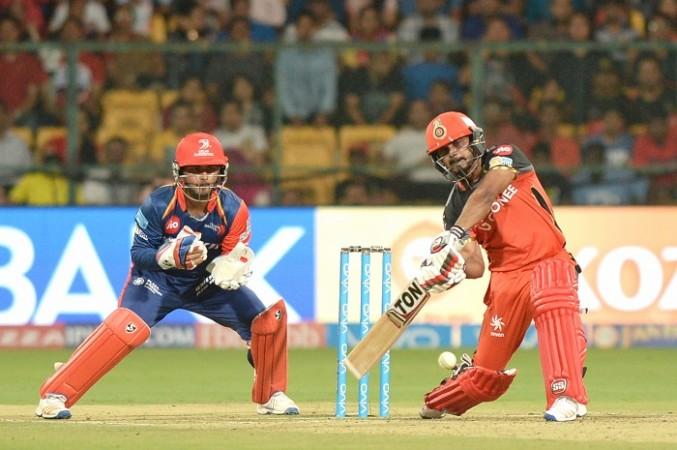 Rishabh Pant showed why he is considered the heir apparent to MS Dhoni in the India setup, with the left-hander playing an innings of brilliance for the Delhi Daredevils in their IPL 2017 match against the Royal Challengers Bangalore at the cauldron that is the Chinnaswamy Stadium on Saturday.
However, Pant also learned just how difficult it is to finish off a game, and how remarkable it is that someone like Dhoni has made it look so simple for so long. Despite playing a wonderful innings, Pant (57, 36b, 3x4, 4x6), with the rest of the Daredevils batsmen falling like nine pins around him, could not quite take his team over the line, with RCB defending a small total in Bengaluru.
Shane Watson, after winning the toss, surprisingly decided to bat first on what is a chasing ground, and that decision seemed all the more puzzling when RCB, without Virat Kohli and AB De Villiers again, scratched their way to 157, with only Kedar Jadhav shining with the bat for the home side.
However, that decision started to look better and better as the Delhi Daredevils faltered in the chase, and in the end, it turned out to be the right decision, with the Royal Challengers picking up their first win of IPL 2017.
The Delhi Daredevils reply began in a steady manner, with Sam Billings and Aditya Tare adding 33 runs. However, despite that solid start, so necessary when you're chasing a smallish target, there was the feeling that RCB were still in the game.
That feeling only grew when Tare (18, 17b, 3x4) and Karun Nair (4, 3b, 1x4) fell together in a hurry, with Sam Billings (26, 19b, 1x4, 1x6), following a ridiculous reverse-sweep for a six, then exiting to leave DD on 55/3, still more than hundred runs away from the target.
The situation called for a bit of caution, but Rishabh Pant was having none of it, smashing a six over midwicket off Iqbal Abdulla first ball, with that show of aggression putting the pressure right back on RCB, purely because of the small nature of the target they were defending, when 150 is usually struck in 15 overs on this ground.
Pant, playing days after his father passed away, is an outrageously talented batsman, and all Sanju Samson (13, 12b, 1x4) needed to do was make sure he stayed at the other end and let the left-hander take DD to the target. The Kerala batsman, though, felt the need to get in on the act as well, and, as a result, Bill Stanlake was given his second wicket after a pull shot went awry.
Chris Morris (4, 5b) and Carlos Brathwaite (1, 5b) then came and went, as RCB's spinners struck again, with Pant needing someone to just stick with him until the end.
But with DD out of recognised batsmen and the pressure increasing, RCB were the favourites now to pull off a victory, with everything now dependant on Pant.
With three overs to go, and Pat Cummins (6, 6b, 1x4) also back in the hut, the Delhi Daredevils needed 32, with RCB going to their main death bowler in Tymal Mills to try and end the game.
End it by picking up the wicket of Pant he could not, with the left-hander finishing the over off with a six, over fine-leg.
Watson, though, came back with a terrific 19th over, as Amit Mishra, like the other batsmen before him, ate up too many deliveries. Mishra swung and swung and swung and kept missing, when all he should have been doing is taking a single to get Pant back on strike.
However, Mishra's brain fade meant DD now needed 19 from the last over. Watson took a risk by asking Pawan Negi to bowl his first over of the match, and that punt worked as Pant was bowled around the legs first ball, giving RCB a thrilling win.
The RCB innings would have been an absolute car crash if not for the man in form Kedar Jadhav.
Chris Gayle and Watson decided to open the innings, and, unfortunately, the two most experienced batsmen could not produce the knocks that RCB so required in the absence of De Villiers and Kohli.
Gayle (6, 8b, 1x4) would be dismissed by Chris Morris, mistiming a full toss, with Sanju Samson taking a splendid catch diving back from mid-off.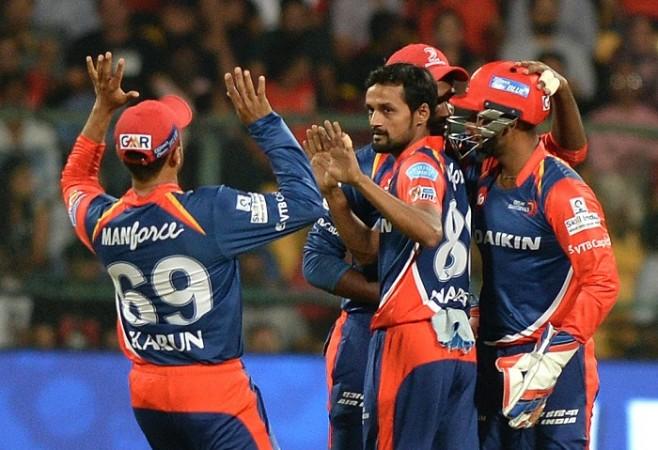 Watson (24, 24b, 4x4) would then fall prey to the guiles of Shahbaz Nadeem, with the spinner bowling one of the spells of the IPL so far, conceding just 13 runs in his four overs.
In between those two wickets, Mandeep Singh (12, 10b, 3x4), at No.3, would also fall, playing one on to Pat Cummins, a couple of deliveries after hitting two cracking fours through the offside.
Those three wickets put RCB in a spot of bother and a partnership was in order. The home side got that through Jadhav and Stuart Binny, with the latter, happy to just stay at one end and give his partner as much of the strike as possible.
Jadhav is a different batsman after his innings in the England ODI series earlier this year, and that confidence flowed right through again, with the right-hander playing some outstanding shots, including a six over extra cover that had the jaws dropping.
With a rejigged batting lineup, where Travis Head was intriguingly dropped, the overdependence on Gayle, Watson and Jadhav was obvious, and with the first two failing to find their mojo, it was all just too much for Jadhav to do on his own.
His innings of 69 (37b, 5x4, 5x6) was brilliant, but he also needed somebody else to get a quickfire 30 or 40, just so that the score could be pushed beyond 170 and nearer the 180 mark.
That was not to be and after Jadhav fell to the evergreen Zaheer Khan in the last ball of the 17th over, RCB's final 18 deliveries produced a mere 15 runs, which meant DD were going to be given a pretty chaseable target.
Watch RCB vs DD match highlights HERE
Scores:
RCB: 157/8 in 20 overs.

Delhi Daredevils: 142/9 in 20 overs.

Result: RCB won by 15 runs.

Bowling: Delhi Daredevils: Zaheer Khan 4-0-31-2; Chris Morris 4-0-21-3; Pat Cummins 4-0-29-1; Shahbaz Nadeem 4-0-13-1; Amit Mishra 2-0-32-0; Carlos Brathwaite 2-0-29-0.

RCB: Billy Stanlake 4-0-29-2; Yuzvendra Chahal 4-0-19-1; Iqbal Abdulla 3-0-36-2; Tymal Mills 4-0-33-1; Shane Watson 4-0-21-1; Pawan Negi 1-0-3-2.

Fall of wickets: RCB: 26/1, Chris Gayle (3.2 overs); 41/2, Mandeep Singh (5.5 overs); 55/3, Shane Watson (8.4 overs); 121/4, Stuart Binny (15 overs); 142/5, Vishnu Vinod (16.4 overs); 142/6, Kedar Jadhav (17 overs); 157/7, Pawan Negi (19.3 overs); 157/8, Tymal Mills (20 overs).

Delhi Daredevils: 33/1, Aditya Tare (4.4 overs); 38/2, Karun Nair (5.3 overs); 55/3, Sam Billings (7.3 overs); 84/4, Sanju Samson (10.5 overs); 107/5, Chris Morris (13 overs); 113/6, Carlos Brathwaite (14.5 overs); 125/7, Pat Cummins (16.2 overs); 139/8, Rishabh Pant (19.1 overs); 139/9, Shahbaz Nadeem (19.3 overs).