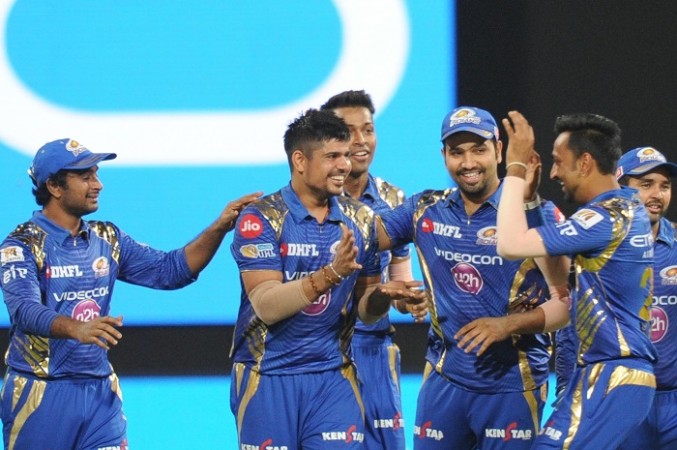 A fourth Maharashtra derby of the season it is in the IPL 2017 final. The Mumbai Indians bowled brilliantly and then did the job with the bat to knock out the Kolkata Knight Riders and set up a grand finale with the Rising Pune Supergiant in Hyderabad on Sunday.
In another low-scorer in Bengaluru, this time thankfully not disrupted by rain, the Mumbai Indians bowled out KKR for just 107, with Karn Sharma and Jasprit Bumrah starring with the ball. The MI batsmen then eased to that target with plenty to spare.
As a result, MI will play RPS, a team they will have to beat for the first time in four games if they are to clinch their third IPL title.
In the chase, Lendl Simmons (3, 6b) was the early wicket that KKR needed, given out lbw off Piyush Chawla in the second over, with Parthiv Patel (14, 9b, 3x4) then picked up by Umesh Yadav in the next over, as the left-hander, after taking the fast bowler for a few, found the outside edge.
It got a little into the "MI better be careful here" zone when Ambati Rayudu (6, 11b) was bowled by a brilliant delivery from Chawla, but the Mumbai Indians, knowing the only way KKR were going to win this match was by picking up all ten wickets, only needed one small partnership to deflate their opponents.
That and a bit more came through Rohit Sharma (26, 24b, 1x4, 1x6) and Krunal Pandya (42 n.o., 30b, 7x4), sent in ahead of Kieron Pollard (9 n.o., 7b, 1x4), with the right and left-hand duo playing some intelligent, risk-free cricket to whittle that target down quickly, before it became an absolute cruise.
KKR's innings was just an absolute disaster, with only a solid partnership between Ishank Jaggi and Suryakumar Yadav keeping the score respectable.
Sunil Narine and Chris Lynn were sent up the order again to try and take full toll of the Powerplay, but the Mumbai Indians came with a plan. They kept it nice and tight, back of a length and positioned fielders on the onside, one of them at long-on.
Lynn (4, 8b), who likes to hit them straight, found that man at long-on in the second over of the innings, with the wicket going to Bumrah, who was parsimonious and then some.
Narine and Gautam Gambhir tried to bring KKR back to where they needed to be in the Powerplay, but the bowling was right on the money, and when Karn Sharma got a googly to sneak past the advancing Narine (10, 10b, 1x6), the wheels started to come off.
Bumrah would then pick up his second of the day by trapping Robin Uthappa (1, 3b), with the wicket-train continuing as Gambhir (12, 15b, 2x4) holed out at deep midwicket, with Karn making it two wickets in two balls by trapping Colin de Grandhomme (0, 1b).
Five down and with just 31 runs on the board, KKR needed a partnership, and they got that through Jaggi and Suryakumar, with the two right-handers putting on 56 runs in 7.5 overs.
There were a few gorgeous shots in that partnership too, particularly from Suryakumar (31, 25b, 2x4, 1x6), but just when it looked like these two might be able to get KKR to about 140, the wickets started to tumble again.
Jaggi (28, 31b, 3x4) holed out at long-on to give Karn his fourth wicket and best ever figures in the IPL, Piyush Chawla and Nathan Coulter-Nile fell in the same Mitchell Johnson over, before Bumrah and Lasith Malinga completed the job, leaving the MI batsmen with a simple chase.
Watch MI vs KKR Qualifier 2 highlights
IPL 2017 Qualifier 2: MI vs KKR scorecard:
Toss: MI, who chose to bowl.

KKR: 107 all out in 18.5 overs.

MI: 108/4 in 14.3 overs.

Result: MI won by six wickets with 33 balls to spare.

Bowling: MI: Mitchell Johnson 4-0-28-2; Jasprit Bumrah 3-1-7-3; Lasith Malinga 3.5-0-24-1; Karn Sharma 4-0-16-4; Krunal Pandya 3-0-25-0; Hardik Pandya 1-0-4-0.

KKR: Umesh Yadav 2.3-0-20-1; Piyush Chawla 4-0-34-2; Nathan Coulter-Nile 3-0-15-1; Sunil Narine 4-0-21-0; Ankit Rajpoot 1-0-14-0.

Fall of wickets: KKR: 5/1, Chris Lynn (1.3 overs); 24/2, Sunil Narine (4.4 overs); 25/3, Robin Uthappa (5.2 overs); 31/4, Gautam Gambhir (6.5 overs); 31/5, Colin de Grandhomme (7 overs); 87/6, Ishank Jaggi (14.5 overs); 94/7, Piyush Chawla (16.1 overs); 100/8, Nathan Coulter-Nile (16.5 overs); 101/9, Suryakumar Yadav (17.1 overs); 107/10, Ankit Rajpoot (18.5 overs).

MI: 11/1, Lendl Simmons (1.3 overs); 24/2, Parthiv Patel (2.5 overs); 34/3, Ambati Rayudu (5.4 overs); 88/4, Rohit Sharma (12.2 overs).