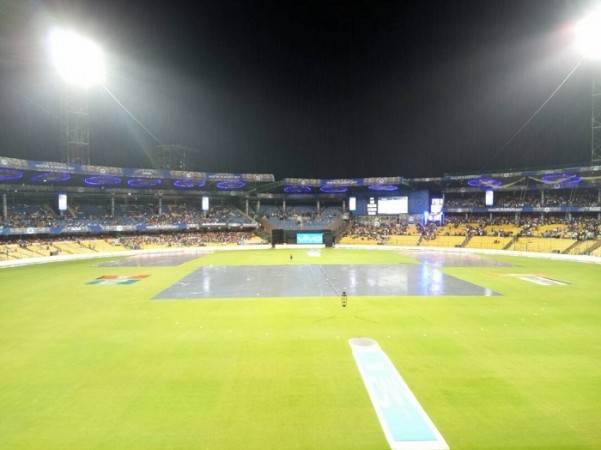 Mumbai Indians and Kolkata Knight Riders are set for a massive do-or-die encounter in IPL 2017 Qualifier 2 at Chinnaswamy Stadium in Bengaluru on Friday. But, rain threat looms large over the garden city, and it could play spoil sport.
One of the matches featuring Sunrisers Hyderabad and Royal Challengers Bangalore was washed out in the group stages while the last match at the venue on Wednesday also got affected by rain. There is a growing fear that the clouds may open up on Friday evening too, which has been happening, of late, quite frequently in Bengaluru.
Hence players from both Mumbai Indians and KKR will be looking towards the Bengaluru sky, hoping that the rain gods do not interrupt the all-important Qualifier 2.
However, things do not look too good as there are forecasts of showers and thunderstorms during the evening. Various websites, which are dedicated towards weather forecasts like AccuWeather have predicted bad weather, with thunderstorms while Skymet has predicted rains in the region.
Though at present, it is not raining in Bengaluru and the weather looks decent, it is basically in the later part of the day and primarily in the evening that the weather gets affected. There was some rainfall in Bengaluru on Thursday evening too and continued through the night as well.
So there you go cricket fans, it is time for you to sing...
Rain, Rain, Go away,
MI and KKR wants to play'
What happens if the match is washed out?
The least amount of cricket one can witness in order to produce results is a five over match. In case that does not happen, and the match is completely washed out, it would be unfortunate for KKR, who will be knocked out of the competition as there are no reserve days. Mumbai Indians will reach the final by virtue of finishing above KKR in the group stages.
Looking for positive signs?
Chinnaswamy Stadium has the best drainage system in India, and even if there is rain and its stops, lets say, after an hour, the match can start in the next 45-50 minutes.