Staring down the barrel after losing three wickets in the first three overs while chasing a tricky target against a formidable Delhi Daredevils bowling lineup, KKR looked like they were headed towards their second defeat of IPL 2017. But then, Yusuf Pathan and Manish Pandey came together, counter-attacked, and with such calmness and control that the difficult target turned into a makeable one with the loss quickly shifting to a win.
The toss was always going to be inconsequential in this match, because DD were going to bat first and KKR would have bowled. So, it was all about which team would play to their strengths better.
Well, after the Delhi Daredevils batsmen put up 168 on a Feroz Shah Kotla pitch that was slowing down, it looked like the home team's game, only for Pandey (69 n.o., 49b, 4x4, 3x6) and Yusuf (59, 39b, 6x4, 2x6) to change that around in a hurry with their 110-run partnership and give KKR their fourth win in five matches in IPL 2017.
The thinking was that it was easier to bat when the ball was new, so the Powerplay was going to be key for KKR in the chase.
And while they got a decent 49 runs in those six overs, they also lost three wickets, which included the two key batsmen – Gautam Gambhir and Robin Uthappa.
KKR threw in another surprise at the top by sending Colin de Grandhomme (1, 2b), instead of the recently used Sunil Narine, to bat with the skipper, but that plan did not come off as Zaheer Khan got the wicket of the New Zealander in the first over of the innings.
Two more wickets fell in the next two overs, that of Uthappa (4, 2b, 1x4), who nicked one off Pat Cummins, with Gambhir (14, 12b, 2x4) then falling to the guiles of his counterpart Zaheer.
You might have thought it was done and dusted for KKR at that point, but Pandey and Yusuf came together to put on a wonderful partnership, which kept the Kolkata franchise right in the game.
Yusuf was the aggressor initially, finding those big hits off his willow quite impressive, and once Pandey settled, the boundaries and sixes flowed off his bat as well, with DD unable to keep any kind of check on the run rate.
As a result, the equation quickly came down to a comfortable 81 from 60 balls at the halfway stage, and with these two batting so well, there looked like only being one result from there.
However, DD refused to go away, Morris picked up Yusuf with a good short ball, then Suryakumar Yadav threw his wicket away, which left KKR needing nine runs from the final over, bowled by Amit Mishra.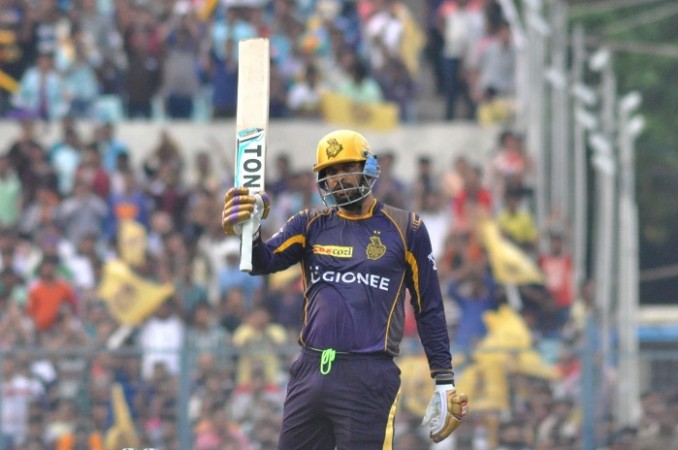 The first ball was a dot, with the second a wicket as Chris Woakes swung and missed with Rishabh Pant completing a quick stumping. A single by Sunil Narine brought Pandey back on strike, with 8 needed off the last three.
Pandey backed his strength, thumped a ball over long-on, got the six he was looking for and the game was done.
Delhi Daredevils' innings was again built on a solid opening partnership from Sam Billings and Sanju Samson. While Billings looked good, Samson was on another level, caressing boundaries through the offside with such ease that you wouldn't have been surprised if the opponents got a clap out or two.
Samson started his innings with a lofted straight drive past the left of mid-in, before using his hands and ability to find the gaps to hit fours through a packed offside field.
Thanks to those boundaries and a couple from Billings as well, DD raced to 53/0 after the six Powerplay overs. From there, though, the momentum of the innings changed, as the pitch became slower with the older ball not quite coming onto the bat.
Billings (21, 17b, 2x4) strangled one down the leg-side off the first ball of the seventh over off Nathan Coulter-Nile, in for Trent Boult, before his opening partner Samson (39, 25b, 7x4) edged one through to Robin Uthappa off Umesh Yadav in the next over.
This was the moment for Karun Nair to play a proper innings for the first time in IPL 2017, but the right-hander disappointed again. Karun has been woeful since scoring that triple hundred against England late last year, and he looked out of ideas out there in the middle.
While Shreyas Iyer (26, 17b, 4x4) played a nice little innings, Karun looked all at sea, scratching his way to a painful 21 (27b, 1x4), before Coulter-Nile ended his misery by smashing the stumps with a low full toss.
Rishabh Pant then threatened to take the game away from KKR in one over, when he scored 26 runs off Umesh Yadav.
After a dot ball to start the over, Pant smoked a gorgeous six over wide long-on, before spanking one through the offside for a four. Next came an even better six, a mere flick which saw the ball sailing over backward square, before another maximum came when the left-hander used his power to muscle a back-of-a-length delivery over long-on.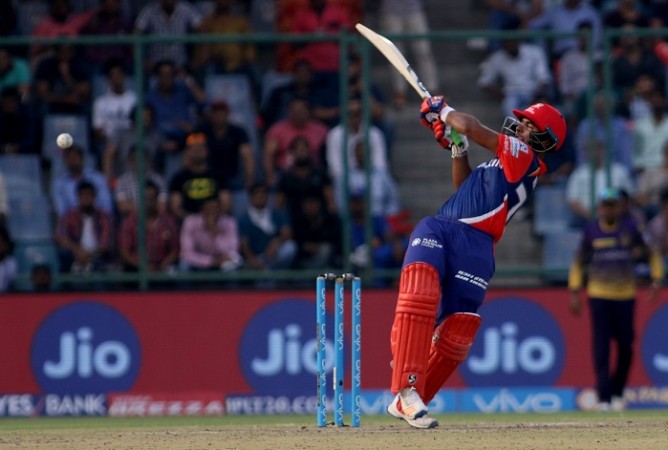 The over was finished off with a boundary through the offside, with DD, at that point, on 145/4 with three overs remaining.
So, a minimum of 175 looked inevitable, but KKR, again, pulled things back brilliantly.
Narine bowled a peach of an 18th over, while also picking up Angelo Mathews, with Coulter-Nile following that up with a pearl of his own. The Australian dismissed the dangerous Pant (38, 16b, 2x4, 4x6) off the first ball and he should have also had the equally dangerous Chris Morris, who was dropped twice, first by Umesh and then by the skipper Gambhir.
Those drops allowed Morris (16, 9b, 3x4) to hit a couple of boundaries in the final over to push DD's score near 170.
Watch the highlights of DD vs KKR HERE and HERE
Delhi Daredevils vs KKR IPL 2017 scorecard:
Toss: DD won the toss and chose to bat.

Delhi Daredevils: 168/7 in 20 overs.

KKR: 169/6 in 19.5 overs.

Result: KKR won by four wickets with one ball to spare.

Bowling: KKR: Nathan Coulter-Nile 4-0-22-3; Chris Woakes 4-0-31-1; Umesh Yadav 4-0-53-1; Sunil Narine 4-0-20-1; Kuldeep Yadav 3-0-29-0; Colin de Grandhomme 1-0-12-0.

Delhi Daredevils: Zaheer Khan 4-0-28-2; Pat Cummins 4-0-39-2; Chris Morris 4-0-30-1; Amit Mishra 2.5-0-26-1; Mohammed Shami 3-0-28-0; Angelo Mathews 2-0-15-0.

Fall of wickets: Delhi Daredevils: 53/1, Sam Billings (6.1 overs); 63/2, Sanju Samson (7.5 overs); 106/3, Shreyas Iyer (13.2 overs); 110/4, Karun Nair (15 overs); 145/5, Angelo Mathews (17.2 overs); 153/6, Rishabh Pant (18.1 overs); 167/7, Chris Morris (19.5 overs).

KKR: 5/1, Colin de Grandhomme (0.5 overs); 19/2, Robin Uthappa (2 overs); 21/3, Gautam Gambhir (2.5 overs); 131/4, Yusuf Pathan (14.5 overs); 152/5, Suryakumar Yadav (17.5 overs); 160/6, Chris Woakes (19.2 overs).