The Kolkata Knight Riders have been impressive at home whenever they faced Kings XI Punjab in the past editions of the IPL. The KKR have defeated the visitors six times and only lost twice. Can KKR continue to build upon that impressive record, in IPL 2017, against KXIP at Eden Gardens in Kolkata on Thursday?
Mind you, KXIP have proved to be the team to beat in the competition, standing on top of the table with four points, without losing any game. Hence, KXIP will be in an upbeat mode when they face the Gautam Gambhir side.
The match should be a cracker, with KKR a confident unit at home, and KXIP in tremendous winning form.
Here is a prediction of how this IPL 2017 match could go in Kolkata.
If KKR bat first
Gambhir and Robin Uthappa get KKR off to a brilliant start in their first home match, as it rains fours despite some good bowling from Sandeep Sharma. The openers decide to take on Mohit Sharma, who is hit for 26 runs from his first two overs, which sets the tone for KKR as they compile 54 runs in the first six overs without the loss of any wicket.
Glenn Maxwell brings on Axar Patel, who bowls a first tidy over, and Marcus Stoinis just gives three runs in the next six balls. Suddenly, run-scoring is not easy, and Gambhir, while trying to up the ante, loses his wicket. Manish Pandey looks in good form and starts with a couple of boundaries in his first eight balls. KKR look good in the middle as they score 84 in 10 overs.
With 10 overs remaining, and plenty of batsmen, the duo decides to take on the KXIP bowlers, who strike back with Pandey and Uthappa's wicket. The crowd goes silent, and there is a sense of tension brewing among the spectators, but Yusuf Pathan and Shakib Al Hasan control the innings in the middle. The Indian player, after getting his eye in, goes berserk in the last five overs, along with Shakib to help KKR score 182 runs in 20 overs.
The Kings XI Punjab innings could not have got any worse as they lose Hashim Amla, who is clean bowled by Umesh Yadav. The Indian pacer seems to be in roaring form as he managed to dismiss Manan Vohra as well.
Now, it is all up to Maxwell. The Australian, sensing pressure, plays the waiting game, but the run rate is already climbing. Wriddhiman Saha and Maxwell build a good partnership, as they reach 72 in 10 overs.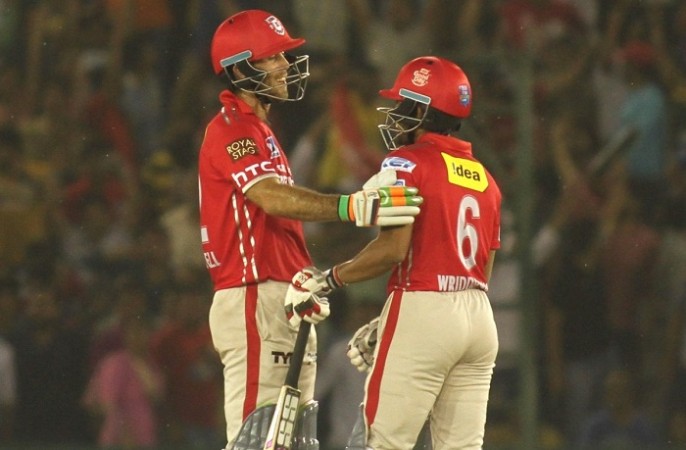 Maxwell decides to cut lose but Shakib traps him leg before. Things look uphill for KXIP, and David Miller walks into bat, and shows his intent, hitting two massive sixes. His brief innings come to an end while going for a third maximum. Saha follows next, and Marcus Stoinis is gone after scoring 15 runs.
The lower middle order of KXIP hangs at the crease, trying to score quick runs but are finally all out for 130 runs.
If KXIP bat first
Amla and Vohra start in a decent manner, but it is KKR bowlers, who are not giving them any freebies to score runs, making it a good contest between the bat and the ball. Enough is enough says Amla, who elegantly hits four boundaries in one Boult's over, before being dismissed by Sunil Narine in the sixth over.
Stoinis is promoted up the order, but he fails too, and Saha soon departs as well, which brings two of their best batsmen Maxwell and Miller. The duo knows that they have to stay for the longer part of the innings, and does not play risky shots in the middle overs, scoring 73 in the first 12 overs. But, Maxwell and Miller fail to accelerate, losing their wicket in the 14th and 15th over. Axar Patel plays an important role, scoring 30 runs to help KXIP score 143 runs in 20 overs.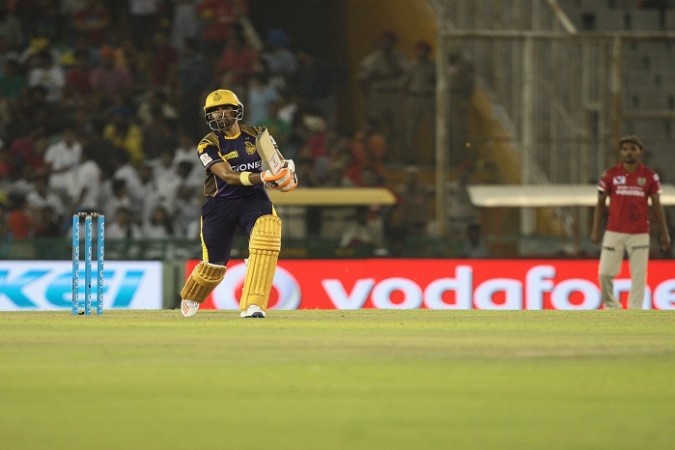 With KKR knowing what they have to achieve, Gambhir and Uthappa are in no hurry and play accordingly. They score 49 runs in the first six overs and are cruising towards the target with Uthappa coming back to form as well. They lose their first wicket of Gambhir, with KKR on 80 runs in the 10th over.
Uthappa and Manish Pandey want to finish the game quickly and they manage to do so, scoring the next 63 runs in the next seven overs. Uthappa scores 69 runs in the win.