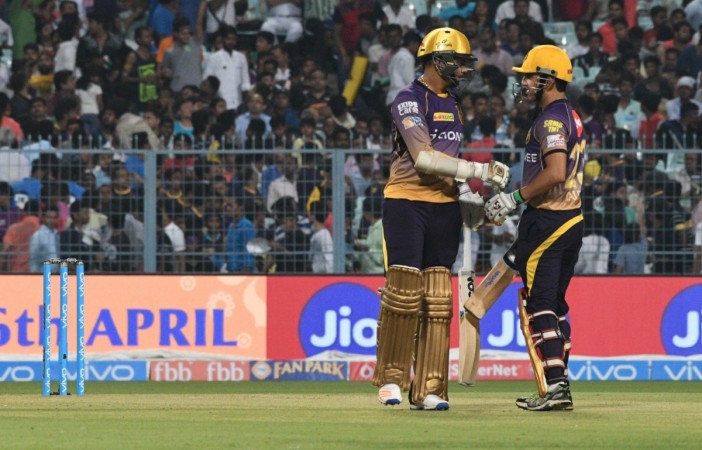 Kolkata Knight Riders have always been a huge team at home, and KKR continued their dominance at Eden Gardens, defeating Kings XI Punjab by eight wickets on Thursday. It was KXIP's first loss in IPL 2017 as they were outplayed by Gautam Gambhir's side in all departments of the game.
With pacer Umesh Yadav shining brightly, and a dominant batting performance from KKR allowed the home side collect two points, and move up the IPL 2017 table as well.
KKR's first home match has definitely brought some talking points to the fore, and here are a few of them.
Sunil Narine - the all-rounder
The West Indian has always been someone, who does not allow any freebies with his leggies, and it was the same against KXIP batsmen. Narine was brilliant in his quota of four overs, taking one wicket for 19 runs only, without conceding a single four or six.
Noy many would have been surprised with Narine's incredible bowling, but it was his performance with the bat, which caught the eye even more. Narine, who surprisingly opened the batting for KKR, looked in smashing form to take advantage of the field restrictions, scoring 37 runs from 18 balls, which included four fours and three sixes. It provided a perfect base for the rest of the KKR batsmen to help the home team pick up an impressive win.
Gautam Gambhir's brilliance and his IPL consistency - WOW
The left-hander has been a regular feature in the last nine editions of the IPL, and he has already showed his class with two half-centuries, including his 49-ball 72 against KXIP, in three matches this season. It was his 33rd half century in IPL history. This is called consistency. Gambhir dominated both the seamers and spinners, which stood out against KXIP, whose bowlers were helpess against the left-hander's brilliance.
Umesh Yadav's special comeback
The Indian pacer, who did not appear in the first two matches for the KKR, started his IPL 2017 with a bang, taking four wickets. His four over spell did the trick, dismissing the big guns of KXIP -- Glenn Maxwell, David Miller, Wriddhiman Saha and Axar Patel. Had any of these players stayed at the batting crease, the visiting team could have scored many more.
Re-laid surface at Eden Gardens must have pleased everyone
In the past few seasons, one witnessed a low and slow pitch at Eden Garden, but the playing surface on Thursday was much better. It had something for the fast bowlers, who must have enjoyed extra bounce. The ball came onto the bat, allowing the batsmen to play their shots as well, which resulted in some good batting performances.
KXIP batsmen need to learn the art of scoring big after getting their eye in
The shorter format of the game is such where the batsmen have to make the most if they get their eye in. Unfortunately, the KXIP batsmen could not do that as five of their players got good starts (above 20 runs) but failed to score more than 30 runs, which was one of the main reasons why they failed to reach 200 runs. Hence, there is a serious need for the KXIP players to make such starts count in the future matches of IPL 2017.