The fortress remains intact. The Sunrisers Hyderabad picked up their fourth consecutive home win in IPL 2017, thanks to a Kane Williamson special, with the Delhi Daredevils the latest side to fall at the hands of SRH at the Rajiv Gandhi International Stadium.
SRH took a surprising decision to bat first after winning the toss, and that decision turned out to be a great one, with Williamson, playing his first match of the new Indian Premier League season, scoring a quite outstanding 89 (51b, 6x4, 5x6). Williamson and Dhawan (70, 50b, 7x4, 1x6) put on a wonderful partnership after David Warner fell early, to help SRH to 191 in their 20 overs.
In reply, the Delhi Daredevils gave it a decent go, but that target of 192 always seemed just a little bit beyond them.
The Delhi Daredevils got off to a really good start in the chase, and that too despite losing Sam Billings in the second over of the match.
Billings (13, 9b, 3x4) would end up being Mohammed Siraj's first ever IPL wicket, with the Englishman flicking a ball, after hitting a couple of boundaries, straight to Deepak Hooda at midwicket.
However, DD, with the two Malayalees Sanju Samson and Karun Nair in the middle, finished on 56/1 after the Powerplay overs, which meant they were staying with the required run rate.
That run rate did start to drop once the field spread and as the pressure started to tell, even if DD were still in a decent position, Karun's (33, 23b, 5x4, 1x6) innings came to an end, courtesy a misjudgement in running.
Rishabh Pant was then dismissed for a golden duck by Yuvraj Singh, as the left-hander hit one straight to Warner at long-on, leaving DD, all of a sudden, three down.
A little while later, as the required run rate climbed above 12, it became four, when Samson (42, 33b, 3x4, 2x6) mistimed off Siraj, leaving Shreyas Iyer, Angelo Mathews and Chris Morris to do it all with the bat. With six overs to go, the equation read 81 off 36, with DD needing a special innings from someone to take this match.
Iyer (50 n.o., 31b, 5x4, 2x6) looked like he might be able to provide it, hitting a few sixes and fours, but with DD puzzlingly deciding to send Mathews (31, 23b, 2x4, 1x6) ahead of Morris, who has been scary-good with the bat in IPL 2017 and must have been full of confidence after taking all four SRH wickets that fell in the first innings, there just wasn't enough ammunition at the other end.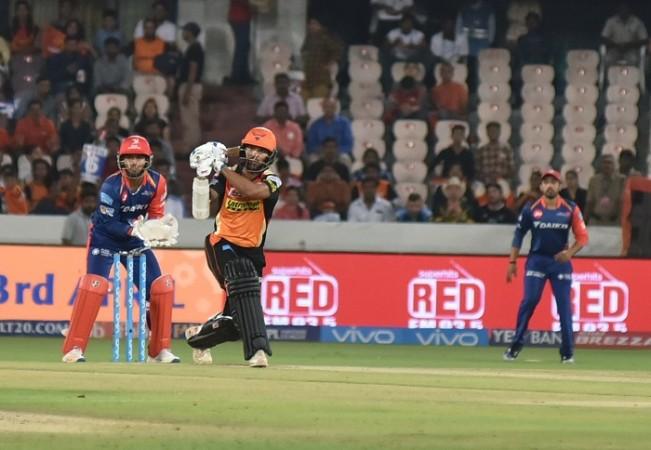 Earlier, the batting innings would have given the Sunrisers Hyderabad plenty of satisfaction, because they got to a score nine runs short of 200 without Warner making his mark.
Warner was the first of Morris' four wickets, with the South African getting a short ball to rise up a little more than the SRH captain expected, with it inducing a leading edge, which was safely pouched by Amit Mishra.
DD were ecstatic after dismissing the main man, but what they, obviously, didn't prepare for was plenty of Williamson brilliance.
The New Zealander took a while to get settled, understandable, considering this was his first match of IPL 2017, but once he got a couple of big hits off the middle of his bat – two sixes off Mathews in the seventh over – there was no stopping him.
Williamson is not someone you associate with power-hitting and boundaries, but this innings was about both. The manner in which he kept finding the gaps was sheer brilliance, and when he needed to switch to power mode, he did it with ease.
At the other end, Shikhar Dhawan played a calm innings, one that would have given him a lot of confidence. Dhawan's wasn't as flashy or exciting, but it was quite effective.
Williamson wouldn't have been able to play as freely, if Dhawan wasn't solid at the other end, so the left-hander's innings was just as crucial.
The two put on 136 in 14.2 overs, and once Williamson fell, 11 short of a hundred, it was crucial for SRH to keep the momentum going.
Morris, who had also dismissed Williamson, threatened to take that momentum away by picking up Dhawan and Yuvraj (3, 4b) off consecutive balls, but Moises Henriques (12, 6b, 2x4) and Hooda (9, 4b, 1x6) made sure the home side would have a great finish, taking Zaheer Khan for 17 runs off the final over to take the score beyond 190 and beyond the DD batsmen.
Watch the highlights of SRH vs DD HERE and HERE
Watch the Kane Williamson innings HERE
SRH vs DD IPL 2017 scorecard:
Toss: SRH won the toss and chose to bat.

SRH: 191/4 in 20 overs.

Delhi Daredevils: 176/5 in 20 overs.

Result: Sunrisers Hyderabad won by 15 runs.

Bowling: Delhi Daredevils: Jayant Yadav 2-0-16-0; Chris Morris 4-0-26-4; Zaheer Khan 4-0-37-0; Pat Cummins 4-0-37-0; Angelo Mathews 3-0-41-0; Amit Mishra 3-0-33-0.

SRH: Bhuvneshwar Kumar 4-0-29-0; Mohammed Siraj 4-0-39-2; Siddarth Kaul 4-0-32-1; Rashid Khan 4-0-33-0; Moises Henriques 3-0-32-0; Yuvraj Singh 1-0-6-1.

Fall of wickets: SRH: 12/1, David Warner (1.5 overs); 148/2, Kane Williamson (16.1 overs); 170/3, Shikhar Dhawan (18.1 overs); 170/4, Yuvraj Singh (18.2 overs).

Delhi Daredevils: 14/1, Sam Billings (1.5 overs); 85/2, Karun Nair (9.2 overs); 86/3, Rishabh Pant (9.5 overs); 105/4, Sanju Samson (13.1 overs); 175/5, Angelo Mathews (19.5 overs).