Which overseas players to play? That remains the big question for the Royal Challengers Bangalore as they look to get out of the rut they find themselves in and gain some winning momentum with a victory over the Gujarat Lions in IPL 2017 on Tuesday.
With just one win on five, RCB are already in trouble and anything but a win on Tuesday will turn out to be a disaster.
The major problem for the Royal Challengers Bangalore this season has been finding the right balance in their team.
They shuffled the pack around time and again, dropped Chris Gayle and then Shane Watson and then Tymal Mills, who missed the last game through illness, and more, and yet, they haven't been able to find the right formula.
At the end of the day, what RCB need to do, rather than looking for that "team balance," is back their strengths – smash the ball from ball one, even if the pitch turns out to be slow and put faith in Gayle, Virat Kohli and AB De Villiers to do the business.
Because, with four losses in five, the point has come where team balance alone won't be enough, they need individual brilliance from Kohli, De Villiers and Gayle.
And if Gayle does come back in, then the likely player to sit out will be Watson, who was, again, underwhelming in the last match – giving away too many runs with the ball and looking out of sorts with the bat.
It is always difficult for a player who has retired to just turn it on whenever he feels like it and Watson is learning that the hard way.
That, of course, would have been the case, before news of AB De Villiers suffering an injury broke out. The South African tweeted he will miss the match against the Gujarat Lions, before taking down that tweet later. If De Villiers is indeed injured, it would mean Gayle slotting back in, while Watson, most likely, gets another opportunity. Travid Head, of course, is also an option, and some would say the best option.
Adam Milne did really well after getting an opportunity for Mills, and while the latter might be more of a match-winner with the ball, it would be unfair to drop the New Zealander after a decent performance.
Samuel Badree did not have as great a time with the ball against RPS as two matches ago, when he picked up a hat-trick, but the leg-spinner needs to be in the team.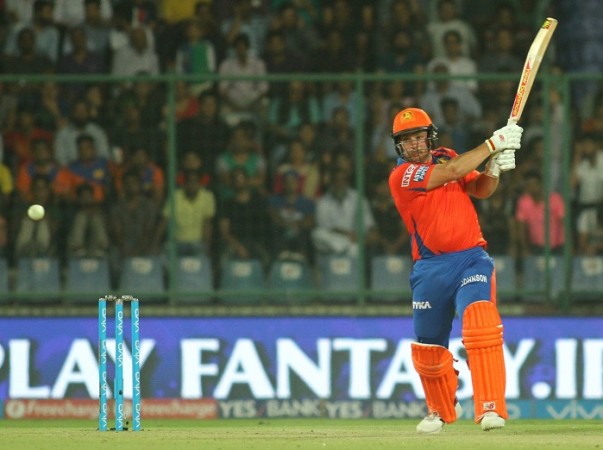 The Gujarat Lions aren't exactly hunky dory either in IPL 2017, with the team that finished top of the table last season, currently struggling second from bottom, just above RCB, with a win in four matches.
If they end up losing this match in Rajkot, they will be in the same position RCB were in at the start of the game, and that won't be something the Lions want.
Dwayne Bravo, their key all-rounder, is back in full training, but the feeling is this game against RCB might come too early for the West Indian. However, if they feel that Bravo might be able to put in a shift, they might just go with the man who is deadly with the ball in the death overs.
Ravindra Jadeja has made a welcome return to the team to bolster their ranks and while they suffered a narrow defeat to the Mumbai Indians in their last game, recent performances have been a lot better than the ones they started IPL 2017 with.
Aaron Finch missed the last game in comic fashion after his kitbag was left behind, with Jason Roy coming in for the Australian. Roy is such a dangerous player at the top, and maybe the Gujarat Lions might play all four batsmen again, although that would mean dropping hat-trick man Andrew Tye, which is unlikely.
Confirmed playing XI:
Gujarat Lions: Dwayne Smith, Brendon McCullum, Suresh Raina (C), Dinesh Karthik, Aaron Finch, Ishan Kishan, Ravindra Jadeja, Andrew Tye, Dhawal Kulkarni, Basil Thampi, Shivil Kaushik.

Royal Challengers Bangalore: Chris Gayle, Virat Kohli (C), Kedar Jadhav, Travis Head, Mandeep Singh, Shane Watson, Stuart Binny, Pawan Negi, Adam Milne, S Aravind, Yuzvendra Chahal.