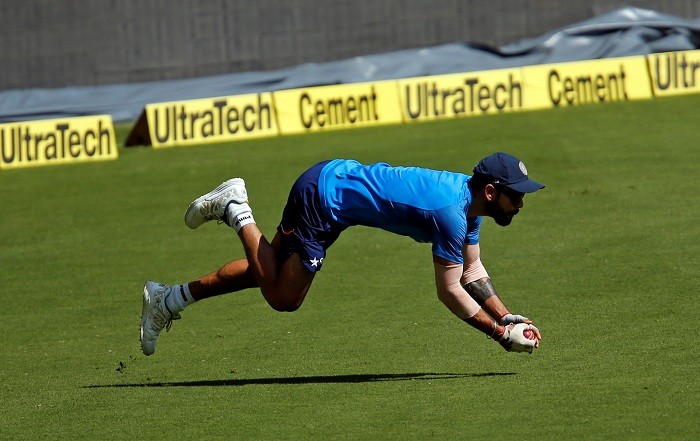 India skipper Virat Kohli suffered a shoulder injury during the third Test against Australia in Ranchi, which kept him out of the series-decider in Dharamsala. Former Australia player and current coach of the Gujarat Lions, Brad Hodge, was not impressed with Kohli's decision, questioning his commitment to the national side and prioritising the IPL, which will start on April 5.
With the Australian media also taking a dig at Kohli a number of times in the series, Kohli's fans had already had enough of it. So the statement from Hodge obviously did not go down well with India cricket fans, who have seen Kohli wear his heart on his sleeve while playing for the national team. They took to slamming Hodge on Twitter.
Even Kolkata Knight Riders' skipper Gautam Gambhir and Bollywood star Amitabh Bachchan criticised Hodge for his comments , and the Australian has now issued a public apology on Twitter.
"I take this opportunity to apologise to the people of India, cricket fans, the Indian national cricket team and particularly Virat Kohli for my previous comments. My intention was never to harm, criticise or be derogatory toward anyone," Hodge wrote on Twitter.
"They were intended to be light-hearted comments with the utmost respect to the Indian Premier League which I have thoroughly enjoyed through the years. The public and fans have every right to be upset, and the backlash I have received has certainly driven this home."
Hodge might have been forced to come up with this statement after it was learned that Kohli, who captains Royal Challengers Bangalore, will not be available for the start of the 10th edition of IPL.
With the IPL 2017 coming up in a few days, this apology seems to make sense, as Hodge's IPL team could have been on the receiving end from cricket fans in the cash-rich event. However, it remains to be seen if Hodge has been completely forgiven, and one would not be surprised if there are some boos reserved for the Australian at match venues.