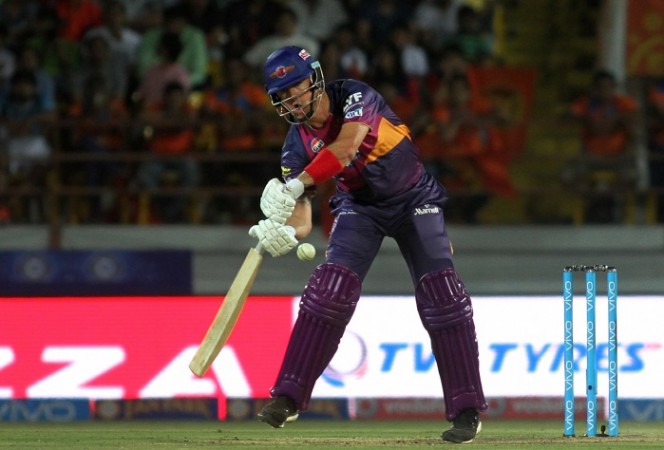 England T20 specialist Tymal Mills was the second most lucrative player from the IPL 2017 Auction on Monday as the Royal Challengers Bangalore (RCB) bagged the 24-year-old fast bowler for a sum of 12 crore INR. Kevin Pietersen, the England cricket veteran, is not happy with what took place!
Pietersen, who earlier ruled himself out from the IPL 2017, has mentioned that the huge money spent on Mills by RCB is a "SLAP" on the face of Test cricket.
"Another SLAP in Test crickets face yesterday! A T20 specialist becomes one of the current England team's richest players! [sic]," KP vent his frustration on Twitter on Tuesday.
"I coach lots of kids & I'm in touch with the youngsters. I got told recently I wasted 500days by playing 100Tests! [sic]," Pietersen replied to a Twitter user who enquired about his tweet.
The 36-year-old Englishman has mentioned that going by the recent trend, it is only money that cricketers will be playing for in the years to come. "There is no problem [of Mills going for that sum of money]. It's fantastic! But, it's all youngsters will strive for! That's my point!" said KP.
Pietersen, who has not played in any of the series that England have played since the 2013-14 Ashes in Australia, also added that the ICC should take steps at the earliest to revive Test cricket!
Here's a look at KP's Twitter feed
Another SLAP in Test crickets face yesterday! A T20 specialist becomes one of the current England team's richest players!

— KP (@KP24) February 21, 2017
@KP24 can't blame the lad surely KP?? T20 cricket had given your career a lifeline, u owe it the respect it deserves. It's the future!

— Damian Hedges (@dhedges75) February 21, 2017
@KP24 I agree with u but honestly this T20 beast is taking over and there is absolutely nothing we can do about it. We must embrace it ?

— Damian Hedges (@dhedges75) February 21, 2017