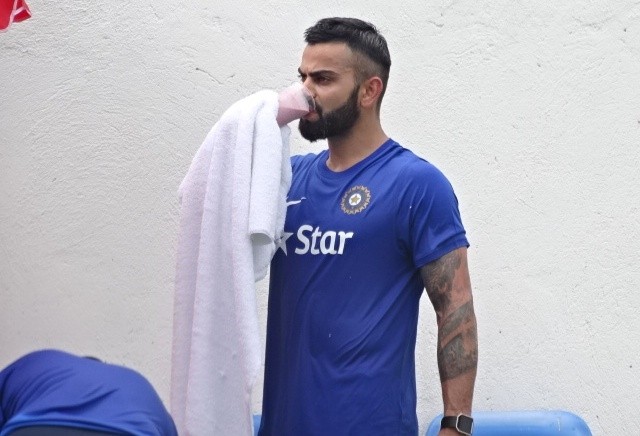 India captain Virat Kohli may not know much about Gujarat Lions latest recruit Chirag Suri, but the player is dubbed as UAE's Kohli.
Also read: Complete squad of all eight teams ahead of IPL 2017
Suri was snapped up by the Lions for Rs 10 lakhs on Monday, thus becoming the first player from the UAE to ever bag an IPL contract. Getting a chance to rub shoulders with the who's who of world cricket is a huge thing for a player from the associate nation. However, Suri was not the only associate player to be picked in the IPL 2017 auction as Sunrisers Hyderabad signed Mohammad Nabi and Rashid Khan from the group.
Gujarat Lions were the most proactive team in the IPL auction as they signed a total of 11 players including Jason Roy, Manpreet Gony, and Munaf Patel among others. Lions did well in the group stages in the debut season in 2016, but failed to reach the final after losing matches in Playoffs. However, Gujarat Lions will be hoping to put the losses behind them and go all the way in 2017.
Gujarat Lions have a strong squad for IPL 2017 with the likes of Brendon McCullum, Suresh Raina, Dwayne Bravo, James Faulkner and Dinesh Karthik in their fold. It remains to be seen if Suri, who has not yet played a single game for UAE national team, will get first team action in IPL. If he does get a chance, cricket fans could see Kohli's carbon copy in action.
"I love Virat Kohli, I really...really love Virat Kohli. Everybody calls me UAE's Virat Kohli because of the way I bat. I emulate him a bit so maybe that's why. My friends, my teammates, coaches, they all think that the way I play is a bit like Virat Kohli. He is my role model. Maybe I try to copy him a bit here and there," First Post quoted Suri as saying.
Suri, who is actually from Delhi moved to UAE when he was six. He was part of the Master Champions League 2016 in the UAE. Current head coach of Gujarat Lions, Brad Hodge was also present in the competition and the Australian must have taken note of the player then as well, leading to his inclusion in the IPL side.
"Brad Hodge was in the UAE, he saw me play and a lot of other players as well during the Masters Champions League. Because in the MCL there were people who were also coaches and stuff in the IPL. Virender Sehwag was there along with some others. It was good that I got an opportunity to play in front of them. Hodge is the head coach of Gujarat Lions, he did see me play and obviously it makes an impact," Suri said.