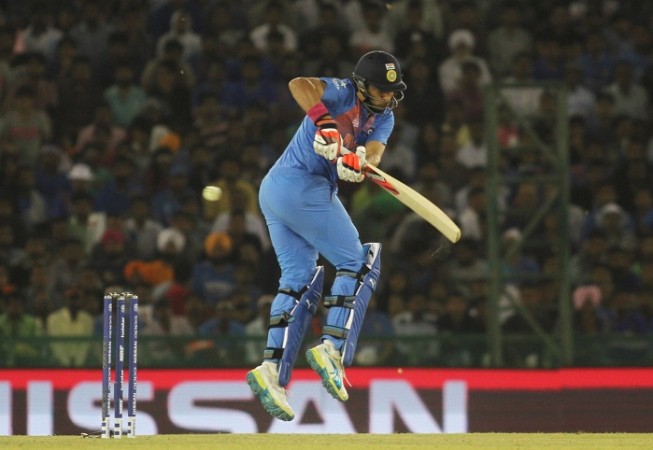 Sunrisers Hyderabad batting all-rounder Yuvraj Singh is eyeing his return to IPL action soon. Yuvraj has been out of action ever since he sustained an ankle injury during India's ICC World T20 match against Australia in Mohali.
Yuvraj seems to be recuperating from that injury and is expected to return by May 6. David Warner-led Sunrisers Hyderabad are scheduled to take on Gujarat Lions, whom they beat by a huge margin of 10-wickets in Rajkot on Thursday.
"I am looking to play the game on May 6. Hopefully I should be ready by then. I am not fully certain that I will play on 6th May, but my target is to play on the sixth. I had a go-ahead from my doctor yesterday, so hopefully will play," IANS quoted Yuvraj as saying.
Sunrisers Hyderabad lost their first couple of matches in this edition of the IPL. But skipper David Warner led from the front to help his side register big wins against the Mumbai Indians and Gujarat Lions. The Hyderabad franchise have jumped up to the fourth spot in the IPL 2016 points table post their back-to-back victories.
Watch the highlights of Gujarat Lions vs Sunrisers Hyderabad here.
It was clear in the first two matches that the Sunrisers were lacking a solid middle-order batsman. Yuvraj is keen to take up that role for his new franchise.
Other than Yuvraj, left-arm veteran seamer Ashish Nehra too got injured and that according to Yuvraj added to the woes. He feels that their (Nehra and Yuvraj) return to the playing XI will strengthen both batting and the bowling for the rest of the IPL 2016.
"Sunrisers have played three games. They have won one and lost two. At the moment it is 50-50. After seven games you can assess how is the team doing. Nehra got injured, that didn't work well for us," Yuvraj added.
"I hope he comes back soon and the bowling line-up with the strengthened and when I come back we can strengthen both in batting and bowling. I hope till the time I go back, the team has won a few games and we are in a good position. So I just wish my team all the best."