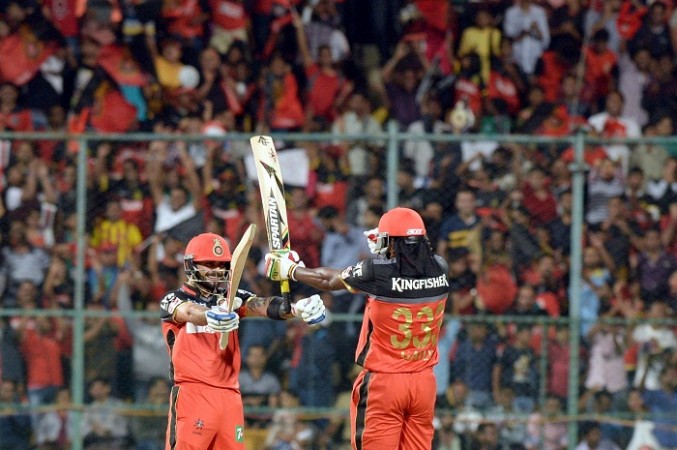 The league stage of IPL 2016 has come to an end, and four teams, after some stunning displays, have reached the playoffs, which leads to mouth-watering matches in the competition. The first qualifier, which is set to be played between Royal Challengers Bangalore and Gujarat Lions on Tuesday, could set the tone for a wonderful finish, with the final set to be played on Sunday.
After having qualified in the top two, RCB and GL have two chances to reach the final. The winner will reach the final directly, while the loser will face the winner of the Eliminator between Kolkata Knight Riders and Sunrisers Hyderabad.
Both RCB and GL will be keen to register a victory when they play at Chinnaswamy Stadium in Bengaluru. Winning the match will also mean rest for four days, before the mega final.
Here is a look at how RCB and GL can emerge triumphant in the first qualifier.
How can RCB win: The home team come into this game as the team to beat, as they have won four on the trot in style. What makes RCB impressive is the performance of not only the star batsmen, but also their bowlers in the last few games. They have started to gel as a unit when it matters most.
The bowlers have to sparkle against GL, who have some tremendous batsmen, including Brendon McCullum, Aaron Finch, Suresh Raina and Aaron Finch. Skipper Virat Kohli has to focus on dismissing the top order early. McCullum is set to open, but his partner could be either Finch or Smith. RCB have to at least dismiss two of the top-three order players in the Powerplay.
These players love the ball coming onto the bat, so Yuzvendra Chahal needs to be bowled early on, and could hold the key. Shane Watson, with his experience, knows where to bowl in such situations, and his knack of taking wickets should come in handy. RCB needs to take wickets at regular intervals as GL have depth in their batting unit. Chris Jordan, who has looked good with the ball after a difficult start, and he can play an important role in the death overs, bowling his yorkers with precision.
If their bowlers come to the party, RCB, irrespective of whether they bat first or second, have batsmen like Kohli, AB de Villiers, Chris Gayle and Shane Watson to play an important role and help the team reach the final of IPL 2016.
How can GL win: With Kohli in superhuman form, and also being one of the best chasers, GL will have to bowl first if they win the toss, and restrict RCB to less than 160-170. Easier said than done, but GL can take inspiration from their first head-to-head clash earlier in the season, where Raina's side scored 182 runs in the second innings to hand RCB a defeat.
Though RCB possess incredible batsmen like De Villiers, Gayle, Kohli and Watson, they need to find a way to dismiss the RCB skipper as early as possible. Kohli has not shown any signs of weakness in his batting in IPL 2016, and has scored two tons against the Gujarat Lions.
GL skipper Raina needs to open the bowling with Dwayne Bravo as RCB are top-heavy. Bravo could be GL's biggest weapon as he has great variety in his bowling armoury, which could trouble the RCB batsmen, who love to play an attacking game. Even if they can't pick Kohli's wicket, they need to stop the other batsmen from scoring, as taking their wickets may pressurise Kohli, which could lead to his dismissal. If GL can take RCB's first four-five wickets for below 80 runs, which is not easy, GL should be in the driving seat.
GL batsmen like McCullum, Raina and Finch need to play sensibly, and choose their bowlers, who they want to go after. McCullum should stay at the crease as long as possible, and the longer he stays, greater the chance of RCB losing their first match in five games.
More or less, the match will be decided by how GL bowlers perform against RCB batsmen.