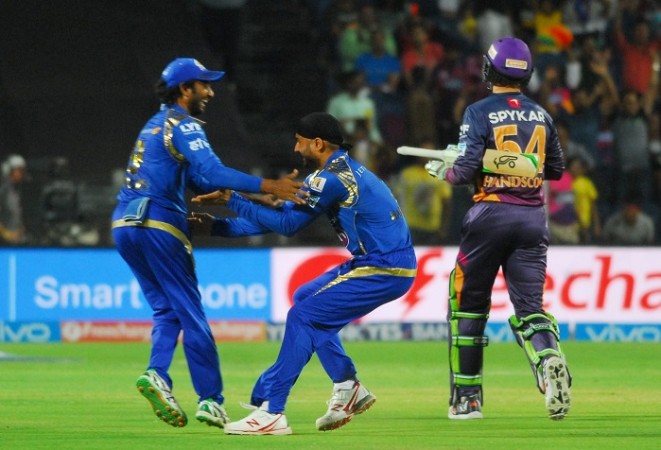 On-field altercations and disagreements, even between teammates, are inevitable, when you're playing a high-stakes game. In the IPL, there have been several such incidents, particularly amongst opponents, but on Sunday, in the match between the Rising Pune Supergiants and Mumbai Indians, the two MI teammates – Harbhajan Singh and Ambati Rayudu – had a few choice words to say to each other.
With RPS looking good at 96/2 in the 11th over, Saurabh Tiwary pulled a short ball from Harbhajan to cow corner, with two fielders, from deep midwicket and long-on, converging to try and stop the ball from hitting the ropes.
Rayudu, from midwicket, was the man who got to the ball first, but instead of batting the ball back and saving a boundary, he only managed to deflect it onto the ropes. While the man at long-on – Tim Southee – gave Rayudu an "It's ok man, it happens, don't worry about it" pat on the back, Harbhajan wasn't so understanding.
A few choice words came out from Harbhajan, directed at Rayudu, who, already frustrated at the mistake, did not react too well to the bowler's rebuke. Rayudu came walking towards Harbhajan, with a "what, what is your problem" face, while the Mumbai Indians offspinner also obliged, walking towards his far-from-happy teammate.
Somewhere during that walk, though, Harbhajan, realising the situation and bringing his experience into play, calmed down and tried to douse the Rayudu fire, but the latter was having none of it.
The pair would late makeup, after Harbhajan picked up Peter Handscomb, with the bowler running up to Rayudu to celebrate the wicket.
In the end, of course, it was much ado about nothing, as the Mumbai Indians bowlers fought back brilliantly in the second half of the first innings to restrict RPS to just 159/5. Rohit Sharma then scored a brilliant unbeaten 85 (60b, 8x4, 3x6) to guide MI to victory with nine balls to spare.
The Mumbai Indians are on a terrific run at the moment, winning three matches in a row and with it climbing up to second in the points table.
Also catch the altercation in full HERE