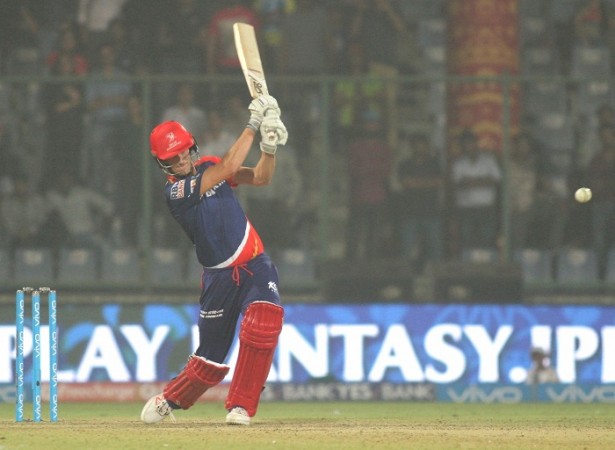 While Chris Morris is known for his power-hitting, the ability to muscle balls over the fence for massive sixes, the South African all-rounder brought his timing to the fore en route to an incredible exhibition of six-hitting against the Gujarat Lions at the Feroz Shah Kotla Stadium in Delhi on Wednesday. Though his batting exploits -- 84 from 32 balls -- ended in a losing cause for the Delhi Daredevils, while chasing 173 runs to win, it was an innings, which will not be easily forgotten.
Morris was in top form, as he hit the ball into the top tier for his first six, which was just the start of what was to be an unbelievable IPL innings. Morris had come into the batting crease in the 11th over, with his team requiring an improbable 13 runs per over. So, there was only one way he was going to play in Delhi – attack and more attack.
The short boundaries at the Kotla also came to his rescue as his mishits were also going for six. However, to be fair, most of the shots he played were from the middle of the bat.
With 50 runs required from 24 balls, Morris took the attack to Dwayne Smith, who was hit for three sixes on the trot. He also completed his 50 in 17 balls, which was the fastest in the ninth edition of the IPL.
Even the dismissal of JP Duminy did not seem to deter Morris, who was hitting the ball crisply, and timing the ball to perfection. The sound relaying from his bat could be heard far away as well. With 18 runs required from 12 balls, Delhi Daredevils were the favourites for the win.
However, the game changed in the 19th over, which witnessed old-war horse, Praveen Kumar only giving away four runs. Dwayne Bravo was left to bowl the final over, and Morris hit the first ball for a four, but the batsmen could not score any boundaries from there, hence the Delhi Daredevils fell short by one run.
It was a pity that such an incredible innings of Morris, which comprised of four fours and eight sixes, ended in a losing cause. The 28-year-old described this innings as one of his best.
"Upset we couldn't get there, but happy that I could contribute. I was quite lucky, it was one of those nights where I timed and it flew off the middle of the bat. It's been a lot of practice on my batting over the last couple of months. I asked Rahul when I came in, he said just have a go. You want to be winning tight games like that, unfortunately we were on the wrong side tonight. This was definitely one of the best T20 games I've been involved in," ESPN Cricinfo quoted Morris as saying.
Click here to watch Chris Morris score 84 runs from 32 balls