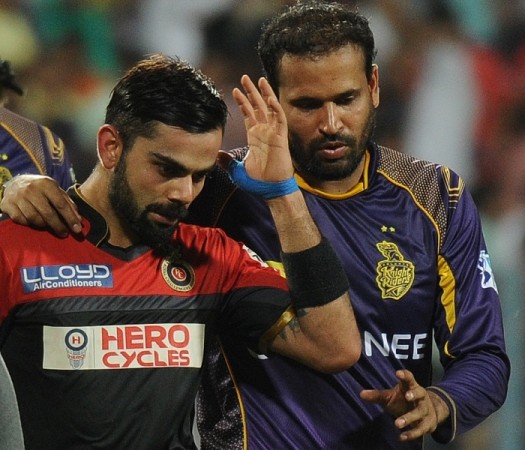 The brilliance of Virat Kohli and AB De Villiers in helping RCB pick up a handsome victory over KKR was mixed with a tinge of worry, as the captain batted through the pain barrier following an injury in the first innings.
The greatest worry for any RCB fan – hey, any cricket fan – is Kohli suffering an injury, ruling him out of matches for the future, be that in the IPL or for India.
Watch and read about Kohli's special knock against KXIP HERE
Such a scare came when Kohli split his webbing while attempting a catch to try and dismiss Andre Russell in the first innings of the KKR vs RCB match at the Eden Gardens in Kolkata on Monday. With the ball dipping as the West Indian struck a shot to deep cover, Kohli went diving forward for the catch, with the ball falling well short of him.
Unfortunately for Kohli, that attempt causes an injury to his left hand, with the captain walking off the field for treatment in the process. Telling the physio he would have to patch him up somehow, Kohli then strode out for the second innings, putting on a strong partnership for the first wicket, before allying brilliantly, yet again, with AB De Villiers to take RCB home with eight balls to spare, while chasing a big score of 183.
"I was scared while I walked off the field, my webbing was split badly, but I told the physio I had to go out and bat at any cost," Kohli said at the presentation ceremony. "A bit of injury gives extra motivation and it feels sweeter to do that extra bit for the team."
Kohli, who became the highest run getter in a single season In the IPL, crossing Chris Gayle and Michael Hussey's record of 733, admitted the split was pretty bad, and that he will need stitches, but the captain was hopeful of recovering well enough in time to lead RCB in their final two matches of the league season, matches they need to win to finish in the top four.
"It's a big split, but I was fine when I was batting in the middle," Kohli added. "However, my hand is starting to pain now, and it feels like I might need to get seven or eight stitches.
"I don't mind even if I have to get 10 stitches, as long as we win the last two matches."