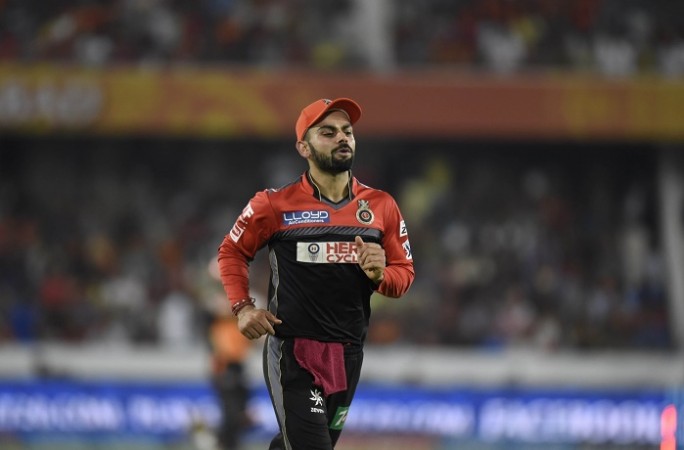 Royal Challengers Bangalore (RCB) skipper Virat Kohli has been slapped with a fine of Rs 24 lakh. RCB maintained a slow over rate during their IPL 2016 match against the Kolkata Knight Riders (KKR) on Monday.
This was the second time in IPL 2016 that Kohli has been fined for a slow over rate. Kohli had to pay a fine of Rs 12 lakh in the first instance. As this was RCB's second similar offence, the fine was doubled.
The rest of the RCB team have also been fined Rs 6 lakh each or 25% of their match fee.
Kohli will be careful from the next match as there can be a further hefty fine or a suspension if they commit the same offence for the third time.
"Since it was his second offence of the season under the IPL's Code of Conduct relating to minimum over-rate offences, Mr. Kohli was fined Rs 24 lakh, while the rest of the team was fined Rs 6 lakh each or 25% of their match fee," read an IPL media release.
Meanwhile, KKR skipper Gautam Gambhir has also been fined for breaching IPL's Code of Conduct. Gambhir was seen kicking a chair during KKR's match against RCB.
He might have kicked the chair in the dugout in the heat of the moment, but none could comprehend why Gambhir reacted in that fashion after Suryakumar Yadav hit a boundary.
Gambhir was fined 15% of his match fee. "Gambhir admitted the Level 1 offence (Article 2.1.8) of abuse of cricket equipment or clothing, ground equipment or fixtures and fittings during a match.
"For Level 1 breaches of the IPL Code of Conduct, the Match Referee's decision is final and binding," the media release said.