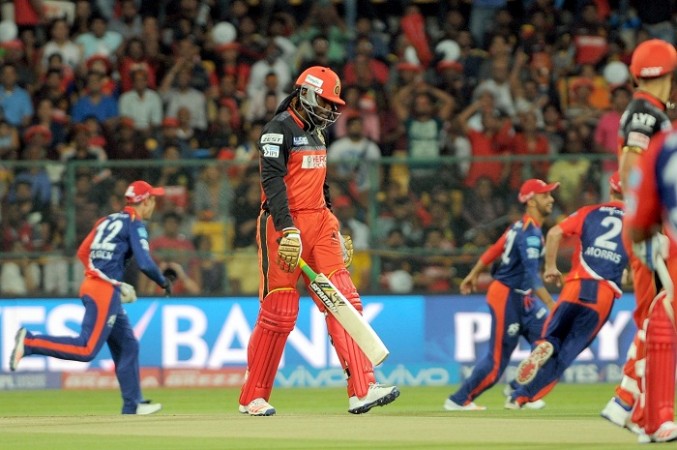 Chris Gayle is one of the most feared batsmen in world cricket as he can win matches single-handedly when on song. But, the powerful left-hander has been below par in IPL 2016 for Royal Challengers Bangalore, scoring 1 and 0 in his first two matches. However, skipper Virat Kohli beleives the West Indies opener will deliver in IPL 2016.
Kohli and AB de Villiers have done the bulk of the scoring for RCB in their first two matches, and if Gayle fires, they will look even stronger. The RCB captain feels Gayle will stand up when it matters most for the team.
"I am sure he will come good at some stage of the tournament. Probably, he may get a hundred for us when it's required the most. I am not too worried about Gayle because the other guys are stepping up nicely. Cricket is all about grabbing the opportunity if some others fail," Press Trust of India quoted Kohli as saying.
There is a sense of expectation when the tall left-hander walks into the batting crease. People expect him to entertain the fans with massive sixes, some of those in the past have even hit the roof of the stadiums. Gayle has hit 230 sixes, and accumulated 3200 runs in the in IPL so far. With such records, comes expectations as well.
But Gayle has failed to bring that form into the ninth edition of the IPL. Kohli is also aware of the expectations that RCB fans have from Gayle.
"Chris takes a lot of pride playing for RCB. He has been a standout player for us. I think people just expect a lot out of him in every T20 match he plays because he is good at it and has scored 17 centuries, which is not a joke. So expectations are high and Gayle wants to live up to them," Kohli said.
RCB, who are one of the strongest teams in the competition, started their IPL 2016 campaign with a win against Sunrisers Hyderabad, but lost to Delhi Daredevils on Sunday. Kohli and the rest of his RCB teammates will hope Gayle will fire in their next fixture, against defending champions Mumbai Indians at Wankhede Stadium.
With the pitch in Mumbai expected to be a batting paradise, Gayle could make full use of it, and get back to form, and with it help his team defeat the IPL 2015 winners.