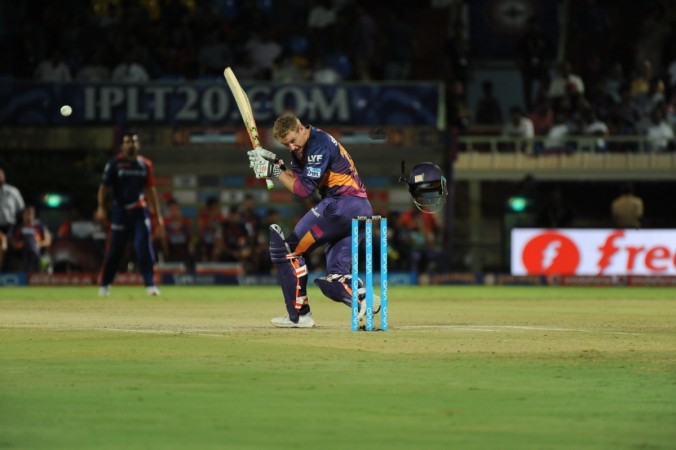 Australia batsman George Bailey partnered with Ajinkya Rahane to get a win for Rising Pune Supergiants (RPS) on Tuesday against the Delhi Daredevils via D/L method. Bailey may not have done that great of an impact with the bat for his team in Visakhapatnam, but he did make the news after having a close shave from a probable danger during the match.
During the seventh over of RPS' innings, Bailey's compatriot Nathan Coulter-Nile, playing for Delhi Daredevils, bowled a fierce bouncer that hit the bat of Bailey and took his helmet off. The ball devastatingly hit the grill of the helmet before flying off and rolling towards the stumps.
Bailey commented that the moment was similar to "getting hit on the face with a truck". The moment was so scary that Coulter-Nile, along with the fielders, immediately went up to check if the batsman was okay.
"I think those watching on TV would get a better picture of it than I do, because what I sort of remember is me getting hit on the face with a truck that was pretty quick. But, I was pretty glad to have one of those new helmets on," said Bailey to the IPL website.
"A couple of them were disappointed that the helmet hadn't rolled on to the stumps(laughs). But, most people were just checking on me and how I was," the 33-year-old cricketer, who scored eight runs off 18 balls in the match, added.
Cricket Australia (CA), only last week, had made it mandatory for players to don helmets when they are facing pacers during the match or during the net sessions. The move comes following an independent review report of Phillip Hughes' death by the CA.
Former Australia batsman Hughes died in November 2014 after being hit on the head by a bouncer from Sean Abbott during a Sheffield Shield match at the Sydney Cricket Ground.
Watch the video here: