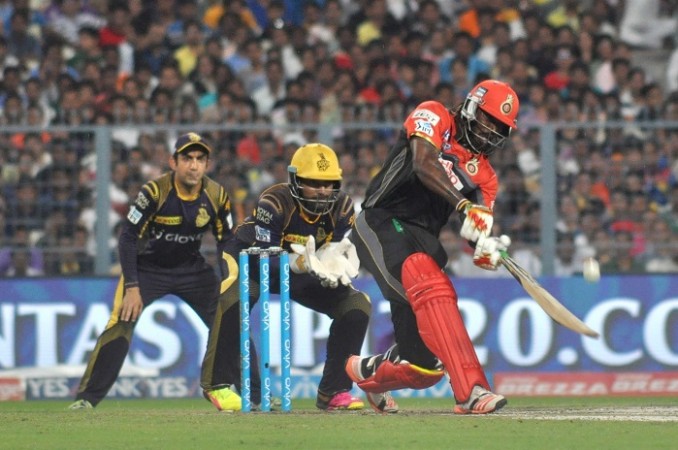 As good as Virat Kohli and AB De Villiers' partnership, yet again, was, what would have pleased the RCB camp the most was Chris Gayle finally finding some form. Gayle had struggled throughout IPL 2016, failing to make a single double-digit score coming into the match against KKR on Monday, but his typically quick 49 set the game up for RCB, in a match they had to win.
Chasing down KKR's 183, RCB needed a strong start, so that Kohli and De Villiers would not be under too much pressure, and Gayle provided them with just that, smashing 49 from 31 balls, with five fours and four sixes.
"I wasn't getting any runs of late but I have played so much cricket that I wasn't really bothered too much," Gayle told IPL's official website in an interview. "I wanted to entertain the fans in some form or the other. I am very happy as of now.
"I am happier for the fans rather than myself. They always want to see a Gaylestorm and I am glad that I could give them some runs."
It wasn't quite a Gaylestorm, at least not the kind we have grown accustomed to. There was no battering the opposition to submission, but the fact that the 49 took the pressure off Kohli, who was struggling with a left hand injury, was worth its weight in gold.
With De Villiers and Kohli in the form that they are in, RCB are already a pretty scary side to play against, but if Gayle also finds his touch, there is little doubt that the Bangalore franchise will win their next two matches, move into the playoffs and probably go on to win the whole thing.
"I was always backing myself because these things do happen as a cricketer and you go to a stage where you think, what if the runs don't come," Gayle added. "You need to accept defeat and when you do that it is always a chance for you to rebound when you get a chance.
"Every day is a new day and you try and start fresh and do what is required. You keep putting in the work and you know one day it will actually come together again.
"It was about still having that self-confidence and hopefully this is the start of a new beginning. I hope I can set the pace again and try and give the team the start that is needed."
Gayle believes he is finding his rhythm at the right time, with the "Universe Boss" warning his opponents of more storms to come.
"All the Bengaluru fans can see a big one coming from Gayle," the West Indian added. "Since the World Cup (World T20) I have been trying to please them in a particular way but it didn't happen. I am looking forward to giving them more reasons to cheer, something they have been longing for some time now.
"When I get an opportunity to do so, I am looking to press some gas. There is no Chris Gayle capability and there is not a situation where I get 49 runs and I have issued a warning. The Chris Gayle warning is always there for the bowlers regardless I get runs or not.
"CG is the 'Universe Boss'."