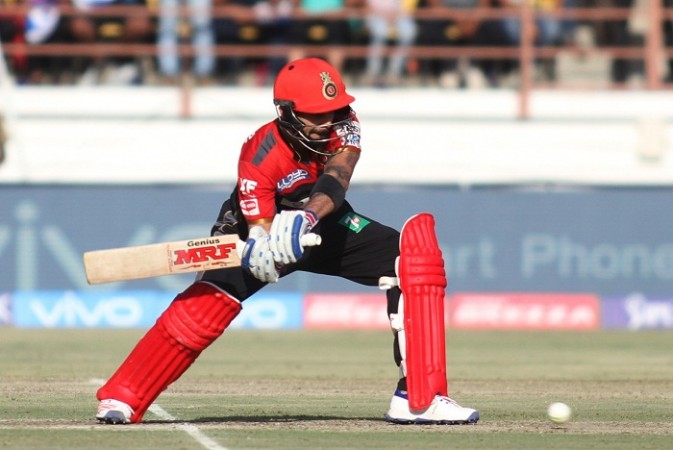 Scoring a century in the T20 format is always a magnificent feeling. Virat Kohli, after scoring his maiden ton, must have thought he had done enough to take Royal Challengers Bangalore to a win over the Gujarat Lions. However, his bowlers did not back their captain, allowing GL to chase the score of 180 down in Rajkot on Sunday.
Despite the ton, the RCB skipper was a dejected man after losing in the last over of the game. The right-hander scored 100 runs from 63 balls, which was special effort.
"I am not really feeling good right now. Would have liked to cross the line on the right side of the result. Missed a couple of hundreds before. Personal performances are good, but not having a win is difficult. Not at any stage was I thinking about a hundred. Just looking for 170 (in total). The opportunity came in the end," Press Trust of India quoted Kohli as saying.
Kohli has batted splendidly in IPL 2016, scoring 75, 79, 33, 80 and 100 not out in five games so far. Despite leading from the front, the RCB have been struggling to win matches. They have lost three games in IPL 2016.
The RCB have a solid batting lineup, but their weak link remains the bowling. The opposition have thrashed the RCB bowlers with ease. Delhi Daredevils (191), Mumbai Indians (170) and Gujarat Lions (180) all chased big scores to win.
Kohli is aware of RCB's problem in the bowling department.
"Batting is not a concern. We are planning a lot of things (with the ball). We want to pull our socks up. Even today (against GL), it was slow pitch, we shouldn't have given so many balls close to the batsman that he could hit. Should have kept it away from his reach," Kohli said.
The RCB have a decent mix of bowlers, with the experience of Shane Watson and spinners such as Yuzvendra Chahal, but they have failed to gel as a unit in IPL 2016. The RCB players have plenty of time to rest before their next game, and their bowlers need to work out some plans for their match against Sunrisers Hyderabad on Saturday.
However, Chris Gayle is also expected to feature against SRH, as the left-hander is expected to return from paternity leave.
"(Gayle) should be back in the next game," Kohli said.