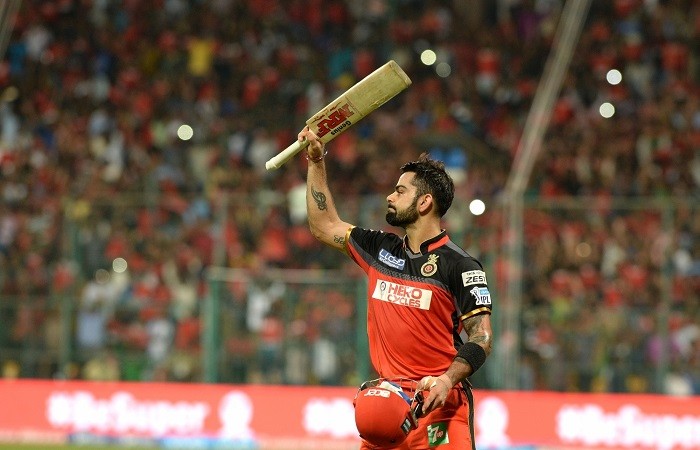 The Royal Challengers Banaglore, despite boasting of Virat Kohli, Chris Gayle and AB De Villiers in their lineup, have always been seen as a team that wilts a little under pressure, making them beatable in the really big games. That is one of the reasons for their underachievement in the IPL, with the team yet to win a single title yet.
In early trouble in IPL 2016, after a blow hot, blow cold start, RCB were put in a situation where they needed to win their last four matches of the league stages to stand a chance of qualifying for the playoffs, and having added Shane Watson to their ranks, it was difficult to envisage a team as power-packed as the Bangalore franchise not finishing in the top four. They were, after all, one of the pre-tournament favourites, but how typical of them, to fail to cope with the pressure and expectations.
But, this RCB are a different beast now, led by a man who has matured into a cricketer and captain that dreams are made of. Under that kind of pressure, after an abject performance against the Mumbai Indians put them in that position, Kohli's answer to the question of needing four wins in four was "I love it, love the pressure, this is what we play for."
That response said it all, the manner in which Kohli has changed into a mature cricketer and how, with it, RCB have changed as well.
After mauling the Gujarat Lions to pieces, when Kohli and De Villiers put on a world record T20 partnership, RCB were again under pressure, facing a big chase against the team that thrives at home the most.
With Gayle setting it up nicely with a quickfire 49, there was still plenty of work to be done, but when De Villiers walked out to the crease, with the match a little bit in the balance, RCB's mentality change showed again. In a talk in the middle between the two superstars, De Villiers' answer to the situation was, "don't worry we are winning this," -- calm as they come and assured as can be.
De Villiers, apart from the RCB-playing-under-pressure issues, has also been criticised for his country's struggles in the big tournament. South Africa, much like RCB, and despite having a ridiculous batting and bowling lineup, have wilted under the ICC tournament pressure, so De Villiers also had a thing or two to prove, after coming off another disappointing outing at the World T20.
Following that serene chase against KKR at the Eden Gardens – and it was an easy peasy chase in the end, or at least it was made to look comfortable – RCB still had to win two games in two to push themselves to that final four place.
They made it one win in one needed, after another stupendous batting show on Wednesday, when Kohli hit a hundred of immense beauty in a 15-over rain-shortened game. Smashing centuries in T20 matches have become quite common now, but for someone like Kohli, the non-slugging runscoring machine, the man who caresses the ball rather than pummels it, to score a century in an innings that only has 90 balls in total was just plain ridiculous. And with Gayle getting in the mood as well, RCB ended up posting a score well in excess of 200 – again, don't forget, in a 15-over game.
Yes, the Chinnaswamy is a batsman's paradise; yes, the ball was wet after all the downpour; yes, the match was against a team with nothing to play for. But, still, what Kohli and RCB managed on Wednesday was staggering, and the fact that the bowlers picked up nine wickets showed, that particular part of their team is coming on swimmingly well as well.
If RCB continue to play like this, and there is nothing to suggest they will not, they will beat the Delhi Daredevils at the Feroz Shah Kotla on Sunday, in the final match of the IPL 2016 league stages, move on to the playoffs and scare the living daylights out of their opponents. Because, no team, no matter how good they have been, will want to face RCB, when they are in this form.
So, with these performances, Kohli and co. are not just assuring themselves of a place in the playoffs, they are also sending out a message to the rest of the teams, and the power of that message could be the difference between a first IPL title and another nearly-there season.