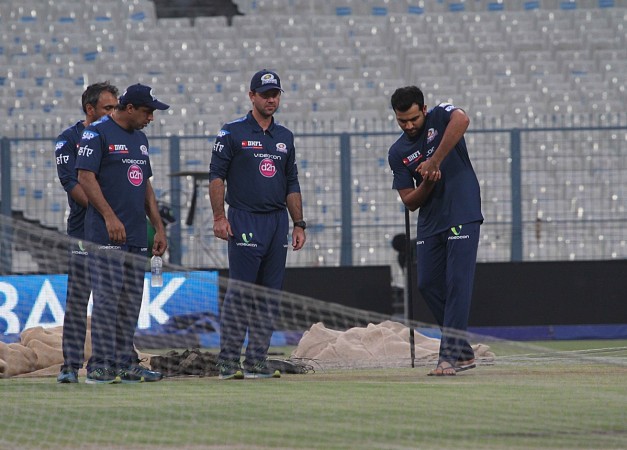 Mumbai Indians coach Ricky Ponting believes his side are ready for a fresh start in IPL 2016. The Australia cricket legend remained one of the guiding spirits for the Indian Premier League side as they bagged their second IPL trophy last year.
Ponting, 41, became the coach of the Mumbai franchisee ahead of IPL 2015, after playing two seasons with the outfit as a player. Looking ahead to his third IPL title this year with Mumbai Indians, 'Punter' is ready and all set to start the campaign on a bright note, come April 9.
"It doesn't really matter what happened last year now, it's about us putting together a competitive team and making sure were ready to go for the first game," Ponting told cricket.com.au. "We thought they were ready to go for the first game last year but it took a little while for us to click into gear," he recalled.
Mumbai Indians managed to bag just a win from their first six games in the IPL last year before making a dramatic end to their campaign. This time, however, Ponting feels his army will go for the kill right from the start as they are preparing in the best of their abilities in the training sessions.
"Since I arrived last week we have had some tough training sessions and I'm really excited the way the boys have been preparing. Over the next couple of days the crux of our squad will arrive and we can start the final preparations from then on and hopefully improve on our start last season," he added.
Ponting also admitted he would definitely relish the prospect of managing the Australia cricket team in the future. He is a three time ICC World Cup winner with the Aussies.
Darren Lehmann is the current Australia head coach and he has a contract with the national side until midway through 2017. Therefore, there is also no confirmation as of now if Lehmann's contract will be extended until the end of the ICC World Cup 2019 in England and Wales.
And Ponting's comments may have given Cricket Australia some food for thought.
"I would love to be working with (David) Warner and (Steve) Smith along with some of the young guns like (Usman) Khawaja and (Joe) Burns -- that will be a lot of fun," the Aussie veteran said.
"I know I will thoroughly enjoy it, but right now I have the Big Bash [League] commentary and two months with the Mumbai Indians in the IPL. The rest of the time I like to spend time with my family," he added.