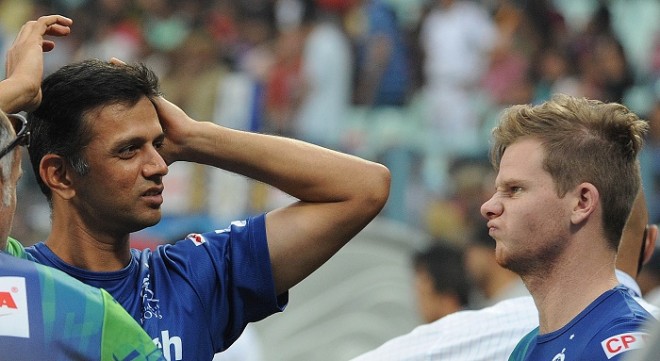 India U19 coach Rahul Dravid is in talks with Delhi Daredevils, who hope to rope in the legendary batsman as the mentor of DD for the new season of the IPL.
The Daredevils has not tasted much success in the cash-rich tournament, and they are desperate to turn things around in their favour for IPL 2016.
The Delhi-based franchise made some interesting moves in the IPL 2016 Player Auction earlier this month, trying to build the side capable of winning the tournament.
They were involved in a battle of bids several times, while managing to buy some talented cricketers.
Delhi Daredevils relieved Gary Kirsten off his duties as the coach as the franchise failed to impress last season, missing out on the playoffs again. Now, they have turned to Dravid, who they feel will be a great addition to their squad.
Dravid, who was the mentor of the now-suspended Rajasthan Royals for the last two editions of the IPL, has had a busy season with India 'A' and India U19. Under Dravid's able guidance, the India U19 team almost clinched their record-breaking fourth ICC U19 World Cup title few days ago, but West Indies lifted the trophy for the first time since the inception of the tournament.
"Dravid is keen to take up the role of a mentor, but he is reluctant to be full-time coach. He has had a long season starting with the India 'A' team in June and he just got free after the ICC U19 World Cup, last week. He wants to spend more time with his family as well," a source close to the development was quoted as saying by The Times of India.
The Daredevils management are yet to make an official announcement, but a decision may be taken soon and it seems Dravid is their preferred choice to mentor the side for the new season of the IPL.
The Daredevils has roped in a number of India U19 players - Rishabh Pant, Mahipal Lomror and Khaleel Ahmed. The JP Duminy-led side also managed to buy the likes Karun Nair and Sanju Samson, who have already impressed in the previous seasons of the IPL for Rajasthan Royals.
"Things are at a speculative stage. We have a few other names going around as well. Dravid is definitely one of them. At this point, it's difficult to commit as the owners of the team are not in the country. Once they return, a final call will be taken," one of the Delhi Daredevils official told said.