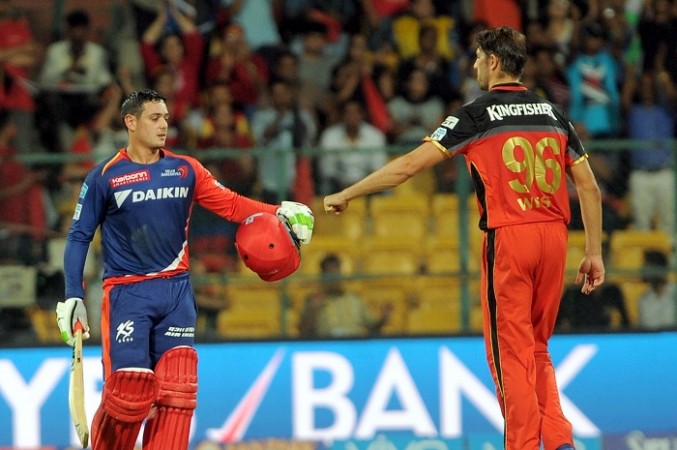 When the Delhi Daredevils took the field against the Royal Challengers Bangalore (RCB) in IPL 2016 at the Chinnaswamy Stadium on Sunday, the home team were considered the heavy favourites. But, thanks to a Quinton de Kock special, the Daredevils pulled off a stunning run chase to outclass an upbeat RCB side at their own backyard.
De Kock anchored the Daredevils run chase. Karun Nair played a crucial role as well. The duo put on a partnership of 134 runs together to power the visitors to a comprehensive win over Virat Kohli's RCB.
De Kock scored the first century of IPL 2016 and his ton came off just 48 balls. It was indeed a treat to watch De Kock bat in that fashion, especially with the Daredevils chasing a total of 192 runs.
De Kock lauded the Delhi Daredevils mentor and former India batsman Rahul Dravid. The South African was happy with his effort and said that the legendary batsman allows the team to play their natural game.
"The best thing about having Rahul as a coach is that he lets us play our own game. Normally you get one or two coaches who tell you how to play, but he just lets us be and express ourselves, which is how I like playing," De Kock was quoted as saying by the official website of the IPL.
The 25-year old left-hander said the partnership with Nair was the key to victory over RCB.
"We didn't have much of a plan. It was just about going out there and batting. We had lost two early wickets and all we could do was get a partnership going. Somehow we just stuck around and ended up winning a game like that. Hopefully more such partnerships will come about," De Kock said.