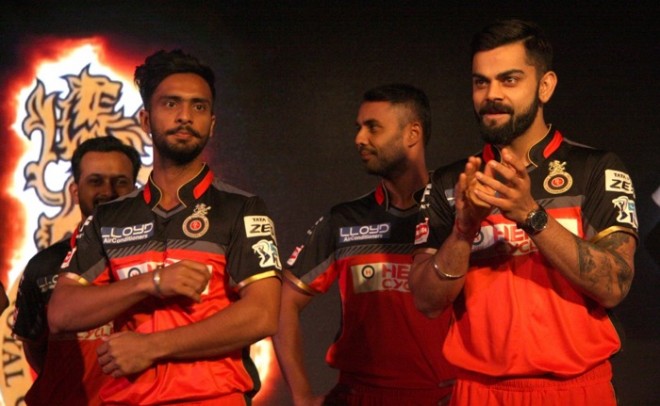 The Indian Premier League (IPL) and Bollywood have always had a link. Continuing the trend of Bollywood superstars performing at IPL, Ranveer Singh, Katrina Kaif and Jacqueline Fernandez performed during the IPL 2016 opening ceremony at the NSCI in Mumbai.
And now the national award-winning 'Queen' actress, Kangana Ranaut, has matched steps with cricketers Virat Kohli, Varun Aaron, Ravichandran Ashwin, Ajinkya Rahane and Stuart Binny for an advertisement.
The advertisement is being directed by renowned director Rajkumar Hirani. It is yet to be aired on television.
Virat Kohli posted a photo on his social media handles of Facebook, Twitter and Instagram, where he, along with Ashwin, Binny, Aaron and Rahane, is seen learning the 'thumka' step from Kangana Ranaut.
We all know about Virat Kohli's Bollywood connection. We also saw his dancing skills recently at Rohit Sharma's reception. On the occasion, another Bollywood star, Sonakshi Sinha, was seen dancing with the shining star of Indian cricket.
Take a look at this photo:
This is how Kohli turned on heat during Rohit Sharma's reception with his dance moves: