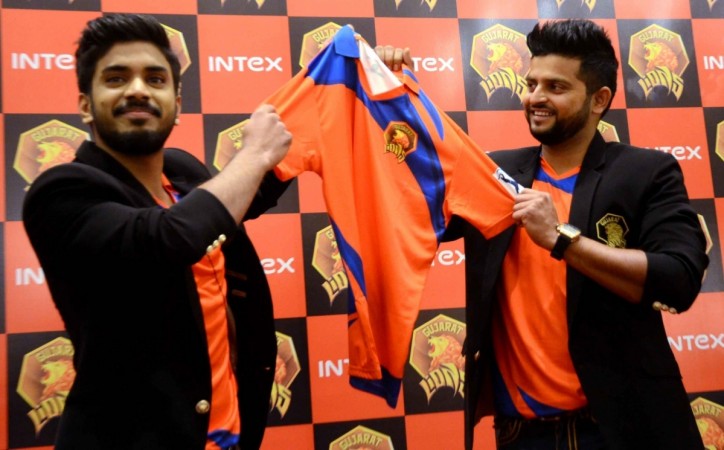 The Gujarat Lions are one of the two new teams that will make their IPL debut in 2016. Though the Lions might be new to IPL, their team includes some experienced and proven IPL players, which could prove to be a major factor as they will want to create a strom in their first season, which starts Saturday. The Rising Pune Supergiants are the second new team in the ninth edition of the IPL.
Gujarat Lions, owned by Keshav Bansal, had to build the team from scratch and conducted some smart business during the 2016 IPL Player Auction in February.
However, it was late last year that Gujarat Lions picked up some big stars during the IPL draft, which included players from the suspended teams Chennai Super Kings and Rajasthan Royals. The Lions picked Suresh Raina, Ravindra Jadeja, Brendon McCullum, James Faulkner and Dwayne Bravo, who are going to form the core of the team.
Here is a complete look at their team
Batsmen: The T20 format is such where batsmen have to score at a brisk rate, and the Lions have a batting line-up that can tear apart any bowling attack in the IPL. With Brendon McCullum, Aaron Finch and Dwayne Smith as top-order batsmen, they have plenty of T20 experience as they can make full use of the field restrictions during the powerplay. In McCullum, Lions have an aggressive opener who does not waste much time in the middle. However, captain Suresh Raina will hold the key: He has to shoulder responsibility with the bat.
Bowler: Dale Steyn will spearhead Gujarat Lions' attack in IPL 2016. The South Africa pacer is one of the best bowlers in world cricket, and will be eager to maintain that reputation in IPL 2016. They also have Praveen Kumar and Dhawal Kulkarni, who have decent IPL records so far, but need to support the Proteas pacer. The Lions may be lacking a quality front-line spinner, and will have to rely on Shadab Jakati and Pravin Tambe for their services.
All-rounders: Of all the departments, they may be proud to have some brilliant all-rounders like Ravindra Jadeja, James Faulkner and Dwayne Bravo. It seems the Lions wanted players who could do both — bat and ball — as they picked these players in the draft itself. It was a wise choice. In Jadeja, they have a player who can play the big shots and bowl tidy overs and take wickets consistently. Bravo is one of the best in the business when it comes to death bowling, with his slower balls that batsmen fail to pick. Bravo is more than useful with the bat in the middle order.
Wicket-keeper: Though the Lions have McCullum, who can also keep wickets, one does not really see the player putting on the glove. He will be used mostly on the boundary line as he is an excellent fielder as well. Hence, the onus will primarily fall on Dinesh Karthik, who has played for a number of teams in the IPL, and this experience will come in handy for the IPL team. He is one of those cheeky cricketers who love to play those unorthodox shots, which helps him score runs all around the wicket. Ishan Kishan and Eklavya Dwivedi are the other wicket-keeping options.
Overall, they have a strong team for their first season, but it lacks quality bench strength. With the IPL set to be played for more than 45 days, players need rest, and they do not have like-for-like replacement players in their squad. They have some youngsters and lesser-known cricketers, which could lead to their downfall. Primarily, if the team wants to make an impressive debut, the experienced stars need to shine.
Complete squad for Gujarat Lions
Suresh Raina (C), Ravindra Jadeja, Brendon McCullum, James Faulkner, Dwayne Bravo, Praveen Kumar, Dale Steyn, Dinesh Karthik, Dwayne Smith, Dhawal Kulkarni, Eklavya Dwivedi, Aaron Finch, Andrew Tye, Ishan Kishan, Pravin Tambe, Jaydev Shah, Pradeep Sangwan, Shadab Jakati, Shivil Kaushik, Amit Mishra, Sarabjit Ladda, Akshdeep Nath, Umang Sharma and Paras Dogra.