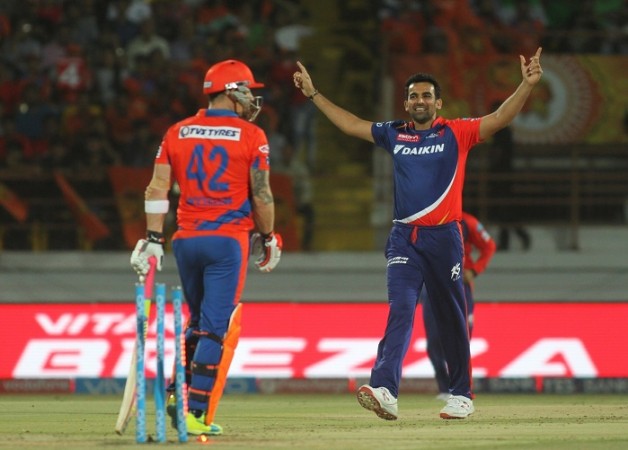 Gujarat Lions succumbed to an 8-wicket defeat against Delhi Daredevils at the Saurashtra Cricket Association Stadium on Tuesday. The hosts lost the toss and were asked to bat first by Zaheer Khan & co.
Their openers Brendon McCullum and Dwayne Smith, who have been in good shape and touch recently, failed to make an impact and departed in quick succession.
Aaron Finch, who was injured for a while and made his comeback against Delhi Daredevils, also walked back to the pavilion soon after McCullum and Smith.
The same thing happened in the last game when Axar Patel picked up a hat-trick and took the game away from the table-toppers.
This, according to Gujarat Lions coach Brad Hodge, is a serious issue and it needs to be addressed real soon if they want to continue doing well in the rest of the IPL.
"If you are three for 20, losing three of your best batters upfront, you're going to be in trouble. Same as what happened in the last game," Hodge was quoted as saying by Cricinfo.
"In the last game against Kings, Axar [Patel] took a hat-trick. Couple of balls didn't even turn. We lost three wickets in an over. And again [today], three wickets in seven [sic] balls with three of our best batters. Wickets in Powerplay... something that we need to look at."
Gujarat Lions bowlers could not assert themselves when they were defending a small total against the Daredevils. Ravindra Jadeja even bowled a no-ball in which Sanju Samson was stumped towards the end. Earlier, Dinesh Karthik had missed a stumping chance as well. The gaffer believes there is no room for such complacency.
"Unforgiveable, unforgivable. Who knows what could've happened if that was given out for Sanju. Next ball he gets a free hit, the ball goes for a boundary, game over. If you're just going to let your guard down for a moment, you're going to be found out," Hodge added.
"Hopefully, we can dust ourselves off and adjust with the differences and indifferences that we have and come again strongly. I would certainly hope that these last two games hurt very much."