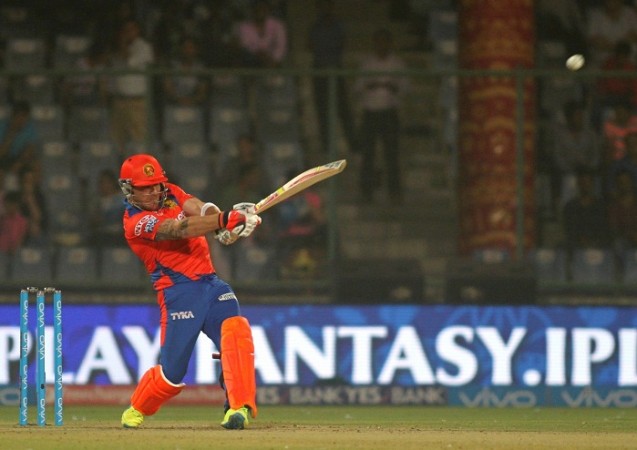 The Gujarat Lions have been the best team in IPL 2016 so far, winning five of their last six matches, leading the table with 10 points. The IPL debutants play an entertaining brand of cricket, and their star opener Brendon McCullum hopes to win the prestigious title.
Winning the title is not going to be easy with some strong teams in the competition, but they are surely on track after their players have shone in the competition. They need their experienced players to shoulder responsibility. McCullum is confident that the Gujarat Lions will always play positive cricket.
"The way we carry ourselves and the exciting style of cricket that we play, hopefully we go on to win the tournament, but we can't guarantee that. But what we can guarantee is we can go out there and be nice and positive; play the game for the right reasons and hopefully build a good fan base as well," IPL official website quoted McCullum as saying.
The Gujarat Lions' team management were pretty smart during the players' auction in February, picking a right mix of bowlers and batsmen, including quality foreign and domestic players.
"The way that the team has been put together has been very smart. I think if you look at that line-up we have got lot of very aggressive batsmen, but it is coupled with some skilled touch players as well. The likes of Dinesh Karthik and Suresh Raina and then there are a lot of aggressive players around those guys. That is a pretty strong batting line-up. But also we have got a lot of good options with the ball as well," McCullum said.
Besides McCullum, the Gujarat Lions have some experienced players like Dwayne Bravo, James Faulkner, Karthik and Raina, who have all been hugely successful in their IPL career as well. Such senior players try to share their knowledge with the young guns in the team.
Though Raina is Gujarat Lions captain, McCullum says that he also assists the Indian player in his captaincy duties.
"We have got a good group of experienced guys as well and they will feed off each other. My role is not just about scoring runs at the top and field, well but try and assist Suresh in building a strong culture and assist him with the captaincy along the way. And I think he will do a fantastic job," McCullum said.
McCullum might be helping Raina here and there on the field and also backstage, but he has been doing his primary role as an opener successfully. He has scored 175 runs with a strike rate of 153.50 in IPL 2016.