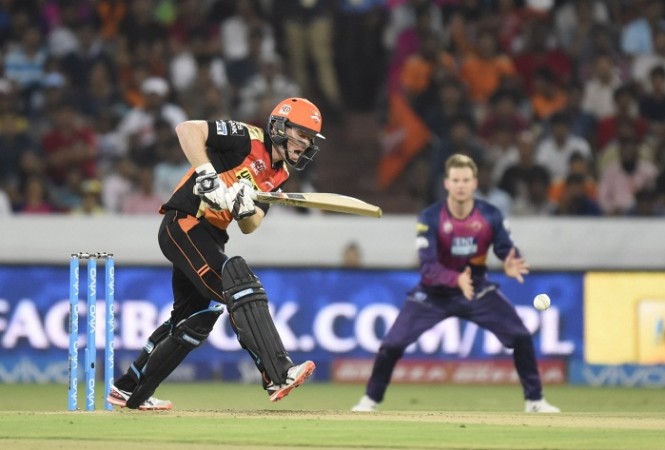 The Sunrisers Hyderabad (SRH) have had a mixed season so far in IPL 2016, winning four of their seven games in the competition. The key player of SRH, Eoin Morgan, is now looking forward to the remaining matches in IPL 2016.
SRH might have started the competition on a poor note, losing to Royal Challengers Bangalore and Kolkata Knight Riders, but the team followed it up with three wins on a trot, to lift their team's morale. They presently lie on the fifth place in the standings, and will be eyeing the 2016 playoff spot, for which they need to play some consistent cricket.
The SRH have seven games left to play in the round robin stages, and further wins in the competition can increase their chances of finishing in the top four.
"We were slow off the mark but then we were able to score three wins in a row, so it has been good thus far. It gave us a bit of momentum. There have been odd hiccups but we have been able to overcome those issues, particularly on turning tracks," Cricket Australia quoted Morgan as saying.
"We are looking forward to a run of home games now, in conditions that we understand. It should get us a few more wins and we should look good for the playoffs thereafter."
Skipper David Warner has led SRH from the front in IPL 2016, scoring 386 runs, which has helped them resemble a quality side. The left-hander needs to play cricket on a similar note if SRH are to reach the playoffs.
However, Morgan is yet to shine in the competition. Barring his half-century against KKR, he has not put forth an impressive performance. The SRH batsman needs to fire, and relieve pressure on other players, primarily Warner.
There is immense stress when representing a franchise in the IPL, and that pressure multiplies when you are one of the foreigners in the team. With only four foreign players allowed in one team, even a big overseas player has to sacrifice his place in the starting XI.
The Englishman has played for a number of teams, like KKR and RCB, in the past, and believes that the experience has been different with various teams.
"Every year has been a different experience. At the beginning of my career, when I first came to the IPL with Bangalore, it was more about the passion and culture of cricket that is played in India," Morgan said.
"The further I have played here it has been about playing under the pressure of being an overseas player. You are only one of four allowed in the eleven, and sometimes you are chosen ahead of some other players, so that experience has been something else. It keeps you grounded as well as makes you appreciate opportunities whenever you get them."