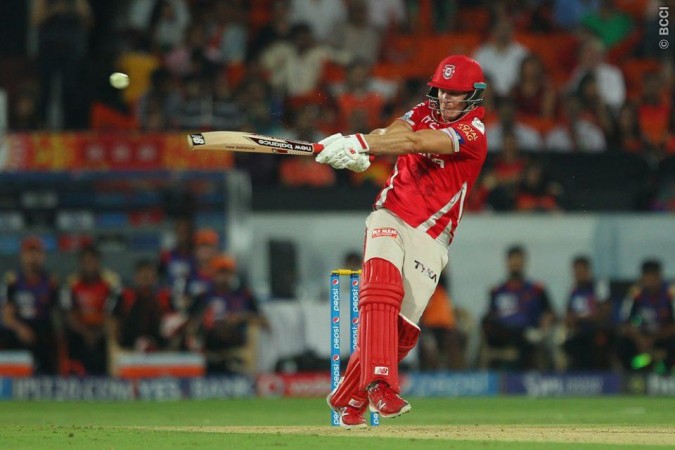 South African big-hitting batsman David Miller has been appointed captain of Kings XI Punjab for the ninth edition of the Indian Premier League, which starts on 9 April. The post was vacant as Kings XI had decided to release George Bailey, who led the side last season.
Kings XI Punjab are one of the few teams in the IPL who do not have a big India player. Murali Vijay is the big-name India player in the Kings XI squad, so it is not a huge surprise that they have decided to let a foreigner lead the side.
There were a number of foreign players who could have landed with the captaincy job, but they have handed Miller the key role as the management has faith in his abilities to lead the team.
"David Miller is one of the most talented and explosive players in contemporary cricket, and we are pleased he has been an integral part of the team. We have complete faith in his capabilities and leadership skills and look forward to a successful season," a Kings XI statement said.
The South Africa player has a huge task on his hands as the team will depend on his leadership skills to win its maiden IPL title. The team does have the much-needed squad with some young guns and a strong foreign influence. Their big foreign players include Shaun Marsh, Glenn Maxwell and Mitchell Johnson.
Miller needs to put a number of strategies in place for IPL 2016, and it is at this juncture coach Sanjay Bangar will come in handy to find the ideal combination for the team. With Bangar having coached Kings XI last year as well, he knows the player well enough to take important decisions.
"I have watched David grow as a player. He has displayed outstanding batting abilities and a cool temperament in many high-pressure situations. I am confident of his potential to lead the boys this season," Sanjay Bangar was quoted as saying by Hindustan Times.
Bailey, who is currently representing South Africa in the ODI series at home against England, has thanked the team management for the confidece they have shown on him.
"I am honoured to lead the Kings XI Punjab squad this year. I would like to thank the franchise, promoters, management and all the team members for the confidence they have in me. Kings XI have assembled an exciting squad with a good mixture of youth and experience, and I am really looking forward to the opportunity that lies ahead," Miller said.